Brock Netter, Staff Writer
Southern Ohio Sports Authority is presented by OhioHealth.
The 2021-22 sports calendar brought us tons of memorable moments throughout its entirety. One state champion, six regional champions, multiple district titles across the board, and school records broken left and right.
Although the start of the fall season is just a month away, there's nothing wrong with a quick road down memory lane, right?
That's exactly where we're going, giving one last nod to the 2021-22 school year. Here are the top 10 games from the past year's sports calendar that will forever be etched in time.
Those that were inside Southeastern High School on Feb. 26 were treated to a show that lived up to the hype.
At the time, McClain already owned two victories over the Blue Lions. But this time was different. It was win or go home, and both teams emptied their tanks.
The Tigers led throughout the first quarter, but Washington's Reico Colter connected on a four-point play at the buzzer to tie the game at 13-13.
Then McClain's Bryson Badgley completely took over in the second, scoring 19 of his team's 22 points in the frame to give it a 35-26 lead at the break.
Washington opened the third with a 9-0 run to knot the game at 35, and then McClain's Kendyll Toney paced an 8-0 run to help put the Tigers ahead 51-41 heading to the fourth.
But charging right back into the game, Colter and company cut the lead to 63-61. That's, however, when the Blue Lions were assessed a technical foul, followed by McClain's Braden Wright making four straight free throws. That swing shifted all momentum and helped the Tigers advance to a district final.
Colter finished with 39 points and Badgley finished with 34 points and 11 rebounds – including his 1,000th career point.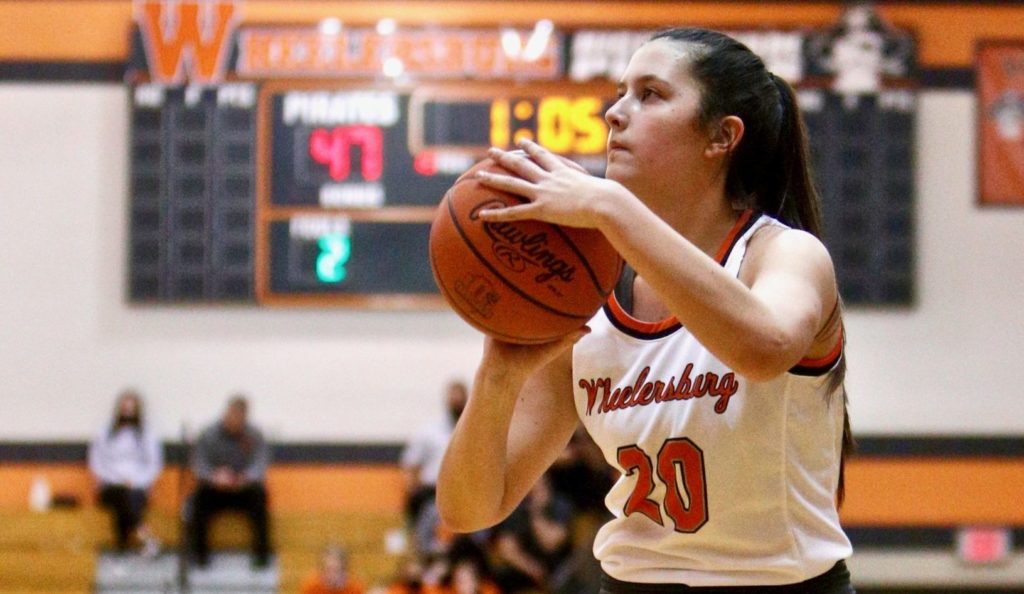 Wheelersburg was battle-tested and undefeated, yet North Adams might have been its toughest test up unto Feb. 20.
The Green Devils brought a big fight, and behind Keetyn Hupp, controlled a 17-10 lead in the second quarter — the biggest lead of the game for either team. However, the Pirates countered with a 10-0 run behind Lexie Rucker and Madison Whittaker to help take a 24-23 lead at halftime.
Runs, ties and lead changes were heavy in the second half. North Adams led 27-26, gave up a 6-0 run, and then Morgan Shupert connected from deep to cut the lead to 32-30 going to the fourth.
Laney Ruckel and Lizzie Gill each connected from distance to tie the game at 36. Once again tied at 38, NA's Sierra Kendall hit a shot to go ahead before Makenna Walker connected to tie it up at 40-40 with 1:15 left.
That set the stage for Alaina Keeney to receive the inbound pass with five seconds left, take the ball up the floor and put up a runner that bounced four times before falling, sending the Pirates to a district final.
8. BOYS HOOPS: Valley survives Fairfield to win district championship
It seems as if it's a near-guarantee that Fairfield is going to make a district final. It's just a matter of who the Lions' opponent is going to be.
It was Valley's turn this year, and what a game these two titans had on March 4.
Fairfield led for most of the game, and entered the fourth quarter with a 38-30 lead. That's when the Indians flexed their defensive muscles.
Locking down, boxing out and corralling every rebound possible, they stifled the Lions' offense, while making their move and going on a 13-4 run, capped by a layup from Carter Nickel to take a 43-42 lead.
Fairfield retook a 46-45 lead with less than a minute left, only for Nickel to come up clutch with a bucket to take a 47-46 Indian lead.
It came down to the final shot for the Lions, one that hit the back iron and fell to the ground, clinching Valley's first district title since 2014.
Every great team needs to have a little luck on their side throughout the season. Week 2 of football season was Ironton's turn to find magic. Tied 7-7 with just 5.2 seconds left, Jackson's Ethan Crabtree buried a 28-yard field goal to put the Ironmen ahead 10-7 in what was thought to be the game-winner.
However, 1.9 seconds remained and that's all the Tigers needed.
The ensuing squib kick was taken by Braxton Pringle, who pitched to Landen Wilson, who ran left before nearly being tackled. But he managed to pitch the ball to Ty Perkins, who reversed field and found an opening. Perkins dashed 82 yards for the game-winning touchdown and ate his cereal the next morning while watching his legendary run on ESPN.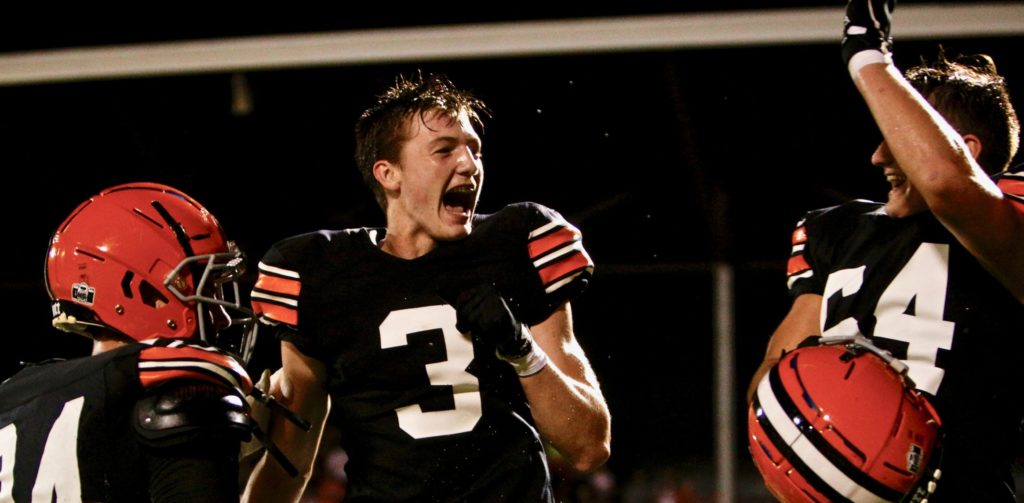 This was truly what anyone would expect with a district championship on the line on May 21. A Fairfield team filled to the brim with young talent, and one that was ready for its moment in the spotlight, against a West team that was in the midst of arguably its best season in school history.
West's Sydney McDermott was masterful in the circle, going the distance and striking out 14 Lion batters. On the other hand, Fairfield's Caitlyn Quickle displayed her own style of brilliance, striking out eight hitters in her outing.
But after nine complete innings, the Lions looked like they were about to break through in the top of the 10th with a runner on third and just one out. Yet, a pop out and a strikeout later, it was the Senators' turn to try for a walk off.
That's exactly what Emily Moore did. The sophomore stepped to the dish and uncorked a solo bomb to left-center field to lock up a 1-0 win and bring the first district title back to West since 2015.
In the opening week of football season, Ironton handed Wheelersburg a 40-6 beatdown, setting the standard for what the Tigers hoped would be a third straight state tournament appearance. However, those plans took the hardest of left turns 13 weeks later on Nov. 13.
Ironton scored on back-to-back possessions, thanks to a 53-yard run from Jaquez Keyes and a 19-yard run from Landen Wilson, to take a 14-3 lead. Yet, Wheelersburg didn't panic. Instead, it came up with an interception before Eli Jones scored for a 14-10 game.
Defense then took center stage in the second half and the Pirates came up with two interceptions … one by Casey Doerr to set up an Ethan Glover touchdown and the other from Eli Swords to clinch the upset win.
Following a two-plus hour bus ride to Cambridge, it was understandable if the Shermans started out a little sluggish on Nov. 3.
But those 10 minutes lasted much further than desired. Meanwhile, St. Clairsville netted two goals within five minutes — one to end the first half and the other to open the second.
Then Lucas Hanes found an opening off a header from River Pettigrew, split a pair of defenders and connected on a goal for a 2-1 deficit. Seven minutes later, the sophomore star struck again from the right side of the box to tie the game.
With 7:20 left in the game, Unioto's Asher McBee played a ricochet and got fouled in the box, setting up a penalty. Hanes took the kick, struck the back of the net and sent the Shermans to a regional final.
Put simply, Eastern's Brown soccer roster was jam-packed with talent at every turn. After a SHAC title, it was just a matter of how far the Warriors could go in the tournament.
After falling in their last three district finals, the Warriors got over the hump with a 4-1 win over Wheelersburg — clinching its first-ever district title. Playing with house money, Eastern followed that with a 2-0 shutout win over Hiland before a clash with Fairbanks in the Elite Eight on No. 6. Tied 2-2 with 17 minutes left, Rylee Leonard drew a foul in the box to set up a penalty kick, which Mary Litzinger promptly struck and connected with the back of the net to send the Warriors to state.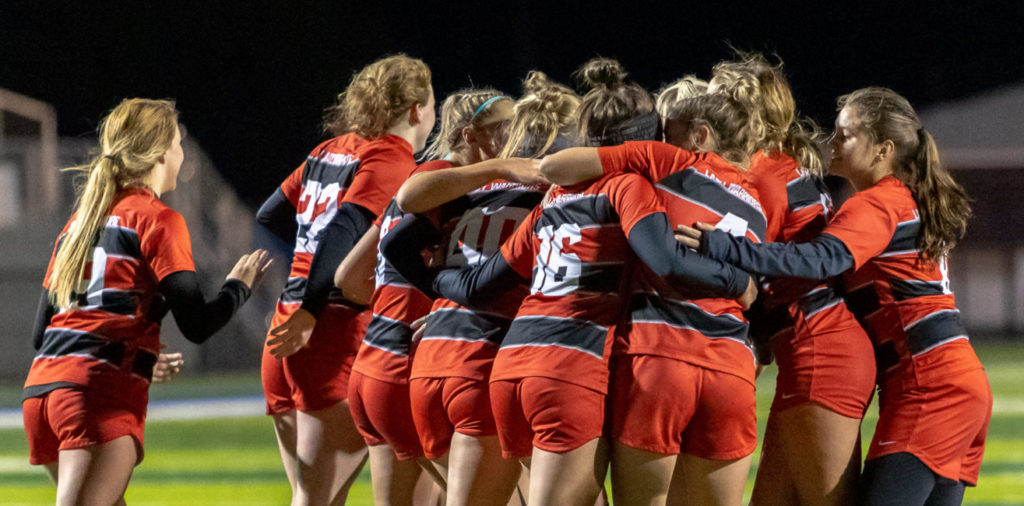 Unquestionably, the best basketball game of the season was on March 12. Division II regional final, and this was Waverly's shot at Columbus with, arguably, its best team in school history.
Heath had leads at the end of the first, second and third quarters: 12-10, 25-24 and 32-31. Waverly was never overwhelmed by the momentum or Heath's height advantage across the board. The Tigers knew it had one intangible the Bulldogs didn't: grit.
Waverly took its first lead of the game at 33-32, but Heath answered back with a quick bucket to regain the advantage. After splitting a pair of free throws, the Tigers answered with four straight points from Trey Robertson to retake the lead, 37-35.
The Tigers later led 40-37 with less than 30 seconds left, but Heath's Keylan Williams buried a triple to send the game into overtime. After three scoreless minutes, Mark Stulley threw Waverly's patented lob pass to Will Futhey for the team's final bucket with 48 seconds left.
The Tigers followed by hitting four of its next six throws, which was just enough to claim its first regional title since 1970.
Honestly, what else could top this moment? There's no buzzer-beater or walk-off that could top being the best team in the state.
Akron, Ohio. State championship. Wheelersburg vs. Tuslaw. The showcase of the immortals. Final game of the season. Either mission accomplished or almost accomplished.
The Pirates wasted no time getting a lead via a two-run single from Andi Jo Howard, and the sprint to the end was underway. They added two more runs in the third thanks to an RBI single from Sydney Skiver and a sacrifice fly from Rileigh Lang.
Despite Tuslaw scoring a pair of runs in the sixth and chasing Howard out of the circle, Kaylynn Carter came in and kept Tuslaw at bay. Macee Eaton provided the knockout blow in the seventh with a solo bomb to center field, locking up the second state championship in six years for the Pirates.