Derrick Webb, Staff Writer
IRONTON — For years to come, Ironton's Ty Perkins will dream about Friday night's win.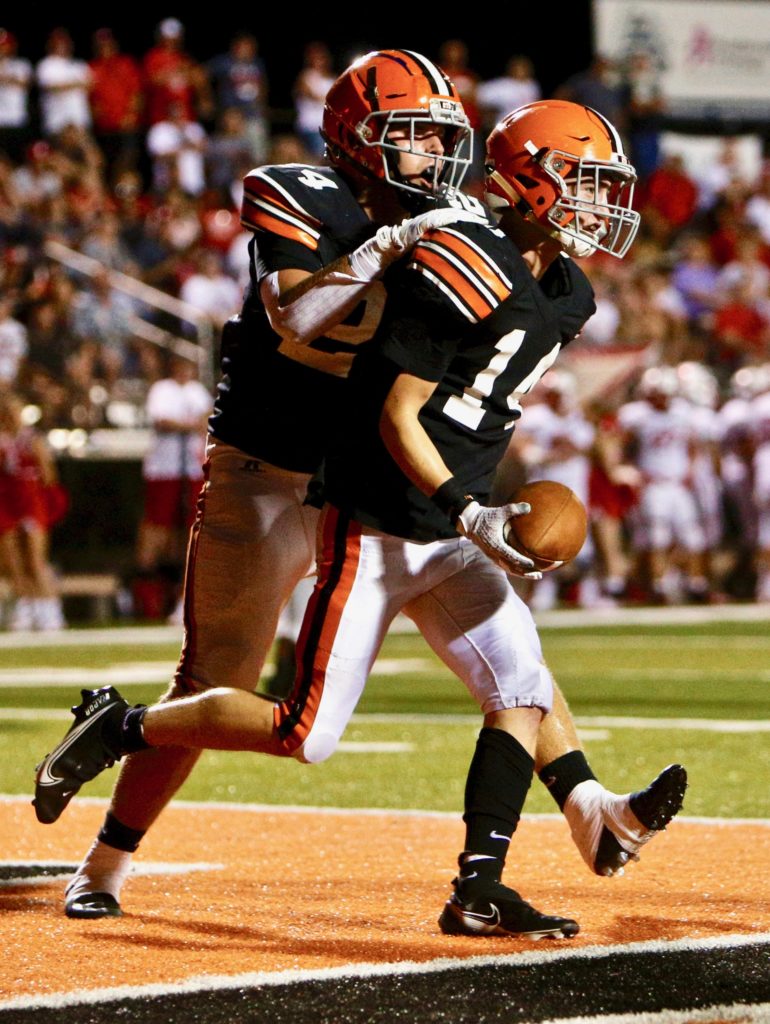 And while Perkins is dreaming peacefully, Jackson will be having nightmares about how the game ended.
After driving 62 yards to Ironton's 11-yard line, Jackson's Ethan Crabtree hit a 28-yard field goal with just 1.4 seconds left to give the Ironmen a 10-7 lead.
Quite simply, at that point, things looked rather dire for Ironton. But as Tigers coach Trevon Pendleton said after the contest, his kids "stayed in the fight."
And when the ball is in Perkins' hands, 1.4 seconds can seem to last a lifetime.
Ironton's Braxton Pringle fielded the ensuing kickoff at his own 28-yard line. He immediately turned and pitched the ball to Landen Wilson, who ran backwards to his own sideline and found Perkins.
Wilson lateraled to Perkins at Ironton's 24-yard line, and Perkins broke a tackle and found a seam. And, like a thief in the night, the junior stole a win from the jaws of defeat and shattered Jackson's heart in the process.
"I promise you, no one was going to catch me," Perkins said. "I had the most adrenaline possible. It was the first time I heard noise all night long."
The 79-yard kickoff return for a touchdown produced a 13-10 final, an ending that will go down in the history books and sent Tanks Memorial Stadium into an absolute frenzy.
"It's the kids staying in the fight and just finding a way to get it done," Ironton coach Trevon Pendleton said. "Tonight had nothing to do with coaching. I got out-coached all night long to be honest with you. [Jackson's] kids were more prepared and they deserved to win. But our kids stayed in the fight and they found a way to get it done."
The Tigers (2-0) got on the board first with 1:17 to go in the first quarter. After Ironton's defense forced and recovered a fumble deep in Jackson territory, Aaron Masters scored from five yards out to make it 7-0.
But that was the last time Ironton sniffed the end zone before Perkins' heroics.
"They did a good job of covering people up and letting their linebackers make plays," Pendleton said of Jackson's defense. "We've got to do a better job of keeping people off-balance. We can't allow people to pin their ears back and come get us. It's something we're going to work on."
---
---
While Jackson's defense played to an elite level, Ironton's defense matched their counterpart's performance. Once again, the Tigers flew to the ball, forced turnovers and punished ball carriers.
"That unit is just very aggressive," Pendleton said. "It's a lot of guys who have played a lot of football. Coach Jared [Pendelton] has done a great job over there. The defense has to have that maniac mentality and he definitely suits that. He's like a mad scientist over there and he's always high-strung. The defense takes on his persona and they play that way."
But Jackson (1-1) caught a break late in the first half.
With less than two minutes to play, Ironmen junior Jacob Wood recovered a fumble on a punt that ricocheted off a Tiger helmet. Jackson cashed in on the miscue with 33.9 seconds remaining as Cade Wolford scampered into the end zone from five yards out, making it 7-7.
And that's the way it stayed for much of the second half. Neither defense budged while each offense failed to move the ball in large segments. That is, until Jackson's fourth quarter drive.
The Ironmen handed the ball to Jacob Winters and let him do the rest. Jackson rode its horse to Ironton's 11-yard line before Crabtree gave his team a three-point lead.
And that set the scene for Perkins and company to take a final bow.
"Coach drew that play up for us," Landen Wilson said. "He said, 'Don't go down with the ball. Just toss it back.' Braxton caught it, tossed it to me. I thought I had an opening but I saw Ty behind me and I figured he had a better chance at it. So I tossed it to him and, you know, the rest is history."
That it is. That it is.
Statistically, Jaquez Keyes led Ironton's rushing attack with 62 yards on seven carries while Amar Howard totaled 13 rushes for 53 yards. Quarterback Jon Wylie was 5-of-15 passing for 35 yards and tacked on 15 rushing yards.
For Jackson, Winters led all rushers with 22 carries for 136 yards while Wolford tallied 12 carries for 18 yards and a touchdown. Winters completed 3-of-9 passes for 39 yards while Tristan Prater led the receiving corps with 25 yards through the air.
Jackson is slated to host Licking Valley in Week 3 while Ironton plays host to Fairland.
"We had too many penalties and too many unforced errors," Pendleton said. "We have to clean those things up. Things that we can control."
| | | |
| --- | --- | --- |
| Jackson | | Ironton |
| 5-14, 50 yards | Passing | 5-15, 35 yards |
| 41 rushes, 155 yards | Rushing | 35 rushes, 140 yards |
| 55 plays, 205 yards | Offense | 50 plays, 175 yards |
| 2 | Turnovers | 2 |
| 6 – 55 yards | Penalties | 9 – 55 yards |