Brock Netter, Staff Writer
ATHENS — There has officially been a page added into Waverly's school history books.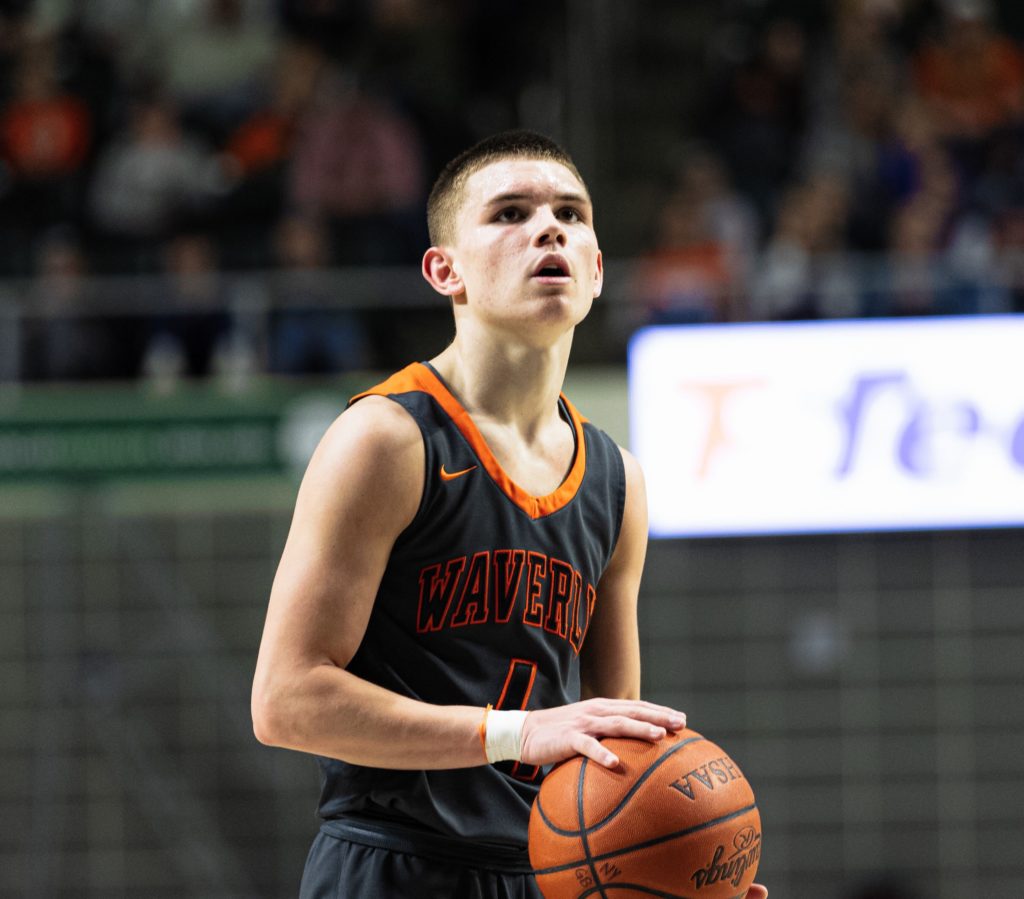 And while it took an extra four minutes to do so, alongside an almost flawless second half, when the Tigers finally did finish writing the school's most prolific basketball story, pandemonium broke loose.
That celebration took place after a 46-45 overtime win over Heath in a Division II regional final at Ohio University — a game in which Waverly didn't hold its first lead until the fourth quarter.
"We left it all out there," Waverly coach Travis Robertson said. "Coming into this game, we knew we weren't the biggest or the strongest team. But the one thing we did feel like we had the advantage of was being the tougher team. That's what I told our kids. We wanted to prove that and prove we wanted it more. I felt like we did that. When you shoot 35 percent from the field and 16 percent from the 3-point line, and you're able to win? That proves you're tough."
While the usual scoring suspects of Trey Robertson and Will Futhey eventually left their fingerprints on the game, Hudson Kelly did so early on. The junior made an impact on the offensive end, keeping his Tigers within striking distance.
His contributions, alongside those of three other teammates, provided a bridge from competitiveness to victory.
"I've said it all season; how far we go is dependent on four people," Robertson said. "Braylon [Robertson], Wade [Futhey], Hudson and Penn [Morrison]. Those four right there. You know what you're getting out of Trey most nights, you know what you're getting out of Mark [Stulley] and you know what you're getting out of Will [Futhey]. So those four are dependent on how we do. Tonight, they proved me right."
Tale of the tape
The Tigers (23-4) took an early 4-3 lead following a bucket from Hudson Kelly off an assist from Mark Stulley. Heath then answered with a 7-3 spree to take a 10-6 lead.
Stulley and Kelly each scored to tie the game at 10-10 before Heath's Josh Guy scored on the other end to give it a 12-10 lead after the first.
The Bulldogs maintained a one-possession lead, then created some breathing room with back-to-back 3's from Grayson Suhmate and Brandon McLaughlin for a 22-15 score.
---
---
Waverly battled back to 22-18, but Suhmate connected again from deep. However, Trey Robertson and Will Futhey each hit a triple to end the half on a 6-0 run for a 25-24 Bulldog lead at the break.
"[Futhey's] taken eight 3's this year and he's made six of them," Robertson said, smiling. "They've all been at the same spot. The funny thing is just yesterday, we were talking and I had joked around, saying I had visions of Will Futhey banking in a corner 3, back-to-back. He caught it and our coaches were yelling not to shoot and I was saying, 'Bang it out.' That sucker went in and it made me look good again."
Heath managed to push its lead to 30-25 following a triple from Guy, but back-to-back buckets from Kelly and Robertson cut the lead to 30-29. Both teams then traded buckets to keep Heath ahead 32-31 after three.
Futhey found a cutting Stulley for a bucket to begin the fourth and give Waverly its first lead of the night at 33-32. But Heath's Payton Lees quickly answered on the other end to put the Bulldogs back ahead.
Heath then split a pair of free throws, but Robertson answered with a layup, followed by two free throws to give the Tigers a 37-35 lead.
Waverly pushed that advantage to 40-37, but Heath's Keylan Williams buried a triple with 25 seconds to tie the game yet again.
The Tigers held the basketball in an attempt to win the game in regulation but their shot attempt at the buzzer hit the back iron and fell to the ground, forcing overtime at 40-40.
"I was ready to go out and clothesline Trey and Will for not communication," Robertson said with a smile. "We missed free throws down the stretch and usually, that doesn't happen. I think we're just maybe holding onto the makes and we're going to let them go in the [state] semifinal."
Neither could find the bottom of the bucket for three minutes in the extra time frame. But when Stulley hit Futhey on a lob pass for a bucket with 48 seconds left, it gave the Tigers a 42-20 lead and momentum.
"We wanted to spread them out and to shorten the game as much as possible," Robertson said. "We kept looking at the backside guy to see if he was stepping up. We finally go that to happen and once I saw it, I figured we might as well give that lob play a try. All kinds of negative stuff can happen on that play but I trust our guys."
The Tigers hit two of their next four free throw attempts before Heath scored to cut the lead to 44-42. However, Robertson —fittingly so — hit two free throws to clinch a Final Four berth and send all of Tiger Nation into a frenzy.
Stat book
Statistically, Trey Robertson ended the night with 22 points while Kelly finished with eight points. Will Futhey added six points and 10 rebounds.
What's on tap
Waverly advances to a Division II state semifinal at 8:30 p.m., Friday at the University of Dayton Arena. Its opponent will be Gilmour Academy, who defeated St. Mary's Memorial to advance.
"Just unbelievable," Robertson said. "As a kid, as a player, you always dream about going to the Final 4. I know I did. We got here ever year I played in high school. We just couldn't get past it. To have my two boys on the team and to get to experience this together with them? It's pretty special. It means a lot to me. Then you have Mark, Will, Wade, Penn, Hudson and all of those guys, they've spent a lot of time at my house. we're a pretty close group and there's not another group that has earned this more than they have."