Brock Netter, Staff Writer
CHILLICOTHE — There was no bigger ticket in town than McClain and Washington on Saturday, and the game completely lived up to the hype.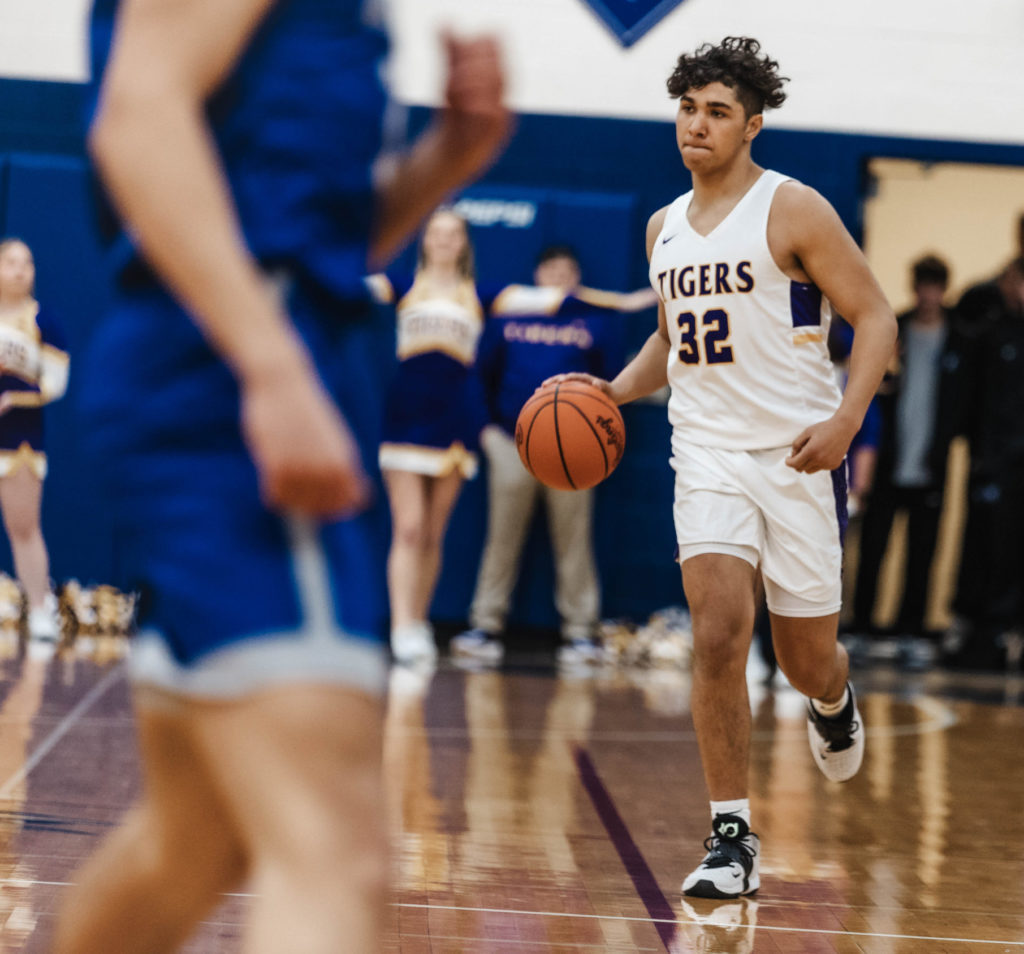 But when the dust settled and the final buzzer sounded, the end result was the same as the previous two meetings.
Maintaining its composure down the stretch, the Tigers (16-3) knocked down their free throws and held off their rival Blue Lions by a 73-70 final in a Division II district semifinal.
It not only marked the third victory the Tigers scored over their FAC and neighboring foe, but it also advances McClain to a district final for the first time since 2007.
"It's been a long time since we've been in this spot, and we're well aware of our history," McClain coach Joe B. Stewart said. "This is a group of guys where all of the leadership isn't necessarily on the floor. There's leaders on our scout team, our bench and throughout our team. It's truly a synergy thing and that's a huge part of why we've had the success we've had this season. I'm so incredibly proud of these guys."
McClain's Bryson Badgley and Washington's Reico Colter have spent all season turning in one outstanding performance after another. So it was only fitting they did so one more time.
Through a series of pullup jumpers, deep shots and attacking the basket, Colter went down fighting and finished with a game-high 39 points.
"That kid, my goodness, he's just a flat-out ball player," Stewart said. "He's such a tough cover, not just for us, but for anyone who he's played against. He kept them in the game and gave them a chance to win. Hats off to him for his effort."
Ultimately, though, the night belonged to Badgley.
---
---
He put on a first half clinic, nearly outscoring Washington by himself throughout the first two quarters.
And despite cooling down in the second half, he still made an impact and collected a milestone along the way by surpassing 1,000 career points.
He finished the night with 34 points and 11 rebounds.
"I got a ton of open looks and just knocked down shots," Badgley said. "I'm still in shock a little bit to be honest. But I have to give credit to my teammates because I'm not out here doing it by myself. I didn't know I was even close to my 1,000th point, especially after missing most of last season with an ankle injury, but I'll definitely take it."
McClain had a balanced attack to start the game as four different players each scored a bucket. Yet, Colter and Tanner LeMaster were a two-man wrecking crew hanging right with them.
The Tigers maintained a lead but Colter connected on a double clutch triple at the buzzer, plus a foul, for a four-point play that knotted the game at 13-13 after one.
It was all Badgley in the second. Whether it was rebound and put backs, or shots from beyond the arc, he wasn't going to be denied.
He connected on back-to-back 3's, going on a personal 8-0 run to create distance with the Tigers leading 24-15. He continued his tear and scored 19 of McClain's 22 points in the frame to put the Tigers ahead 35-26 at the break.
"He's just an unbelievable player," Stewart said. "He's the first four-year player I've ever had doing this on and off for the last 40 years. He's such a humble and respectful person, as well as the ultimate competitor on the floor. Scoring 1,000 points pales in comparison to who he is as a kid, and that's what I'm most proud of."
Though the Tigers had all momentum into the break, it took just one game minute for that to completely turn around. Washington forced three turnovers as Colter, Lemaster, John Wall and Raleigh Haithcock each charged a 9-0 run to tie the game at 35-35.
Then it was Kendyll Toney's time to get cooking. Using his 6-foot-4 frame and size advantage, he later led the charge on an 8-0 run that gave the Tigers a 49-39 lead before closing out the third with a 51-41 edge.
Washington rallied behind Colter and Lemaster to cut the deficit to 58-54 midway through the fourth. Then disaster struck for the Blue Lions.
Trailing 63-61, they were whistled for a foul on McClain's Braden Wright. Seconds later, they were assessed a technical foul that completely flipped all momentum as Wright connected on all four free throws.
Despite Washington's best efforts to extend the game — the Blue Lions even got the ball back down one possession — a full-court heave fell short and the Tigers catapulted into a district final.
"I missed all four of my free throws in the first half, but my teammates picked me up and I kept telling myself that eventually they'll fall," Wright said. "One of our team mottos is 'Deserve victory daily.' We did that all week with great practices and staying focused. We won this one before we stepped off the bus."
Following Badgley, Toney added 18 points and four assists while Wright added 10 points.
After Colter's massive output, Lemaster had 14 points while Wall had 10.
McClain advances to a Division II district final at 7 p.m., Saturday at Southeastern High School. The Tigers will face No. 6-seeded Sheridan, who defeated Gallia Academy to advance.
"This group has accomplished more than a lot of people probably thought they ever would or could," Stewart said. "We'll take things one day at a time, put together a good game plan and be prepared for the biggest game of our season."