Derrick Webb, Staff Writer
WAVERLY — Alaina Keeney scored just five points on Saturday afternoon — which is well below her team-leading season average.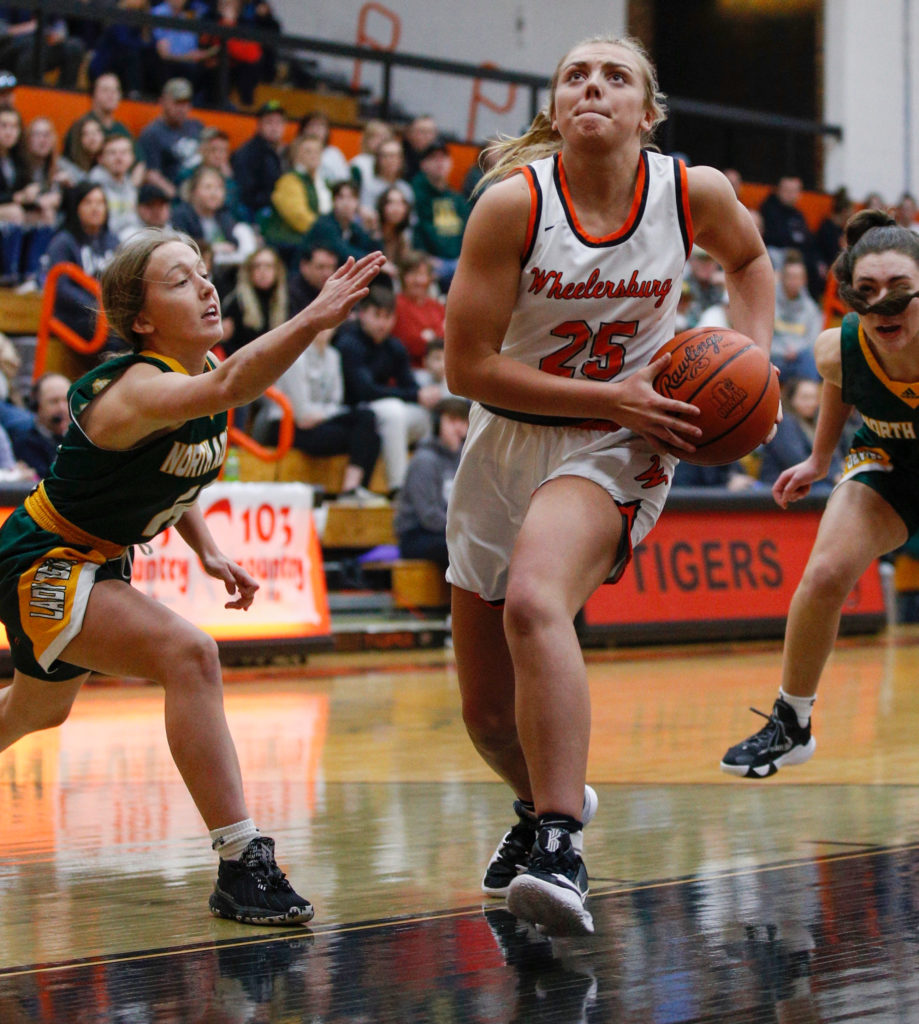 She also doesn't care.
That's because when her teammates needed a lift in the most crucial moment of the game, Wheelersburg's senior forward delivered the goods.
In a 40-40 tie with North Adams and just 4.8 seconds left on the clock, Keeney received an inbounds pass on the right wing and drove with a head full of steam towards the bucket.
With 2.2 seconds remaining, she put up a floater that hit the top of the window and ricocheted around the rim four times before falling into nylon — allowing the top-seeded Pirates to seal a 42-40 season-advancing victory.
"No one was on me so I said, 'Hey, Lex [Rucker], give it to me.' I just knew I had to get it done," Keeney said. "My teammates played a huge role. Everyone did great and everyone coming off the bench did great. So at that point, I just knew I had to get it done."
Up unto that point, the Pirates (22-0) had endured murky waters — pun intended.
North Adams (18-6) used a full-court press to force 24 turnovers, which is an uncharacteristic tale of the Pirates' season to say the least.
"The style that North Adams plays is tough to prepare for but I feel like we did a decent job doing so," Wheelersburg coach Dusty Spradlin said. "It's one of those things where you can't really simulate in practice. There were times we did a really great job and there were times where we were rushed. That's the goal for [North Adams]. They do that all game long and they feed off it. We haven't had somebody that's been able to really do that to us this season. So I'm super proud of the girls for getting through it."
Tale of the tape
Keeney scored the game's first bucket, and of course, the last.
After her score at the 7:17 mark in the first quarter, Lexie Rucker added her own basket to give Wheelersburg a 4-0 lead. However, the Green Devils pieced together a 9-3 run, on the wings of Keetyn Hupp, to take a 9-7 edge. By the end of the first quarter, North Adams' lead was 12-10.
A 5-0 run to begin the second made it a 17-10 lead — the Devils' largest of the day — and forced Wheelersburg to call a timeout after four straight possessions that ended with a turnover.
"We just never stopped playing," Rucker said. "On every loose ball, we were on the ground. There were times where we'd make a mistake and turn it over and, obviously, 20-plus turnovers is not good. But we really pulled through. It came down to who wanted it more."
Down seven, Wheelersburg answered with a 10-0 run, thanks to a bucket from Rucker and two 3's from Madison Whittaker's hot hand. That put the Pirates ahead 20-17 before they took a slim 24-23 edge into the break.
---
---
North Adams retook the lead at 27-26 in the third but a 6-0 run allowed Wheelersburg to go ahead 32-27. Still, the Devils wouldn't go away as Morgan Shupert dialed long distance to cut the deficit to 32-30 after three quarters of play.
"The experience that we have helps a lot," Keeney said. "Our whole team has been through big games like that. This whole year, we've had some big games. We've been in tough situations and in the end, we always find a way to get the job done."
Rucker made it a 34-30 game before North Adams' Laney Ruckel hit a 3 for a 34-33 tally. Wheelersburg's Macee Eaton added a pair of free throws before Lizzie Gill hit her own 3 on the other end for a 36-36 deadlock with 5:45 to go.
Throughout the rest of the fourth, both defenses stepped to the plate, allowing eight combined points.
North Adams took a 40-38 lead on a bucket from Sierra Kendall with 4:06 to go. But the Pirates countered with a basket from Makenna Walker at the 1:15 mark, tying the game at 40.
That, as well as a turnover with less than five seconds left, set Keeney up for her last second heroics.
You know the rest.
"I've always been told that ugly wins are better than pretty losses," Keeney said. "North Adams is a very good defensive team. I think they sped us up, which is what they wanted to do. But we just need to play as a team, keep ourselves together, and we'll be good."
Stat book
Rucker led the Pirates with 15 points while Walker added nine points and three rebounds. Whittaker helped out with nine points, Keeney had five points, five rebounds and five assists, and Eaton ended the day with four points and a team-high seven boards.
North Adams was led by Ruckel, who had 12 points, eight rebounds and two assists, while Hupp ended with nine points and five boards. Shupert ended with six points, Lizzie Gill had five of her own, and Kenlie Jones finished with three points, two rebounds and three assists.
What's on tap
While the Devils' season comes to an end, Wheelersburg advances to a Division III district final against Leesburg Fairfield.
That contest is slated for a 6:30 p.m. tip-off, Friday at Waverly's Downtown Gym.
"I told the girls at halftime that we've been in those situations all year," Spradlin said. "We've led and then we'd fall behind. And it's almost like we've been a little doubted all year. So it's rewarding. These girls just keep fighting and they fight for each other. Hopefully, we just keep going."
BOX SCORE
North Adams: 10-13-7-10 — 40
Wheelersburg: 12-12-8-10 — 42
North Adams: 13-45 FG, 7-10 FT, 7-22 3pt., 20 rebounds (Ruckel 8), 15 turnovers, 8 assists (Jones 3). Scoring: Ruckel 12, Hupp 9, Shupert 6, Gill 5, Jones 3, Kendall 3, Grooms 2.
Wheelersburg: 17-32 FG, 4-6 FT, 4-11 3pt., 19 rebounds (Eaton 7), 24 turnovers, 11 assists (Keeney 5). Scoring: Rucker 15, Whittaker 9, Walker 9, Keeney 5, Eaton 4.