Derrick Webb, Staff Writer
After another full week of high school basketball season, here's this week's Shootaround:
THREE THINGS
A. The SHAC's girls title race is a gauntlet. Peebles, Eastern Brown, North Adams and Fairfield are all still in the mix, and all four of those teams are ridiculously talented. You have your starpower in Jacey Justice, Rylee Leonard, DeLaney Harper and Emma Fouch. You have another batch of talent in Lilly Gray, Emma Prine, Wylie Shipley and Payton Magee. And you have your defensive stoppers in Marissa Moore, Caitlyn Wills, Braylie Jones and Ella Newkirk. All on those four teams. Those four are a combined 32-5. Four of those losses have come to each other. Buckle up. The rest of the season will be a lot of fun to watch unfold.
B. While the SOC II's boys race is essentially becoming a two-horse race, you have to think that Wheelersburg's girls are still on upset alert. And the Pirates, who are 6-1 overall and 6-0 in the SOC II, should be throughout their entire schedule. Why? Waverly's girls have now won six straight, Northwest is always a tough out because of its length, Oak Hill has enough talent to beat anyone with a legendary coach leading the way, West pushed the Pirates to the brink in the two's first meeting, and South Webster is a dangerous matchup for anybody. The point? There is no let up in the SOC II. The Pirates own wins over Valley, West, Oak Hill, Eastern, South Webster and Minford. Over the next 11 league games, they'll have to play Northwest (7-2) and Waverly (8-2) twice and finish their season series against Oak Hill (6-4), West (6-5) and South Webster (6-4). While the SHAC has four top-tier teams, the SOC II is good from top to bottom.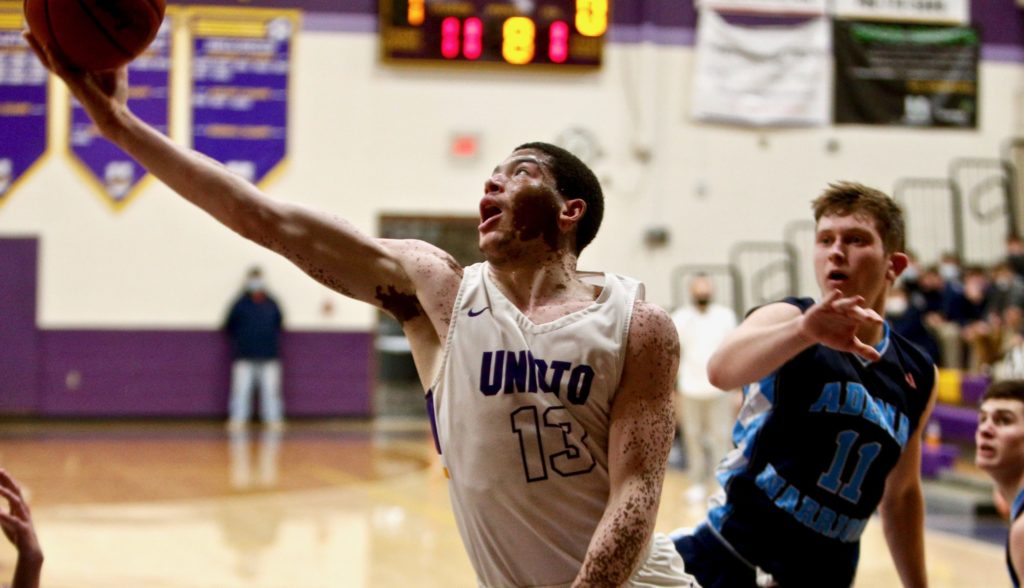 C. Unioto's boys are officially in the driver's seat in the SVC title race. Led by the winningest coach in program history, as of this past week, the Shermans are 9-2 overall and 7-0 in the conference. But they were doubted, again, coming into the season. I can't get past how they've been doubted at the beginning of each of the past two years. How does this happen? Coach Matt Hoops has a relentless group led by alphas Isaac Little and Tayvion Galloway. Little, a senior, is averaging 18.2 points and 1.9 steals per game while Galloway, a freshman, is putting up 8.7 points and 5.7 rebounds. When you add in the always solid Cameron DeBord, an overlooked Gunnar Greenwalt, and defensive guru Cater Markko, you've got a solid starting five. And that's without even mentioning Carson DeBord, Evan Park or DeSean Branson. Make no mistake about it, the road to the league crown still runs through Frenchtown.
OUTTAKES
Waverly girls coach John Bonifield on earning his 100th career win:
"I've been very fortunate to have coached some great players and have been surrounded by awesome and dedicated assistant coaches throughout our program. I can't thank Waverly City Schools enough for giving me the opportunity to coach these young ladies."
Wheelersburg boys coach Steven Ater on using motivation of being an underdog in win over Waverly:
"That's the thing about this group. I think they took it personal where most people said they weren't going to win the league again. They took that as a challenge. So they went into halftime, knowing we had 16 more minutes to play. I thought their mindset wasn't fixated on us being down. It was, 'Hey, let's fix the problems and play better in the second half.'"
Huntington girls coach Tiffany Carroll on trying to turn her group's season around:
"We know that there's really nobody in our league that you can take for granted. But every game in our league, we feel like, is winnable. We're looking to get on a roll now, moving into the second part of the SVC schedule. We want to flip the script a little bit."
WORTH THE PRICE OF ADMISSION
Lauren Lane. Underrated. It's really that simple. Lane has kept Zane Trace in multiple ball games this season while leading the team in scoring. The Pioneers' record isn't attractive at 1-9 but Lane is a diamond in the rough. When she's in rhythm, she has the ability to single-handedly carry her team. She's a great shooter, a solid passer and the leader of her team.
Manchester's Emily Sweeney is one of the more underrated players in the area. The senior forward can absolutely stroke from downtown. If she's open, or even with a hand in her face, she's a threat to score. She provides the Greyhounds with a bonafide scoring option, working off Brooke Kennedy. When those two are both hitting, Manchester is a tough matchup for anyone.
Wheelersburg sits at 9-0 and Eli Swords is a huge reason why. Many times, Swords' teammates shoulder the scoring load. But Swords, who can score at will if he's up to it, does all the little things that may never grace the score sheet. He's a hard-nosed kid, he's not afraid to draw contact in the lane, and he can hit the outside shot.
SHOT OF THE WEEK
Wheelersburg's J.J. Truitt helped the Pirates move into sole possession of first place in the SOC II with a win over Waverly this past Tuesday.
Here, he flies through the air while beating two defenders to the rim.
VIDEO OF THE WEEK
North Adams' duo of Braylie Jones and Karissa Buttelwerth helped the Green Devils beat Miami Trace in a massive matchup this past Tuesday.
Don't look now but North Adams, a regional finalist last season, has won four straight.
PERFORMANCE OF THE WEEK
Peebles' Payton Johnson absolutely came to play on Saturday evening. In the most important game of her young career, the freshman turned in a 21-point, 15-rebound performance in a 59-51 win over Peebles. She's the key to a lengthy tournament run for the Indians. We know about Jacey Justice. We know about Lilly Gray. Those two can take over any game at any time. But when you throw Johnson in the mix, and she plays like she did on Saturday, Peebles quickly becomes one of the best, if not the best, teams in the Southeast District … in any division.
DOUBLE BONUS
Huntington's Carly Dyer had quite the week. While her team picked up two wins, moving its record to 4-6 overall, Dyer scored 24 points and brought down seven rebounds in those two victories. It's really this simple … when Dyer plays well, so do the Huntsmen. This team could be a threat come tournament time and Dyer is at the center of that storm.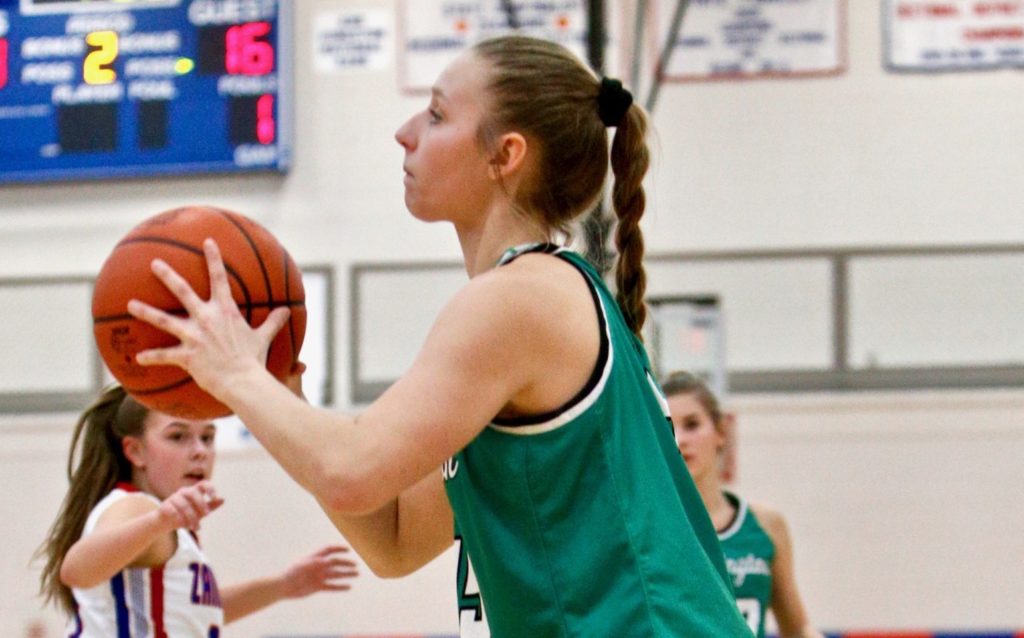 Somewhat quietly, Piketon's Chris Chandler has been on a roll. What else is new? In three wins — oh, by the way, the 'Streaks have won six straight — Chandler tallied 56 points. He's currently averaging 16.6 points and 5.6 rebounds while shooting 53 percent from the floor. He's, by far, one of the best players in the conference and will be an all-district shoo-in.
WHAT'S ON TAP
As usual, our team will be out and about this week with many interesting games on the schedule. Here's where you can for sure find us this week.
Monday, it's Circleville at Chillicothe's girls while Adena is Tuesday's site as the Warriors' girls host Westfall. Wednesday and Thursday, we'll have updates from Eastern and Wheelersburg as Minford's boys travel to face the Eagles while the Pirates' girls welcome West in SOC II action.
We'll kick off the weekend with coverage from Waverly as the Tigers host West in a conference bout and, on Saturday, we're bringing a double scoop of coverage starting with Miami Trace at McClain's girls and ending with Adena at Piketon's boys.
LINK LOCKER
Graves, Mitten fuel Southeastern to road win over Manchester … Peebles knocks off undefeated Eastern Brown … Unioto's Matt Hoops becomes school's all-time winningest coach … Q&A: McClain's Bri Weller discusses strong team play, chemistry