Derrick Webb, Staff Writer
PEEBLES — Payton Johnson has officially arrived.
Peebles' freshman standout has played well all year long. But on the biggest of stages Saturday night, and in an imperative game on the schedule, Johnson threw her welcome party.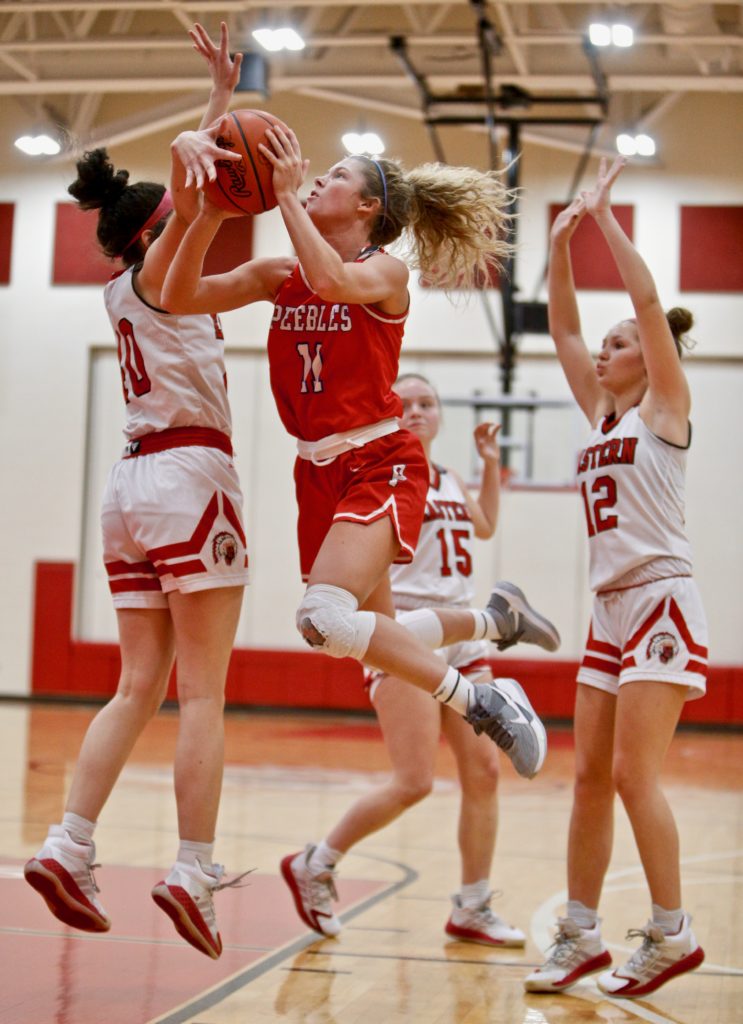 She scored 21 points, grabbed 15 rebounds and passed out three assists in a 59-51 win over Eastern Brown — the Indians' first win over the Warriors in quite some time, and one that followed their first loss of the season.
"We came in hungry after the other night's loss," Peebles coach Billie Jo Justice said. "We haven't been getting that strong of a game from Payton over the past couple. But we've just tried to get her to relax. Kids come into it and they get a little pressure on them. Then they started overthinking the game. But she relaxed, played the game like she knew how and just had fun."
Johnson was the spark plug to a team that, for the most part, outplayed the previously undefeated Warriors (12-1, 5-1 SHAC) in every phase of the game.
The Indians (7-1, 6-1 SHAC) won the rebounding battle by a 46-32 margin, forced 24 turnovers and held Eastern to 28 percent shooting.
While Johnson led the charge, Peebles also got some help from senior Jacey Justice and junior Marissa Moore, who combined for 25 points and 10 rebounds.
---
---
"Payton was huge tonight," Justice said. "Jacey is used to games like this by now, but Moore stepped up big-time as well. She was huge defensively. We felt like we matched up well with Eastern. And sometimes, it's about matchups. Your size, you physicality … it makes a difference. But the matchups seemed to balance for us and, again, coming off a loss, it made us hungry."
Eastern never had a lead. From the get-go, Peebles played with an unmatched energy.
Jonson and Justice scored three times in the first two and a half minutes, giving the Indians a 6-0 lead. That lead swelled to 14-6 and 18-9 counts by the 1:47 mark in the first quarter.
The Warriors trimmed the deficit to 18-13 when a bucket from Rylee Leonard but Justice beat the buzzer for a 20-13 score heading into the second.
Lilly Gray and Johnson immediately scored to begin the next sequence, making it 24-13, before Moore scored with 3:19 left to make it a 30-16 game. That double-digit lead held up at halftime at 36-25.
"We've been hungry to beat Eastern for a long time," Justice said. "We allowed Fairfield to get second and third chances at the rim. You're giving up the game just on that. So we made an adjustment. And it's all stuff we're trying to change because it's still early. We just have to keep working on getting a good rhythm."
Moore began the third with a bucket before Eastern used scores from Emma Brown, Emma Prine and Bailey Dotson to cut the deficit to 38-36 with a 7-0 run. But the Indians answered, pushing the lead to 44-37 heading into the final eight minutes.
Moore and Justice scored at the 6:41 and 5:46 marks, making it 48-39, before Johnson nailed two free throws to make it a 50-42 count with 4:28 to go.
After Eastern cut the lead back to five at 50-45, Peebles put the game away with a 6-1 run, sparked by a three-point play from Johnson with 3:03 left, to go ahead 56-46. From there, the Indians held off a furious comeback effort.
Following Johnson's totals, Justice added 14 points, five rebounds and five assists while Moore followed with 11 points and five boards. Gray also helped out with nine points and 10 rebounds.
Eastern was led statistically by Prine, who totaled 14 points and four rebounds while Leonard had 12 points. Brown logged a double-double with 10 points and 12 rebounds while Dotson finished with six points and boards. Gloff also chipped in, tallying six points and four rebounds.
Eastern will attempt to bounce back on Monday, traveling to Fayetteville, while Peebles gets back at it on Thursday, hosting Ripley.
"We're ecstatic," Jacey Justice said. "My team came together tonight. We weren't worried about anything else. The only thing we wanted to do was win tonight. Everybody was on fire tonight. Such a good team win."
BOX SCORE
Peebles: 20-16-8-15 — 59
Eastern Brown: 13-12-12-14 — 51
Peebles: 20-50 FG, 19-29 FT, 0-4 3pt., 46 rebounds (Johnson 15), 24 turnovers, 10 assists (Justice 5). Scoring: Johnson 21, Justice 14, Moore 11, Gray 9, Nicholas 2, Cobb 2.
Eastern Brown: 16-57 FG, 17-26 FT, 2-16 3pt., 32 rebounds (Brown 12), 24 turnovers, 11 assists (Dotson 4). Scoring: Prine 14, Leonard 12, Brown 10, Gloff 6, Dotson 6, Wills 2, Barber 1.