Derrick Webb, Staff Writer
MANCHESTER — When Sierra Mitten consistently visits the scoring column, Southeastern can beat anyone on any given night.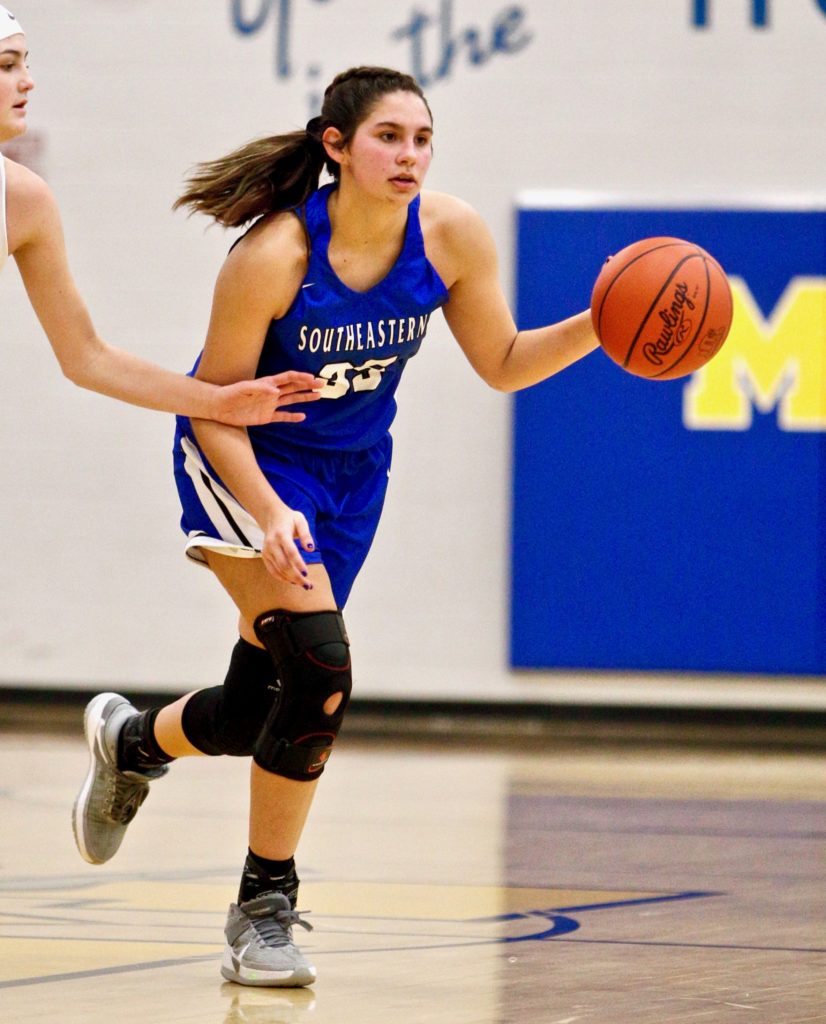 On Saturday, in a non-league matchup at Manchester, Mitten finished with 14 points, five rebounds and a pair of assists. In a close contest, the Panthers reaped the benefits.
Behind their senior guard, as well as strong showings from Macie Graves and Gabby Pernell, Southeastern handed the Greyhounds a 62-57 loss.
"We've got to have Sierra every night to be successful," Southeastern coach Doug Hice said. "For a soccer kid, Sierra Mitten is a pretty darn good basketball player. Sometimes, it's hard to get that through to her. We tell her all the time that she's as good as anyone out there. We're starting to see that a little bit. When we get production from her, we're that much better."
While Mitten was superb throughout the day, Graves put the game away late. The senior scored a game-high 21 points and knocked down 6-of-7 free throw attempts. She was 6-of-14 from the floor.
And, when a win was on the line, she was straight money.
"Any night, any game, Macie Graves is where we want the ball to be," Hice said. "She's an outstanding free throw shooter and she's just so smart. Our whole team has been struggling shooting the basketball. But today, I thought we shot pretty well. Somebody's missing the boat on her because she hasn't committed to a college yet."
Manchester's Emily Sweeney started the game with a triple at the 6:55 mark in the first quarter. After Karigan Turner made it a 4-0 game with one of two free throws, the Panthers went on a 12-2 run behind Audrey Scott, Macie Graves and Mitten to take a 12-6 lead with 1:23 left.
---
---
Southeastern's Gabby Pernell scored to make it a 14-8 game before Sweeney hit another triple to end the quarter, cutting the Panthers' lead to 14-11.
Graves opened the second with a triple, making it 17-11, before Mitten followed suit at the 4:54 mark, making it 20-13. Pernell and Mitten then teamed up to make it a 24-15 score with 3:43 left before Manchester's Brooke Kennedy cut the lead to 26-20 with 2:50 to go.
Sweeney then ended the first half with two consecutive triples, trimming the deficit to 30-26.
With less than two minutes to go in the third, Kennedy gave the Greyhounds (3-6) a 40-36 lead. But Pernell put Southeastern back on top at 41-40 with 35.4 seconds left, dialing long distance, before Mitten hit one of two freebies for a 42-40 score to end the quarter.
With 7:13 remaining, Mitten got a bucket and a foul to fall before Pernell hit another triple. With a 48-43, Graves hit two free throws and nailed a 3 to put Southeastern ahead 53-45. With 2:31 left in, Kennedy answered with a 3, trimming the deficit to 55-52.
Sweeney then went back to her long-range shot, cutting SE's lead to 58-57 with less than a minute to go. But the Panthers called timeout to regroup and hit 4-of-4 free throws down the stretch to put away a five-point victory.
"This is a quality victory for our kids," Hice said. "We had two tough games last week with Unioto on Tuesday and Adena on Thursday. Both were dogfights. I was concerned about coming down here and not playing well mentally. We were worn out. But I thought we were locked in tonight."
Graves paced the Panthers statistically with a game-high 21 points alongside eight rebounds and three assists. Mitten followed with her 14 points while Pernell added 13 points. Cidney Huff also helped out, scoring seven points while Audrey Scott had five points and five rebounds.
Kennedy led the Greyhounds with 20 points, 11 rebounds and four assists. Sweeney had 19 points and five assists, Kylie Paul had six points, and Turner scored five points.
Southeastern is back in action on Tuesday, traveling to Piketon. Manchester will attempt to bounce back on Monday, traveling to Ripley.
"Manchester is a tough matchup," Hice said. "Both Brooke Kennedy and Emily Sweeney are outstanding players. They gave our small guards trouble at times. We probably stayed in our zone today a little too long, but I'm tickled to death with how our kids played today."
BOX SCORE
Southeastern: 14-16-12-20 — 62
Manchester: 11-15-14-17 — 57
Southeastern: 19-41 FG, 17-24 FT, 7-20 3pt., 25 rebounds (Graves 8), 13 turnovers, 8 assists (Graves 3). Scoring: Graves 21, Mitten 14, Pernell 12, Huff 7, Scott 6, Bailes 2.
Manchester: 22-45 FG, 5-12 FT, 8-17 3pt., 20 rebounds (Kennedy 11), 17 turnovers, 17 assists (Sweeney 5). Scoring: Kennedy 20, Sweeney 19, Paul 6, Turner 5, Lucas 4, Roberts 3.