Derrick Webb, Staff Writer
GREENFIELD — If you've watched McClain's girls take the court this season, you know the Tigers can find a way to score in many different ways.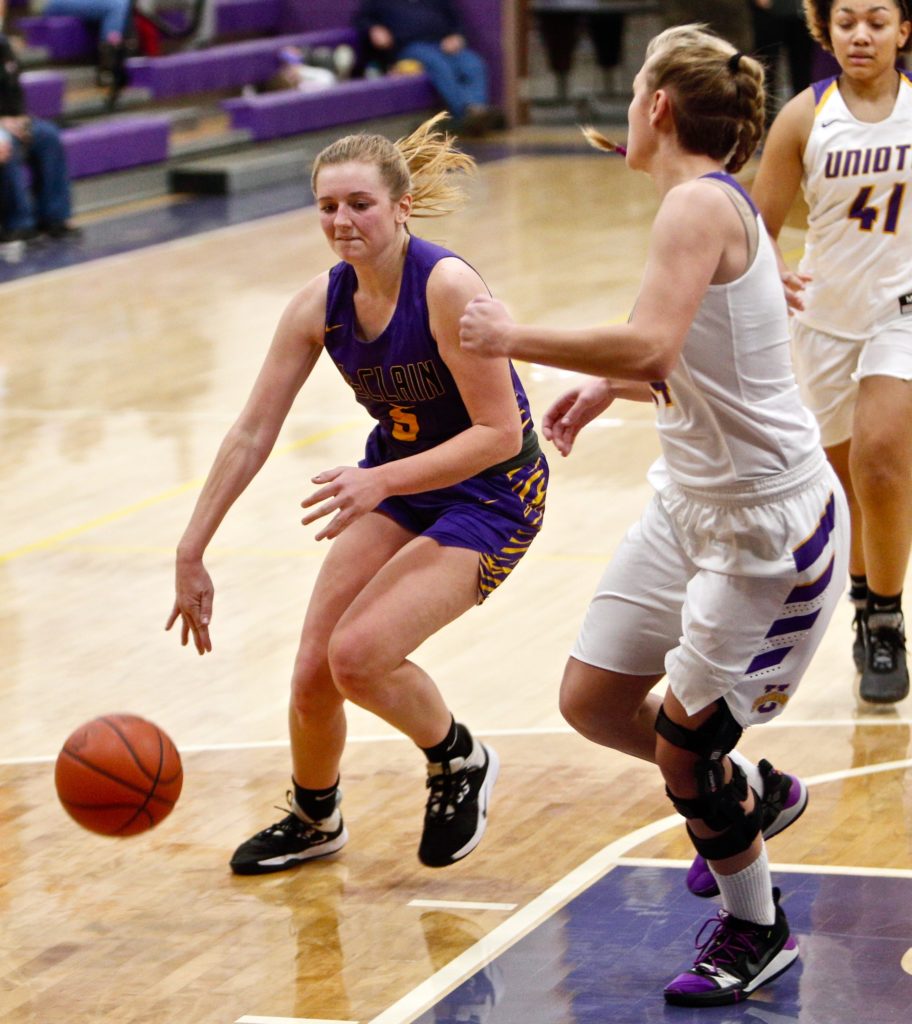 The defending Frontier Athletic Conference champions sit at 8-1 this season with a 3-0 mark in the league. Much of the reason why is because of the superb play from its five seniors — consisting of Kyla Burchett, Jaelyn Pitzer, Emma Stegbuaer, Josie Crabtree and Bri Weller.
Weller has been a threat under the bucket all year long, with no signs of slowing down.
The stretch forward has always had a knack for cleaning the glass, giving her teammates second chance opportunities to score and playing hard-nosed defense in the paint.
But this season, she's taken her talents to the next level as she's emerged into one of the FAC's best overall players.
We caught up with Weller to discuss the key to that transformation, the team's chemistry, what it's like to play for coach Jarrod Haines, and much more.
Question: You've taken your ability to score the basketball to the next level this season. What do you feel like the key to that has been?
Weller: I feel like the key to scoring more this year has been being more confident in myself and trusting my shot. I've also been working more on my post moves in practices to become stronger under the bucket.
Q: This group of seniors has had so much success over the past four seasons. Can you describe what makes your class so special?
BW:The girls and I have been playing together ever since we were little and have gained trust in one another. We've come to learn that we can rely on each other to step in and do what's needed and make things happen.
Q: Jarrod Haines is so much fun to watch as a coach. His passion is unrivaled. But what's it like to play for coach Haines? What's the best part about that?
BW: Coach is tough on us, but that's because he cares and believes in us. He has always pushed us to be the best ball players we can be and we wouldn't be where we are without him.
Q: The road to the FAC title still runs through Greenfield. What's the key to repeating as a conference champion?
BW: I think the key to winning the FAC is to keep our team chemistry up and push the ball. Coach always tells us to have grit and play like it's our last game because we never know when it will be.
Q: Looking past conference play, how far can this team go in a tournament sense? Why?
BW: I believe our team will go pretty far in tournaments this year because we are determined to face all the challenges we run into and not back down.
Q: Individually, what are your goals throughout the rest of the season?
BW: My goals for the rest of the season are to continue being strong under the basket and keeping my foul shot percentage high.