Derrick Webb, Staff Writer
After another full week of high school basketball season, here's this week's Shootaround:
THREE THINGS
A. This past weekend made it pretty clear … the Scioto Valley Conference is a two-horse title race between Unioto and Adena. Both the Shermans and Warriors sit at 4-0 in league play with a huge matchup coming up on Jan. 2. What a way to start the new year, right? Unioto has made its living defensively while Adena continues to shoot opponents out of the gym. So we should see a strength vs. strength matchup in Frankfort that evening. The winner shifts into the driver's seat and seizes a significant advantage.
B. How good do New Boston's boys look right now? The Tigers have started the season on a tear, taking no prisoners. Leading that group to a 5-0 start has been Kyle Sexton and Tanner Voiers, alongside Grady Jackson, De'Von Jones, Brady Voiers and Chase Clark. The Tigers fell to Fairfield last season in a district semifinal … and you can bet your bottom dollar they're losing that loss as motivation moving forward. It's shown early. They've got district title hopes and then some. They've got the talent and personnel to reach those goals if they continue putting in the work.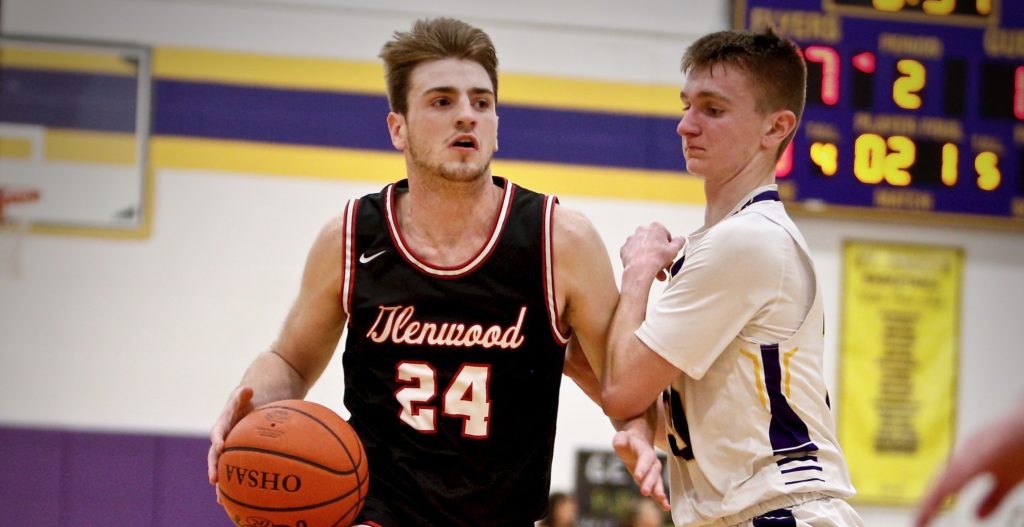 C. Some of our area's best players haven't see much action yet, thanks to COVID. In the SHAC, Peebles' Jacey Justice has played just one game — and scored 32 points in a win. North Adams' group, including DeLaney Harper, Braylie Jones and Wylie Shipley, has played just two games. In the FAC, Chillicothe is 1-0 and both Jacey Harding and Avery Erslan have been sidelined since a season-opening win on Nov. 21. Into the SOC, Green's girls are now back in action after a lengthy quarantine. The Bobcats will be led by Kasey Kimbler and Kame Sweeney. And, Waverly's Trey Robertson and Will Futhey will now be sidelined, with the rest of their teammates, until 2021. We've seen quarantines and COVID situations arise all year long. Hopefully, each of these names, as well as all of the area's athletes, can enjoy 15-plus game schedules and a tournament run. Fingers crossed.
OUTTAKES
Eastern Brown coach Rob Beucler on chasing his 400th career victory:
"It's been here [at Eastern Brown]. I've had several opportunities to go somewhere else. But I worked under a great coach in Jerry Lewis for years. He'd say, 'Don't leave, don't leave. I'm getting ready to quit.' He talked me into staying. So I did. And I'm glad. My kids came through here and had great success. It's been pretty cool to do everything we've done here."
Unioto coach Matt Hoops on how much confidence he has in Isaac Little during late-game situations:
"We have a lot of confidence in Isaac. He's been around the game for a long time and he's a proven winner. No matter what happens throughout the game, we know the ball is going to be in his hands late. His teammates trust him. He does a great job for us."
Notre Dame senior Ava Hassel on the Titans' 80th straight SOC I victory:
"We came into this game knowing that [Green] might've thought they could beat us this year. They have a lot of strong players. So we worked hard all week, watched film and got the game plan down. We knew they would come in and be competitive. So we made it a main point to come into this game with high intensity, high energy and shut them down early."
WORTH THE PRICE OF ADMISSION
McClain's girls sit at 6-0 and have benefited from an abundance of balance. While any player can score 20 on any given night, guard Emma Stegbauer is the motor that keeps the offense running. Stegbauer, a senior, fills the state sheet with ease. She cleans the glass well, most always makes good decisions with the basketball and hits big shots in big moments. She's one to keep an eye on.
Pound for pound, you may not find a tougher kid than Fairfield's Ella Newkirk. The Lions' junior guard has been impressive all season long. She's got a skillset that seems to never end and she seems to always be in the right place at the right time. Fairfield is 5-2 overall and Newkirk is a big reason why. The Lions have conference title aspirations. If that happens, you can bet Newkirk is a key reason why.
Freshman. Rim-rocker. Star in the making. All could describe Unioto's Tayvion Galloway. The youngster, who doesn't play like a youngster, had 13 points and six rebounds in this past weekend's win over Zane Trace. That includes two dunks in the first quarter. When's the last time you saw a freshman dunk twice in a span of three minutes? Special doesn't even begin to describe Galloway's upside.
SHOT OF THE WEEK
Piketon's Bailey Vulgamore blocks a shot, Tuesday in a win at Zane Trace.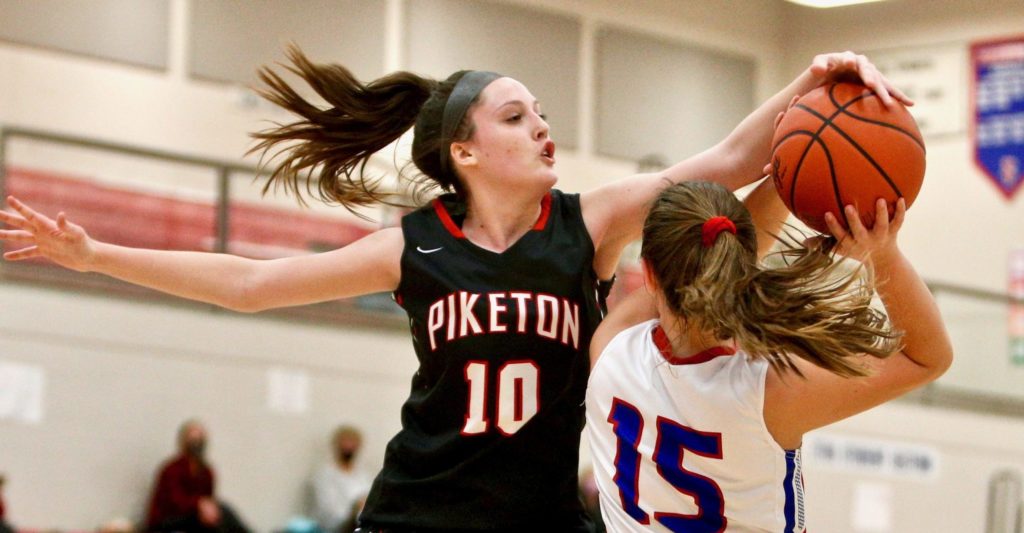 VIDEO OF THE WEEK
Adena's duo of Preston Sykes and Logan Bennett have been close to unstoppable this season. Here's the duo after a win over Valley on Tuesday.
DOUBLE BONUS
If you haven't noticed, Huntington's Allison Basye has absolutely arrived this season. Not only did Basye score her 1,000th career point in a win over West Union earlier this season, but she did so in a 43-point outing … a new single-game record in the Township. Basye also helped the Huntsmen hand Paint Valley a loss with 23 points, 16 rebounds, two blocks, five steals and three assists. She's, unquestionably, one of the top players in our area.
Whichever college takes a chance on New Boston's Kyle Sexton is going to reap the benefits tremendously. Sexton has his Tigers undefeated and is scoring in bunches. Most recently, he scored 24 points alongside seven rebounds, five steals and six assists in a win over previously undefeated Wellston. He followed that up with 25 points and 11 rebounds in a win over Whiteoak.
WHAT'S ON TAP
As usual, our team will be out and about this week with many interesting games on the schedule. Here's where you can for sure find us this week.
Monday, it's Adena at Eastern Brown's girls while Southeastern is Tuesday's site as the Panthers' girls host Peebles. Wednesday, we'll have updates from Paint Valley as Hillsboro's girls travel to face the Bearcats.
We'll kick off the weekend with coverage from Eastern as the Eagles' girls host the Pike County Holiday Classic.
LINK LOCKER
Galloway, Little pace Shermans to win over Zane Trace … With win over Green, Notre Dame nails down 80th consecutive SOC I victory … Adena moves to 8-0, hands Piketon loss … Second half surge lifts Eastern Brown to SHAC win over Fairfield … Q&A with West's Lexi Deaver