Derrick Webb, Staff Writer
WEST PORTSMOUTH — It takes just one time to see West's girls in action and you'll instantly know just how much potential the team has.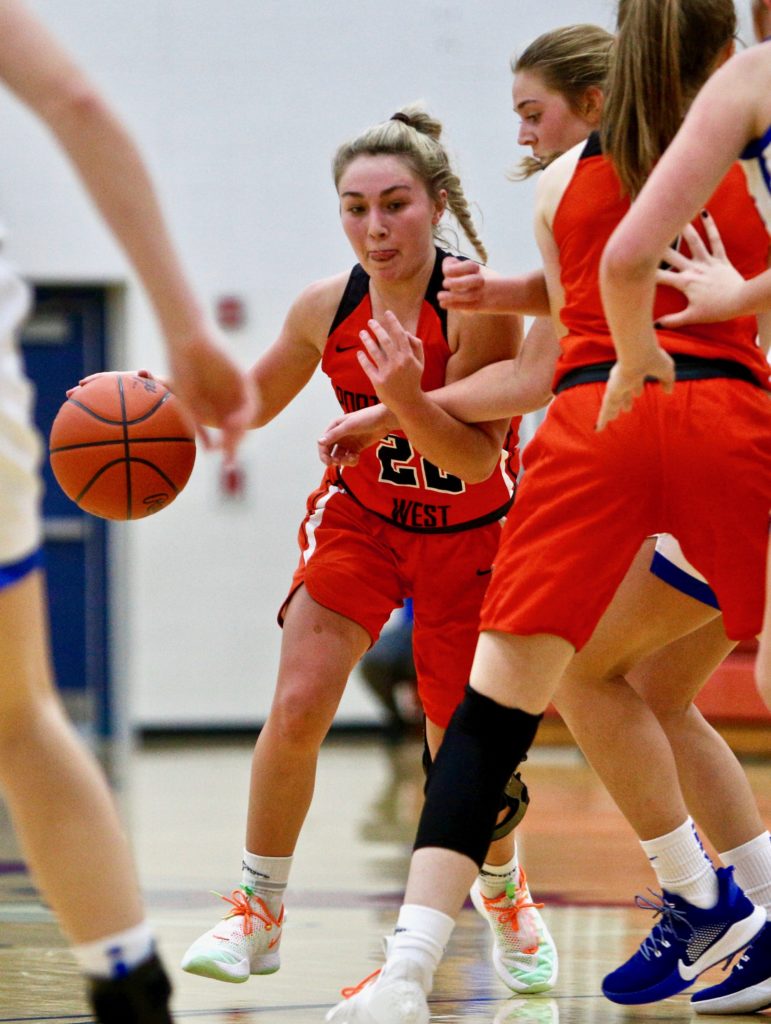 The Senators own a roster that's jam-packed with youth, with a core that has a ton of upside to them. In fact, there's not a senior in their starting five.
Sophomore guard Lexi Deaver is a key part to that movement and she continues to pull her weight on a nightly basis. She's proven her ability to not only score, but to also make those around her that much better.
Her court vision is continually improving, and any scout will tell you her potential is endless.
Currently, the Senators sit at 5-3 overall with a 4-2 mark in the SOC II. We caught up with Deaver to talk about her sophomore season, her best on-court traits and where she thinks this group could be in the next two seasons.
Question: You're just a sophomore but you don't play like a sophomore. What's your basketball background and how have you adjusted to the varsity level so quickly?
Lexi Deaver: My background goes back to second grade. The love for the game started then. Winning and losing a lot opened my eyes for a bigger picture of what I wanted in my future. Only playing four games my freshman year really took a toll on things. When watching my team lose, I would put it on myself. I knew I had to work the hardest I've ever had to work for my team. I played close to 90 games this summer improving my skills. I feel like those games and exposure really helped me gain, not only confidence, but reassurance that I had what it took to play in a varsity game.
Q: Speaking of youth, your team is jam-packed with it. How do you think that works to your advantage on a nightly basis?
LD: Our youth helps us on a nightly basis because we learn and improve each game. I believe that youth doesn't matter. Youth comes with its bad parts. It gives us an even bigger advantage, being able to play longer together and build team chemistry. That's as long as we work together towards the same goal, which is winning. Youth doesn't define us.
Q: How close is this team off the court? Can you discuss the relationship you and your teammates have?
LD: The team and I are very close. Playing at a young age together really brought us together more. We were taught life lessons at a young age. The relationship we have off the court is just more than teammates. We're family. The bonds that we have made through the game of basketball is indescribable. It's taught us that we have to come together in order to overcome any obstacle that we face, win or lose. We have each other's backs and work towards the same goal as a family. The same love we have for each other is shared for the love of basketball.
Q: What do you feel like the ever part of your game, individually, is?
LD: Setting the tempo for my team. Hyping my team up. Being the person they can always rely on, and always being the loudest person on the floor.
Q: When you look at the near future, what do you hope your team accomplishes this season and why do you think it's possible?
LD: I hope that we can win an SOC title this season. I think this is possible because of the work we put in. Being able to get into the gym ourselves and put up shots has really improved our game. We worked hard in the offseason, going to the track and the weight room, and we were in the gym almost every day. It improved our strength and muscle endurance, and allowed us to run and gun teams while not getting tired.
Q: Individually, you've got a bright future ahead. Where do you see yourself and your team in two years?
LD: I see myself, and my team in two years, being at the top of the conference. Being that team to beat. All cylinders!