Derrick Webb, Staff Writer
SARDINIA — Like a well-oiled machine. That's what Eastern Brown's girls have looked like.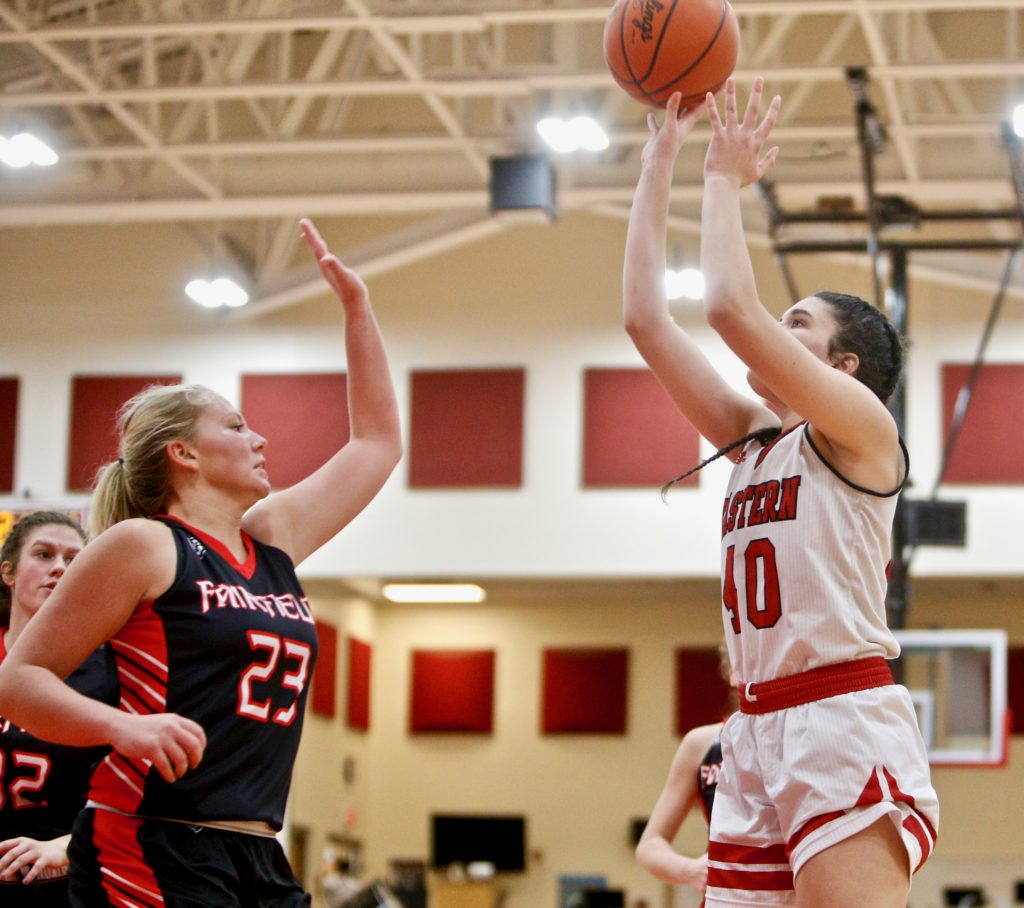 The defending co-SHAC champions have taken no prisoners this season, pillaging their way through the first six games — a stretch where they're beating teams by an average of 27.3 points.
Not much changed on Monday as the Warriors (6-0, 3-0 SHAC) handed Fairfield its first loss by a 70-39 final, outscoring the Lions by a 38-14 margin in the second half to do so.
"I thought it was a tale of two halves defensively," Eastern Brown coach Kevin Pickerill said. "But in the second half, we had some more help side defense and took away their clean looks. Overall, [Fairfield] has five solid players and they do a good job of rotating the ball. They're unselfish and they're hard to guard. But I think we did a good job on that. Offensively, it just kicked in. We feed off our defense."
Overall, the Warriors forced 34 turnovers, most of which led to points on the other end.
At the center of that trend were seniors Caitlyn Wills and Emma Brown, who routinely foiled Fairfield's offensive game plan. The duo boxed out well, created second chance opportunities and played with physicality in the post.
"I know this much … I'm already worried about losing them," Pickerill said of Wills and Brown. "I know that, every night, they're going to guard, they're going to rebound, they're going to play with intensity and they're going to do it with a little bit of attitude. We're going to miss that. We expect it every night and it carries onto the other kids."
Behind Peyton Magee, Ella Newkirk and Emma Fouch, Fairfield (4-1, 3-1 SHAC) jumped out to a 10-6 lead, forcing Eastern Brown to call a timeout with 3:40 left in the first quarter.
---
---
After Fouch made it a 13-7 lead with a bucket and a foul, Eastern's Rylee Leonard and Emma Prine connected on back-to-back triples to tie the game with 1:57 remaining. The Warriors took their first lead with 57.1 seconds left, thanks to a mid-range jumper from Izzy Barber, before taking a 20-16 lead into the second.
And they never trailed again.
Leonard and Prine repeated their back-to-back 3 act, making it a 26-16 score, before Newkirk and Fouch teamed up to cut the deficit back to single digits at 30-21. Just Before halftime, Fouch hit two more shots, cutting the lead to 32-25 at halftime.
But as Pickerill mentioned, the second half was a completely different story.
After Fairfield's Madison Bronner made it 32-27 with 7:48 to go in the third, Leonard and Wills paced a 16-2 run to give Eastern a 48-29 lead with 1:54 left — a run that was capped by another triple from Leonard.
By the end of the third, the Warriors had a 52-32 lead and had seized complete control.
That allowed the group to shift into cruise control in the fourth, sealing their sixth win in as many tries.
"We did a better job of boxing out, limiting them to one shot. And then we were more patient in our offense and got what we wanted, instead of taking the first open shot," Pickerill said. "Even if we missed shots, we were right there for the putback. We did a good job with that, too."
Leonard led all scorers with 27 points alongside four assists, continuing her superb sophomore campaign. Wills followed with 10 points and seven rebounds, Prine finished with nine points and Brown totaled six points and seven rebounds.
Fouch led the Lions with 17 points while Newkirk added seven points. Magee helped out with six points and four rebounds while Madison Bronner had four points and seven boards.
Eastern Brown will be back in action on Thursday, traveling to Lynchburg-Clay, while Fairfield travels to Whiteoak that evening.
"We're going to keep getting better offensively. We can get a little stagnant at times, so we're going to focus on that," Pickerill said. "Depending on who we're playing, and COVID has everything messed up right now, we'll see where we're at. We've got plenty of time to work on things and get better."
BOX SCORE
Fairfield: 16-9-7-7 — 39
Eastern Brown: 20-12-20-18 — 70
Fairfield: 12-38 FG, 12-18 FT, 3-13 3pt., 26 rebounds (Bronner 8), 34 turnovers, 3 assists (Bronner 2). Scoring: Fouch 17, Newkirk 7, Magee 6, Bronner 4, Duncan 4, Haines 1.
Eastern Brown: 27-65 FG, 9-22 FT, 7-21 3pt., 33 rebounds (Brown 7, Wills 7), 18 turnovers, 14 assists (Leonard 4). Scoring: Leonard 27, Wills 10, Prine 9, Dotson 6, Brown 6, Clark 4, Gloff 2, Barber 2, Litzinger 2, Dixon 2.