Derrick Webb, Staff Writer
PORTSMOUTH — Ava Hassel was straight cooking in Thursday's first quarter against Green.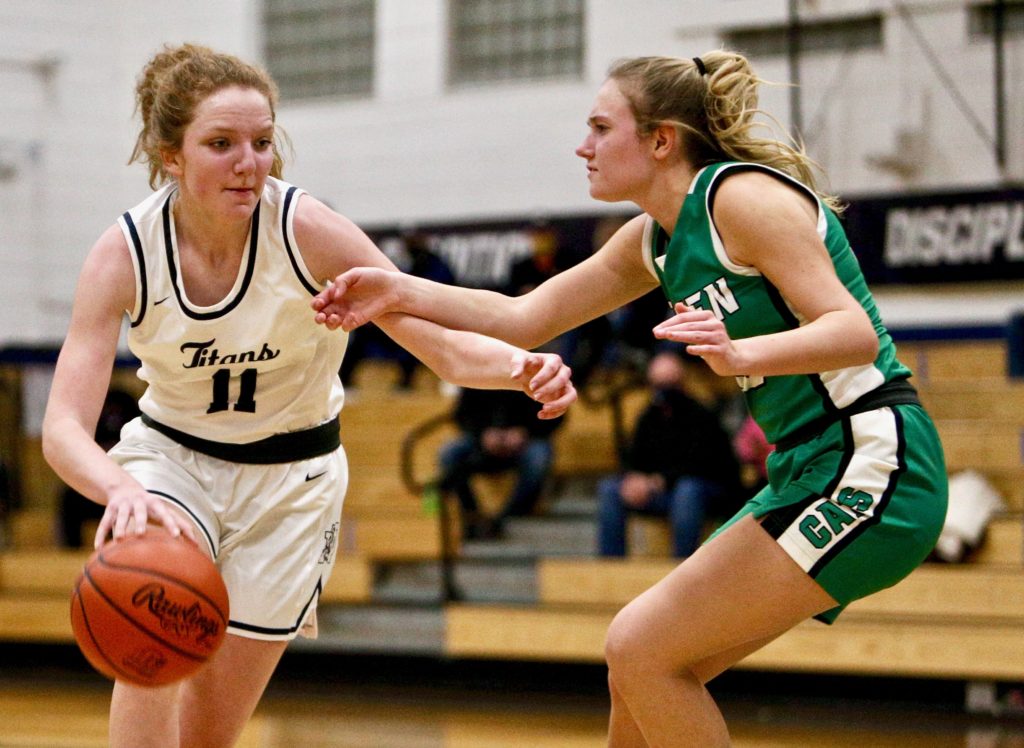 The senior All-Ohio guard almost single-handedly took the wind out of the Bobcats' sails with 10 points, five rebounds and two assists in the first eight minutes. 
But what else is new? It's something that's become expected from Hassel.
Hassel's first quarter performance set the tone for a 28-7 score after one and, eventually, a 69-27 victory — the Titans' 80th straight win in Southern Ohio Conference I action.
"We came into this game knowing that [Green] might've thought they could beat us this year," Hassel said. "They have a lot of strong players. So we worked hard all week, watched film and got the game plan down. We knew they would come in and be competitive. So we made it a main point to come into this game with high intensity, high energy and shut them down early."
Hassel ended the night with 19 points, eight boards and five assists in limited action. She didn't play for much of the third and fourth quarters.
In the meantime, freshman Ella Kirby picked up the slack while making a return from injury.
---
---
Kirby pieced together her best varsity performance yet with 10 points, four rebounds and three assists. She showed the ability to knock down contested shots and make good decisions with the basketball.
"It felt really good to be back. I've been out a couple of weeks," Kirby said. "I knew we had to come out hard tonight and play with a lot of momentum. Kam [Bradford] got two fouls pretty quick and [Notre Dame coach J.D. McKenzie] put me in. At first, I was a little scared in the sense that I didn't want to make a mistake. But I just went out there and played my game."
Annie Dettwiller put the Titans (5-0, 4-0 SOC I) up 4-1 with 6:36 left in the first quarter, thanks to consecutive buckets. After Green's Kame Sweeney made it a 4-3 ballgame, Hassel, Kirby and Isabel Cassidy powered a 10-0 run to give Notre Dame a 14-3 lead.
Green's Anna Knapp put an end to that scoring streak but Kirby and Bradford hit two 3's while Hassel continued to torment the Bobcats' defense. By the end of the quarter, the Titans had a 28-7 advantage and showed no signs of slowing down.
Dettwiller made it 30-7 quickly in the second, starting a quarter-beginning 8-0 run that pushed the lead to 36-7. By halftime, Notre Dame led 40-11 and the rout was on.
Much of the same took place in the second half. Green (1-1, 1-1 SOC I) struggled to find an offensive rhythm — the Titans' defense forced 24 turnovers on the night. 
After Hassel and Kirby's stat line, Dettwiller finished with 12 points and four rebounds while Katie Strickland tallied six points. Annabelle Ball also helped out with six points and five rebounds.
For Green, Kasey Kimbler led the way with 15 points and four rebounds while Sweeney ended with six points.
The Titans are back in action on Tuesday, hosting East, while Green travels to Ironton St. Joe on Monday.
"I think we have to look at the next game. We have to focus on each practice because I know that having those good days in practice shifts to games," Kirby said. "We just have to focus on that."
BOX SCORE
Green: 7-4-8-8 — 27
Notre Dame: 28-12-19-10 — 69
Green: 10-34 FG, 4-13 FT, 3-14 3pt., 14 rebounds (Sweeney 4), 24 turnovers, 5 assists (Kimbler 2). Scoring: Kimbler 15, Sweeney 6, Brown 2, Knapp 2, Brady 2.
Notre Dame: 27-58 FG, 12-16 FT, 3-16 3pt., 36 rebounds (Hassel 8), 11 turnovers, 12 assists (Hassel 5). Scoring: Hassel 19, A. Dettwiller 12, Kirby 10, Ball 6, Strickland 6, Cassidy 5, C. Dettwiller 4, Bradford 3, Holtgrewe 2, Lansing 2.