Derrick Webb, Staff Writer
LUCASVILLE — Andrew Andronis already knows that he'll be telling stories about his senior baseball season for years to come.
He and his teammates at Valley have already written some of the most unrivaled chapters in school history. But make no mistake about it, the Indians are still working on their masterpiece.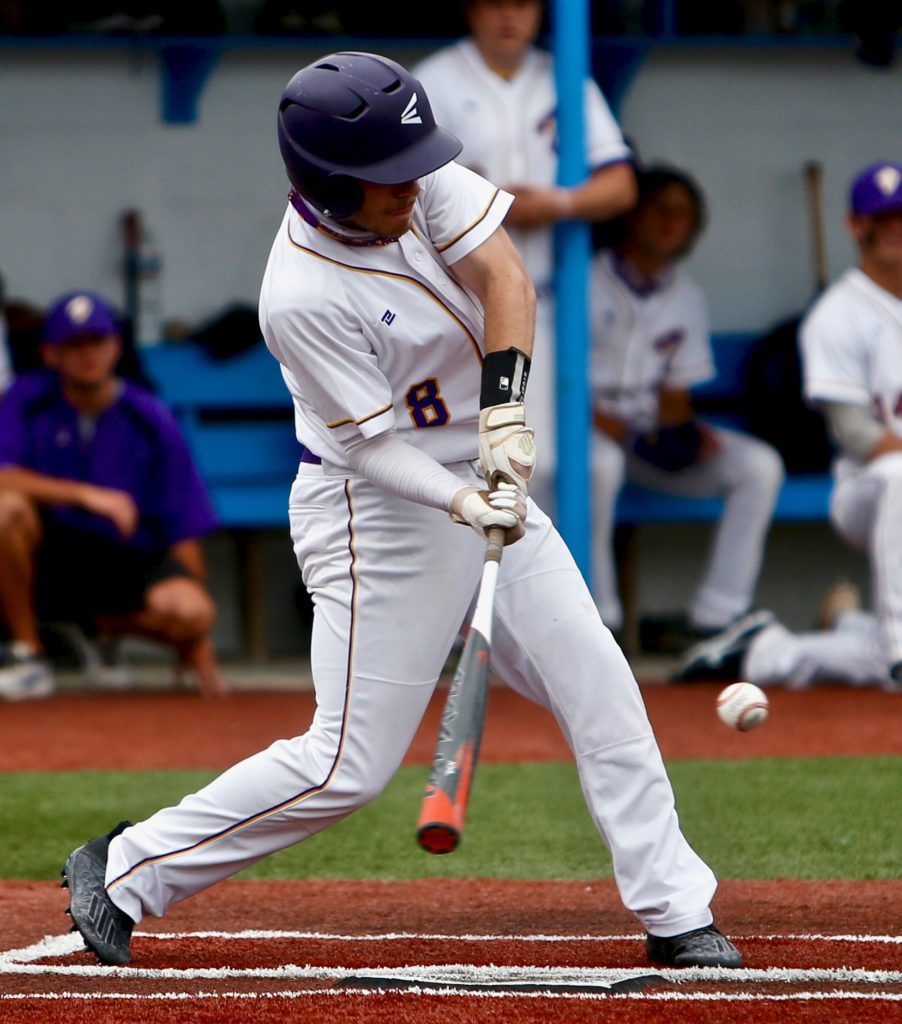 The pen is still moving.
All this week, Valley will be carefully preparing to play in its first state tournament since 1977. That's, of course, after a 5-2 win over Berlin Hiland this past weekend in a Division IV regional final — a win that nailed down the program's fifth overall state tourney bid.
"I am extremely proud of this team. They are like a second family to me and for us to go to win a regional title and go to state is amazing," Andronis said. "It is something we are going to remember forever."
Andronis will, more specifically, remember this past Saturday's final out. The nerves. The excitement. The pending pandemonium in the stands.
Those are all feelings that some players only dream of. The Valley Indians lived it.
"I knew how good of a hitting team [Hiland was] and knowing we were one out away from winning a regional was very exciting and stressful," Andronis said. "Getting that last out was a huge sigh of relief, and as soon as that ball was caught, it felt unbelievable to do what we did. I was thrilled for the team and our community."
That last word — community — that's a word that has demanded the Indians' attention this year.
You can go one-by-one in the team's dugout and each will talk about just how important Lucasville, Scioto County and the surrounding areas' support is to them.
And there's a leader to that movement. His name is Nolan Crabtree, the Indians' skipper.
"Coach Crabtree means everything to the program. He has helped shape us players into grown men. Without him, none of this would be possible," Andronis said. "We all love this man and he will always be a part of our lives forever. Coach pushes us each day and he knows we can continue to get better each day. He keeps us on our toes and without him being there, we wouldn't be where we are."
---
---
That's also true about Andronis, whether he realizes it or not. The Indians wouldn't be where they are without their baseball-loving, tough-nosed senior leadoff hitter.
Time and time again this spring, Andronis has set the table for his teammates' success.
It's a responsibility that he doesn't take lightly.
"I know my job is to get on base," Andronis said. "I knew coming into the tournament that once I get on base to start the game, then we all will get rolling. Once I start it, everyone follows and it continues throughout the game. My approach starts in my head. Before each at-bat, I tell myself, 'No one is better than me, no pitcher is going to blow the ball by me.' I feel like that confidence has helped me a ton to set the trend for the game."
In each of the two regional tournament games that Valley has played in, Andronis has performed his work duties with glowing reviews.
In a 2-0 win over Paint Valley, Andronis started the game with a double that pelted off the center field fence on one hop — a blast that came off Bearcats ace Brock Blanton, an EKU commit. He later scored on an RBI double from teammate Breckon Williams to put his team up 1-0.
Then, in the victory over Hiland, Andronis was hit by a pitch before scoring the team's first run when George Arnett singled him in — the first run Hiland had allowed in tournament play.
All in all, in postseason play, Andronis is 10-for-17 with a triple, three doubles, three RBIs, five runs scored and three stolen bases. He's hitting .351 this season and has scored 28 times.
But he'll be the first to tell you that he's just one cog in the Indians' winning ways.
"This team is special in so many ways. We all get along as a team and support each other when someone is having great success," Andronis said. "There has never been a moment on this team where someone said 'I.' It has always been 'We.' We do everything together and we have become a second family. I love these guys with all my heart and this is something that all of us will remember forever and talk about for years to come."
Andronis and company's next test is a Division IV state semifinal date with Van Wert Lincolnview at Akron's Canal Park. First pitch is scheduled for 10 a.m. on Friday.
The key to advancing to a state title game? Well, you don't fix what isn't broken.
"We keep focus by going day-by-day. That's the only way to do it. Practice is where you win first. Each day we have a great practice is an extra step we've taken to winning that next game," Andronis said. "We just have to keep playing how we play. The pitching is outstanding, our defense is even better and our offense has been getting much better as we go. If we keep all three things going, it will be very hard to beat us."