Brock Netter, Staff Writer
LANCASTER — It was the ultimate pitcher's duel in Friday's Division IV regional semifinal between Valley's George Arnett and Paint Valley's Brock Blanton.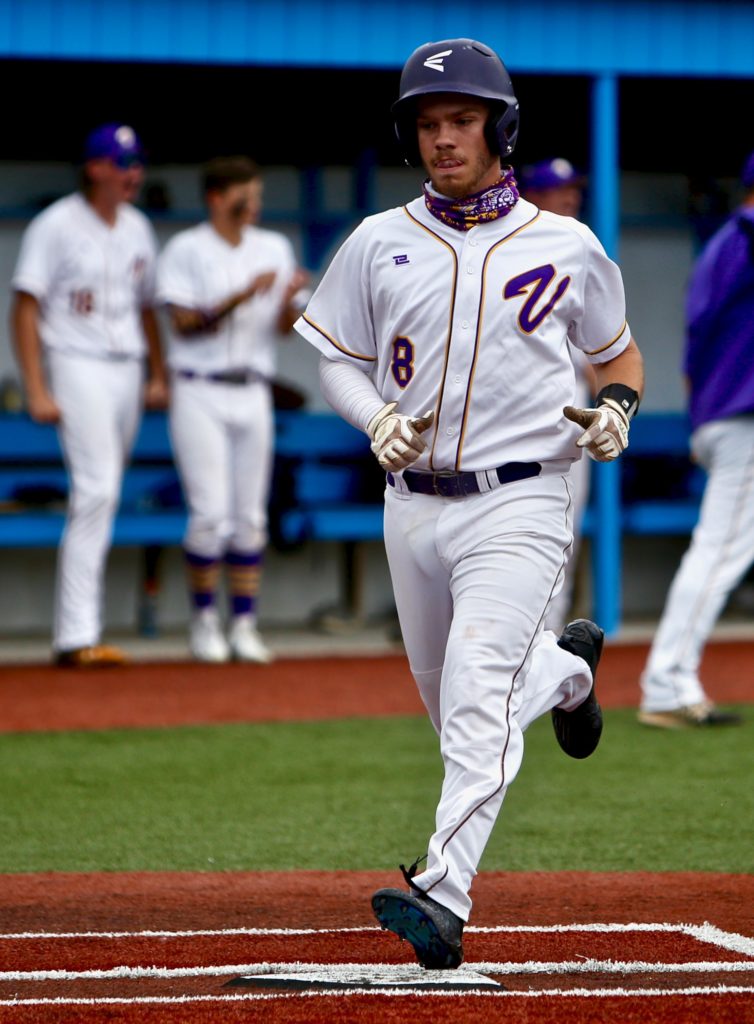 Both aces spent the afternoon at Lancaster's Beavers Field giving their opponents' offense the day off.
But in the end, it was Arnett's bat that proved to be the difference-maker as he led his Indians (19-11) to a 2-0 victory over the Bearcats.
The victory advances Valley to its first regional final game since 1992.
"Some of these seniors were a part of the team a couple years ago that had their season ended in a regional semifinal, so that was their motivation for this one," Valley coach Nolan Crabtree said. "This is a special group of kids and I'm proud not just to be their coach, but that they allow me to coach them because this is their team. I figured three runs would be enough to win with how good both pitchers are, and we were fortunate enough the runs were on our side."
Blanton used his blazing-quick fastball, while mixing in a two-seamer and a deadly curveball that allowed him to work throughout the contest effectively.
He found his stride after the first inning, tossing all six innings for the Bearcats (18-12), allowing just four hits, an earned run and striking out four batters.
However, the day ultimately belonged to Arnett, who worked in just as quick of a fashion on the bump as Blanton.
Mixing his fastball and curveball, the sophomore standout allowed six hits and struck out five batters to earn the victory.
"I knew Paint Valley's lineup pretty well just from scouting and seeing games that they've played," Arnett said. "The biggest thing for me was that if I could hit my spots and make them swings at my pitches instead of theirs then I could do pretty well."
Paint Valley committed a fielding error to start the game. That got the ball rolling for Valley and two batters later, Breckon Williams notched an RBI single just inside the left field line to put the Indians on the board.
"My coaches were telling me all week that he was going to stay outside and just pound that corner," Williams said. "I was just fouling off fastball and curveballs over my hands, and I finally got one to fall fair down the line."
Then Arnett stepped up in the next at-bat and ripped an RBI double off the left field fence to push the lead to 2-0, which showed to be all the run support he needed.
"WTP, warning track power, that's been my nickname all year. I can get the ball to the warning track but not any further than that," Arnett joked. "Brock is a really good pitcher and he held us down all night long, but I saw that pitch coming at me pretty good and let my hands do the work."
Paint Valley had its chances to answer back in the fourth with a runner on, and in the fifth with two runners aboard. But Arnett buckled down on both occasions with his defense backed him up to get out of the jams.
That was the only trouble Valley ran into as it remained calm in the field and made the routine plays to keep their season going.
"My defense has been phenomenal throughout this whole tournament run," Arnett said. "I think we've only committed a couple, if any errors at all and when I'm on the mound, I can't ask for anything more than what they've given behind me."
On top of his complete game outing, Arnett went 1-for-3 with a double and an RBI, followed by Williams also going 1-for-3 with an RBI.
For Paint Valley, Cadyn Norman finished with two hits while Blanton, Dax Estep, Cole Miller and Devlin Spradlin each collected a hit.
Valley will play in a Division IV regional final at noon, Saturday back at Beavers Field against the winner of Hiland and East Knox.
"We'll enjoy this win for an hour or two, but it is a quick turnaround so we have to get a good night's sleep to be ready to compete again tomorrow," Crabtree said. "Games like today and tomorrow are the reasons you play, and I'm just so proud of these guys for how they've played for one another. And the support we've gotten from the community has been unbelievable, so hopefully we can bring it home tomorrow."