Derrick Webb, Staff Writer
CHILLICOTHE — The long ball was certainly in Wheelersburg's arsenal on Thursday afternoon.
After winning a district title by a 10-2 final last week — a win where they didn't hit a home run — the Pirates' offense exploded for five round-trippers, 11 hits and 13 runs in a Division III regional semifinal against Tuscarawas Valley.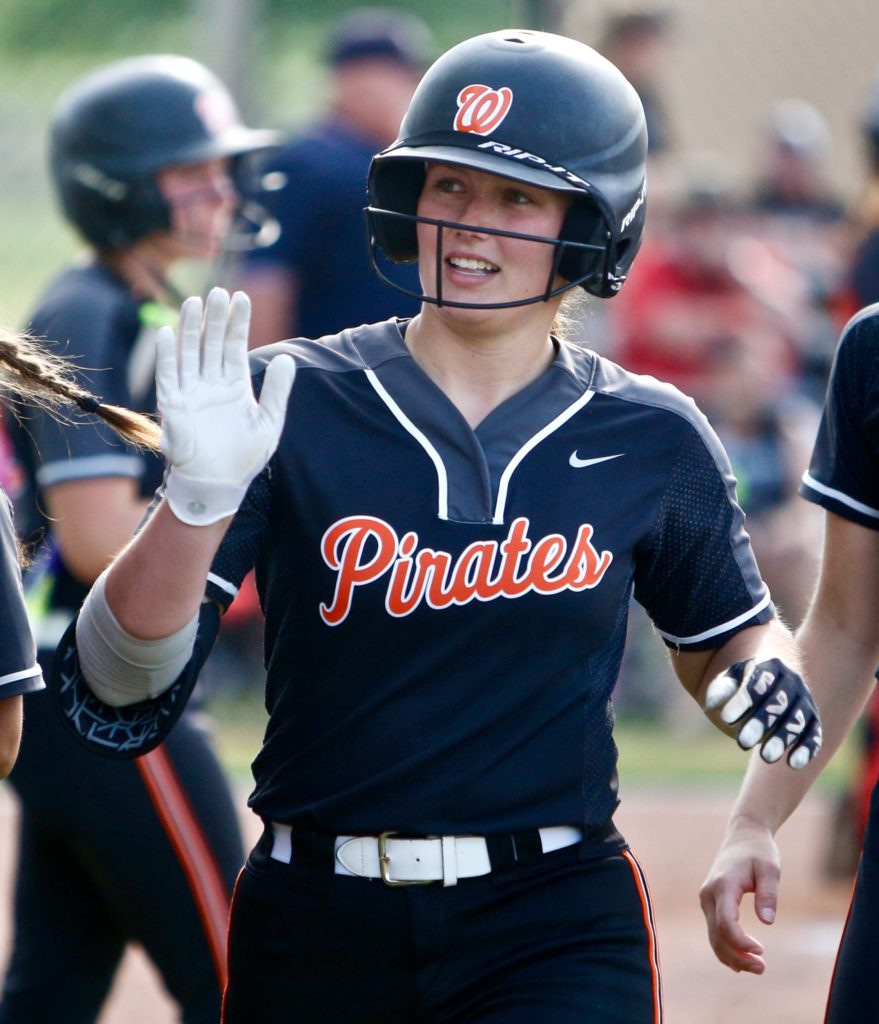 A 13-6 final sent Wheelersburg (24-1) back into an Elite 8, which is the program's first appearance at that level since 2018.
"Whatever gets it done," Wheelersburg coach Teresa Ruby said. "We've been that way all year. We've manufactured runs and we've used the long ball. It really has been that way. Our girls get in a groove like that at the plate and it's nice. It makes it a lot easier."
Macee Eaton and Andi Jo Howard both hit two home runs while Rylie Hughes made a deposit over the fence of her own. That trio combined to go 9-for-12 with five home runs and 11 RBIs. Needless to say, it was quite the power surge.
"For me, I just thought about attacking early," Eaton said. "I knew that I had to lead the team [at the plate] and get us started. Rylie got us started first, I just started to attack early, and Jo hit those two bombs. We had to support [Howard in the circle] and support each other as a team."
Eaton got the Pirates on the scoreboard in the top of the first inning with an RBI single that plated Haley Myers. She then scored on a passed ball to push the lead to 2-0.
But Tuscarawas Valley, not to be outdone, got right back into it with two runs of their own in the bottom half — thanks to a solo homer from Kylie Rohr and a sacrifice fly from Brook Albaugh.
In the next inning, Hughes went deep with a two-run homer before Eaton made it back-to-back jacks to put the Pirates back on top at 5-2.
The Trojans, however, answered once again.
Behind an RBI single, an RBI groundout, and a two-run single, Tuscarawas Valley took a 6-5 lead going into the fourth.
"We knew [Tuscarawas Valley] was going to put the ball in play," Ruby said. "But I also know that [Howard] settles in. She did that today. We got through those first couple of innings and we had a few defensive errors, which opened the door for runs later. But we settled in, play good defense and I'm happy with the way we hit the ball."
As Ruby said, Howard then settled in.
The freshman didn't surrender another run the rest of the way through, working her way out of jams and hitting her spots when needed. Meanwhile, her offense gave her back the lead and then purchased insurance to go with it.
Eaton hit her second homer, a three-run no-doubter that traveled over the center field fence, to give the Pirates an 8-6 edge. Howard then got in on the fun, hitting a two-run bomb that made it a 10-6 lead heading into the fifth.
In the the sixth, Howard launched her second home run to make it 11-6, before Boo Sturgill scored on a wild pitch in the seventh for a 12-6 tally. Eaton then put the exclamation point on her night with an RBI double in the seventh.
"Our team isn't down a lot so we just fight back," Howard said. "We know how fight back. One through nine, we're stacked. We fight for each other. The first couple of innings, I was struggling. But [my teammates] picked me up. We're all just her to fight for each other."
Eaton finished the night 4-for-5 with a double, two home runs and six RBIs while Howard was 3-for-4 with two homers and three RBIs. Hughes finished 2-for-3 with two walks, two runs and her two-run home run.
Howard got the win in the circle, firing all seven innings, surrendering six hits and striking out seven.
The Pirates will now meet with Ironton, a 2-0 winner over Westfall on Thursday, in a Division III regional final at noon, Saturday at Unioto High School.
"We respect Ironton. They obviously have a good pitcher [in Keegan Moore]," Ruby said. "She's better than good. That girl in the middle of the circle, we're going to have to get past her. And it's a quick turnaround. We basically have one day to prepare and we've got to go on Saturday. So yeah, they have our respect. We know we're going to have to play hard, have some quality at-bats, make her work in the zone and not chase out."