Derrick Webb, Staff Writer
CHILLICOTHE — Great teams find ways to win games.
As stressful as the ending of Tuesday's Division IV regional semifinal was — specifically the final four minutes — New Boston found a way to survive and advance.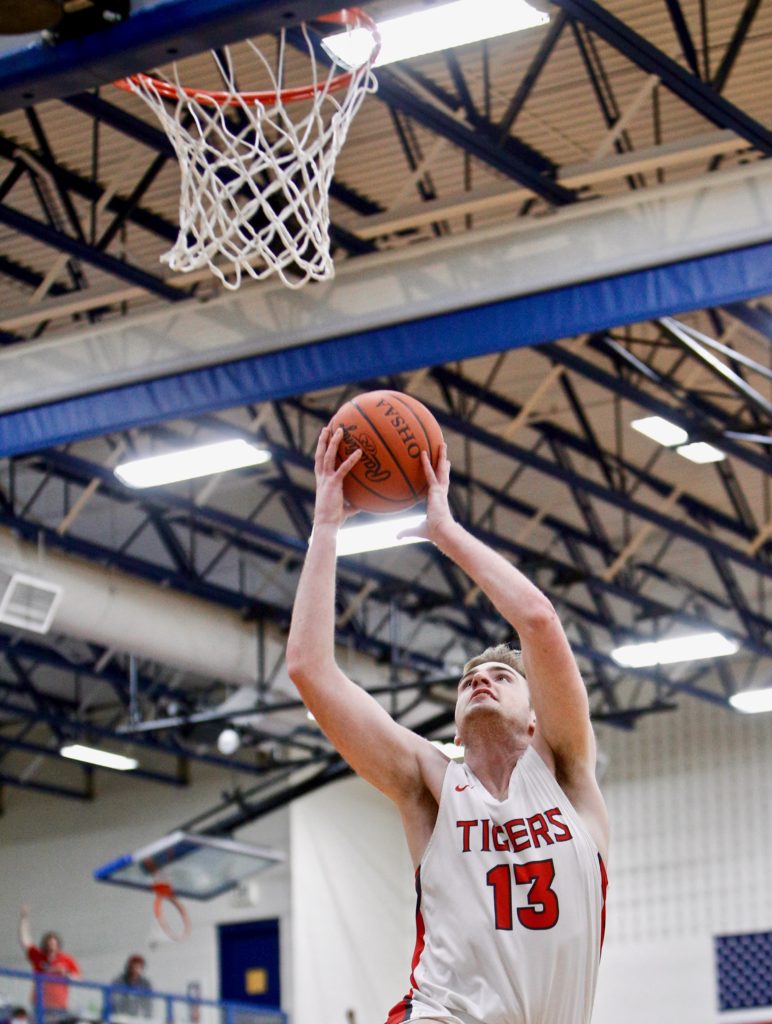 After seeing a 16-point lead dwindle to a single point advantage, the Tigers (23-2) regrouped and relied on veteran leadership to seal a 50-48 win over Grandview Heights.
"I thought we laid it on the line. The kids came out with good intensity in the first half and we got a little tired in the second half," New Boston coach Adam Cox said. "We ran a five-man rotation without [starting point guard] Grady Jackson and that hurt us. Our energy started slipping away from us. We usually finish people off but we had to just hold on. Sometimes on a journey, you have to get lucky. It's OK to be lucky and get a win, especially when you advance."
It's one thing to be lucky, and the win certainly included some luck. But when the ball is in the hands of seniors Kyle Sexton, De'Von Jones, Tanner Voiers and Chase Clark, trust also enters the equation.
That's a group that knows how to win ball games. Take their 65 wins, back-to-back outright conference titles and two district crowns over the past three seasons for example.
"Those seniors are a great group of kids. They're special and I love them with all of my heart," Cox said. "I'd do anything for any of them. They deserve this win. We've got one more game. Our goal has been to make it to the Final Four. We've got one more game to go. We're going to be ready and we're going to give it all we've got."
Jackson was sidelined for much of the action due to a separated shoulder, which he suffered during the team's district title win over Valley this past weekend.
In effect, someone had to step in to take over ball-handling responsibilities. That someone was, of course, Sexton.
"That's why [Sexton] is the Division IV state player of the Year, and if he's not, he got robbed," Cox said. "Kyle ran the point, played in the post, playing at shooting guard, hit some 3's, had four assists, 13 rebounds and finished with 25 points. We'll go as far as Kyle takes us. We've told him that prior to the tournament starting and he's really answered the call."
Ian Gecse gave Grandview Heights a 2-0 lead with 7:41 left in the first quarter. But Sexton answered on the other end before Clark gave the Tigers their first lead at 4-2 with 7:06 left.
---
---
After Aiden Leslie made it a 7-6 lead for the Bobcats, Clark hit a triple to put New Boston ahead for good at the 2:57 mark. Sexton and Jones each logged scores to end the quarter, making it a 13-9 tally heading to the second.
Jones, Sexton, Voiers and Clark began the second by capping a 13-0 run, putting New Boston ahead 22-9 with 4:54 left in the first half. After GH's Grant Culbertson broke that run with back-to-back buckets, Leslie helped out with two scores of his own to cut the lead to 22-17.
By halftime, thanks to six points in the final three minutes from Sexton, New Boston led 29-22.
Voiers began the third with a breakaway lay-up before hitting a 3 with 6:19 to go in the third. Sextson then scored twice to cap a 9-0 run and put NB ahead 38-22 with 5:04 to go.
That double-digit lead stayed intact throughout the quarter as the Tiger took a 46-33 edge into the final eight minutes. But that's exactly when the wheels started to wiggle.
Led by Leslie, Culbertson, Tristin Pierce and Danny Claypool, the Bobcats (9-10) began the fourth with a 12-0 run to cut the lead to 46-45 with 3:04 to play. But with momentum clearly on GH's bench, Sexton hit possibly the biggest shot of the night to hoard off the rally.
The senior split two defenders, hung in the air to avoid a block attempt and caressed nylon with 2:47 remaining, making it a 48-45 game. Forty seconds later, after a stop on the defensive end, Clark followed suit with his 11th and 12th points of the night, pushing the edge to 50-45.
Leslie then hit a 3 with 25.5 seconds to play before the Tigers missed the front end of a one-and-one with just over 10 seconds left. However, on the ensuing offensive possession, Grandview Heights was unable to get a shot up, allowing the Tigers to move on.
Sexton led all scorers with 25 points alongside 13 rebounds and four assists. Clark followed with 12 points and eight rebounds while De'Von Jones finished with five points and 10 boards. Tanner Voiers also chipped in with seven points and three assists.
The Bobcats were led by Culbertson with 12 points and six rebounds while Leslie added 12 points. Gecse also helped out with nine points and two assists.
New Boston advances to a Division IV regional final, where the Tigers will meet with Berlin Hiland, who they're far too familiar with. Tip is set for 7 p.m., Friday at Southeastern.
"If we would've said four years ago that, over the next four years, New Boston was going to be 81-18 with two trips to the Elite Eight, what kind of odds would we have had? I'd say we would've been able to bet some good odds," Cox said. "We're the smallest school left. But we're coming to fight. Eight teams left in the state of Ohio. We're one of them."
The goal, however, is to be one of the last four. To do so, they'll have to avenge a 75-32 loss to Hiland two years ago at this same level.
"Defense and handling [Hiland's] pressure is going to be key," Cox said. "We can't turn the ball over and we have to value our possessions. Patience. They're a good team, they're well-coached and they're very disciplined. It's going to be the toughest game of our season by far. But we're going to be here to battle."
BOX SCORE
Grandview Heights: 9-13-11-15 — 48
New Boston: 13-16-17-4 — 50
Grandview Heights: 17-52 FG, 10-14 FT, 4-18 3pt., 18 rebounds (Culbertson 6), 12 turnovers, 6 assists (Gecse 2, Claypool 2). Scoring: Culbertson 12, Leslie 12, Gecse 9, Pierce 8, Claypool 5, Holliman 2.
New Boston: 18-37 FG, 9-14 FT, 5-12 3pt., 30 rebounds (Sexton 13), 26 turnovers, 9 assists (Sexton 4). Scoring: Sexton 25, Clark 12, T. Voiers 7, Jones 5, B. Voiers 1.