Brock Netter, Staff Writer
MCDERMOTT — 71-55.
That score is all New Boston has heard about and remembered since its loss to Fairfield in a Division IV district semifinal last season.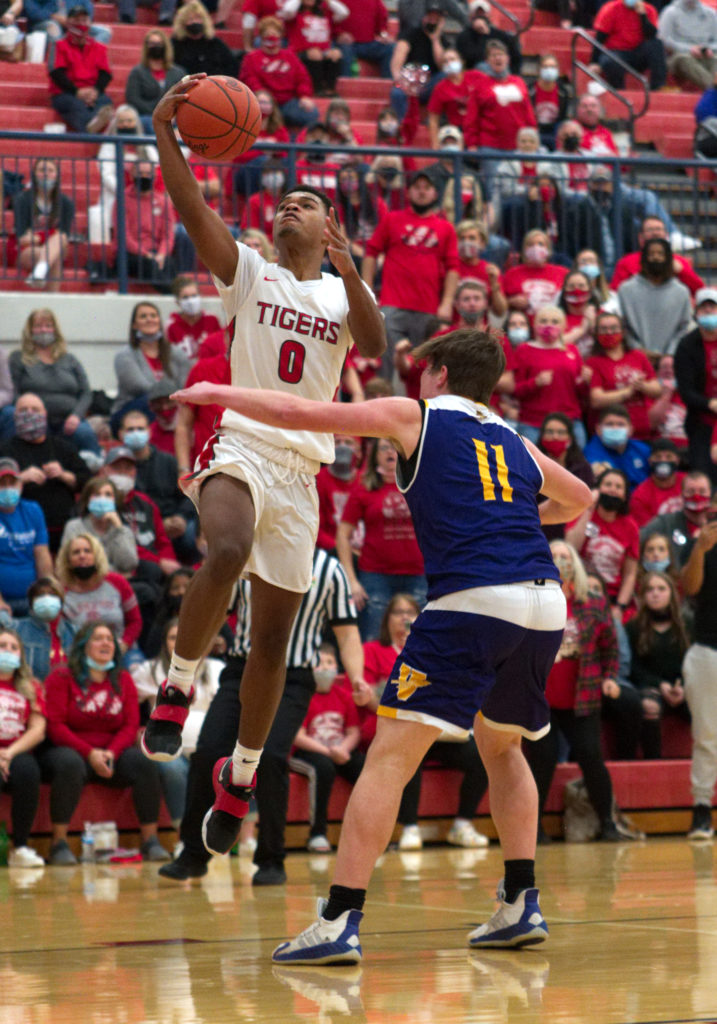 It forced the Tigers to regroup, recalibrate and look in the mirror. They knew they only had one more shot at getting back to regionals with their current core of seniors.
They heard all the offseason noise about if they could or would bounce back, and used it as motivation to prove those who doubted them wrong.
"Fairfield wasn't more talented than us last year, but they were senior-led, stronger than us and wanted it more than we did," New Boston's Kyle Sexton said. "We knew that in this game, we'd have to slow the ball down and use our strength plus experience to win the game."
Mission accomplished.
The Tigers shot better than 50 percent from the floor as they claimed their second Division IV district championship in three years with a 71-51 victory over Valley on Saturday.
"We had a great game plan that the kids really bought into," New Boston coach Adam Cox said. "We made it a point to take away Valley's shooters and ball-handlers with pressure and face-guarding while showing them something they probably hadn't seen all year. We wanted it badly, went out and took it."
No one wanted it more than Sexton, and true to the level he's performed at for the past four years, he dazzled in every way possible.
Whether it was passing, rebounding or scoring, he was determined not to lose. He broke down Valley to the tune of 28 points, seven rebounds and five assists.
"When you have Kyle Sexton on your team, you ride him until the wheels fall off," Cox said. "He's the best player in Division IV in the state of Ohio, and I'm glad he's on our side."
New Boston trailed once in the game, on the opening possession when Valley's Jace Copley buried a triple to start. But the Tigers responded with a 9-0 run, capped by a 3 from Tanner Voiers.
Both teams scored seven points the rest of the way as the Tigers led 16-10.
The second quarter was all Sexton. His motor didn't stop, and the Tigers started to create distance. He scored 10 of the Tigers' 12 points, and capped the quarter with a perfect behind-the-back dime to Grady Jackson for a bucket as the Tigers led 28-18 at halftime.
With momentum on their side, the Tigers opened the third on a 9-3 run, following a triple from Voiers to own their biggest lead of the game at 37-21.
However, Valley wasn't going away and buried four 3's between Carter Nickel, George Arnett and Bryce Stuart to trim the lead to 44-35 heading to the fourth.
The Indians built some steam, but Brady Voiers completely took it away. Coming off the bench, he took a pair of charges before being rewarded with a bucket to cap a 9-0 run.
"I've never seen any player take so many charges and get everyone so hyped like Brady does," Sexton said. "Whether it's a charge or a putback bucket, he's such a spark plug and gets us going."
From that point on, De'Von Jones took over, scoring 10 of his 16 points in the fourth to put the game on ice.
"It took some time to find my rhythm, but once I got it, I felt like no one could stop me," Jones said. "Honestly, I'm just happy to be at this point. I've never played on the district stage, and even last season I didn't play against Fairfield. So this is awesome just being a part of this."
Following Sexton and Jones, Tanner Voiers finished with 15 points.
For Valley, Nickel finished with 16 points, followed by 10 points each from Arnett and Ty Perkins.
New Boston advances to a Division IV regional semifinal against Grandview Heights at 5:30 p.m., Tuesday at Southeastern High School.
"At this point of the tournament, every team is just as good as the other," Sexton said. "It comes down to us executing our gameplan, staying focused and finding ways to win."
BOX SCORE
Valley: 10-8-17-16 — 51
New Boston: 16-12-16-27 — 71
Valley: 16-48 FG, 8-19 3pt., 11-16 FT, 18 rebounds (Stuart 4), 15 turnovers, 4 assists. Scoring: Nickel 16, Perkins 10, Arnett 10, Copley 8, Stuart 5, Metzler 2.
New Boston: Scoring: 24-44 FG, 5-7 3 pt., 18-27 FT, 26 rebounds (Sexton 7), 15 turnovers, 10 assists (Sexton 5). Scoring: Sexton 28, Jones 16, Tanner Voiers 15, Brady Voiers 6, Jackson 5, Clark 1.