CHILLICOTHE — Wheelersburg is already really … really … good. That's been well-documented.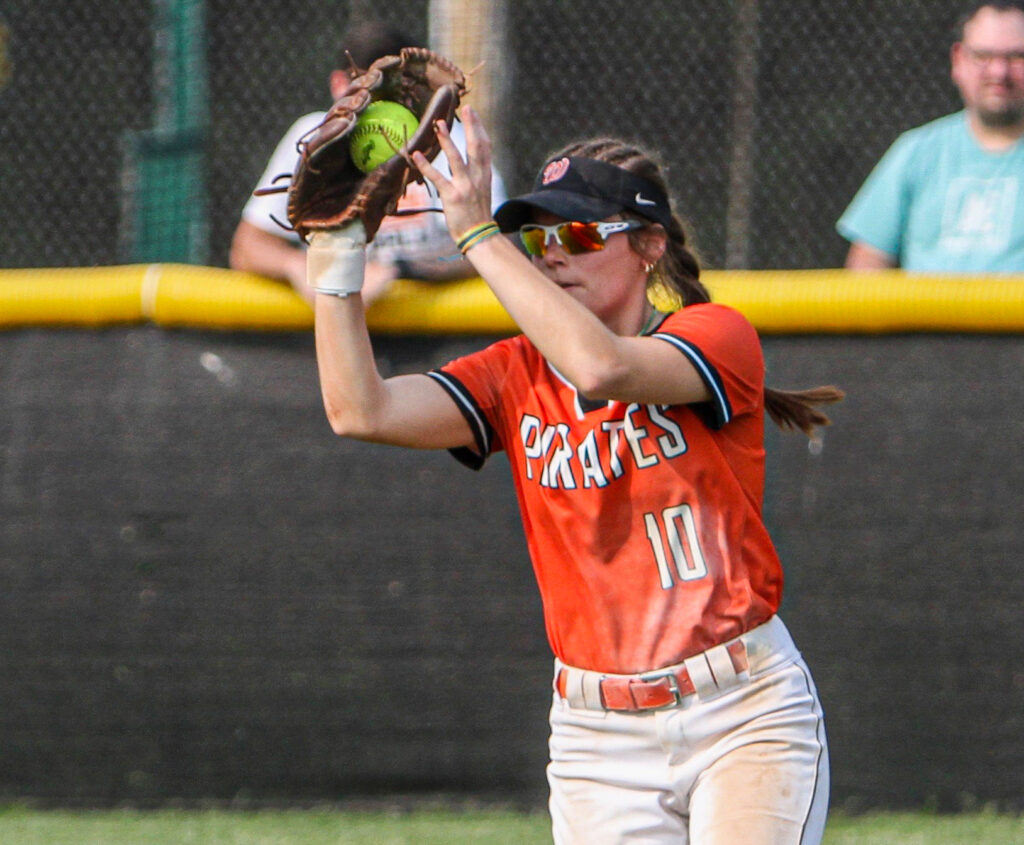 But it's possible the Pirates have now taken their game to an even higher level during postseason play. And that, if you're an opponent, is a terrorizing thought. 
Behind a five-RBI day from Macee Eaton, stellar pitching from Andi Jo Howard and great defensive play, Wheelersburg (29-0) earned a 12-0 victory over Meadowbrook in a Division III regional semifinal on Wednesday. 
"I couldn't be more proud of this team," Wheelersburg coach Teresa Ruby said. "From Andi Jo's pitching to our defense … Our at-bats were a lot better as well than they have been in the last few games." 
The level of dominance the Pirates have now reached is jarring. Wednesday marked the team's third shutout in four postseason games. 
They wasted little time jumping all over the Colts.
Sydney Skiver took the first pitch she saw in the top of the second inning and blasted a two-run shot over the center field fence, putting 'Burg ahead 2-0. 
"That definitely got us going and brought a level of energy from our crowd as well as the dugout," Skiver said. "It was insane and we just kept building from that point."
Later in the inning, Meadowbrook committed a fielding error that loaded the bases with two outs. Eaton stepped up and with the Colts' outfield playing at the fence, she roped a bases clearing double into shallow left field, pushing the lead to 5-0. 
"It's kind of funny when they play me at the fence and I hit this little weak dink that clears the bases," Eaton said. "My approach nor mentality hasn't changed. I'm just playing the game and if it goes out, then it goes out." 
From that point on, Wheelersburg continued to methodically score and demoralize the Colts. 
Catie Boggs and Kaylynn Carter each ripped an RBI single in the fifth, Eaton added a two-run single in the sixth, and Rileigh Lang had a two-run single in the seventh and later scored on a fielding error to cap the night's scoring. 
Eaton finished 3-for-5 with five RBIs, Lang went 3-for-4 with three runs scored and two RBIs, and Skiver was 2-for-3 with a home run and two RBIs. 
Howard went the distance in the circle for the win, allowing just three hits on the evening.
Wheelersburg now advances to a Division III regional final at 5 p.m., Friday at Unioto against South Webster, a 3-1 winner over Portsmouth West on Wednesday.
The two teams have faced twice already this season with the Pirates winning both matchups.
"It's pretty cool having two teams from Southeast Ohio, let alone from the same conference playing in a regional final," Ruby said. "[South Webster coach] Andy [Messer] has done such a great job with that program and those girls are competitors. We know it's going to be a dogfight and those other two games don't mean a thing. It's 0-0 come Friday and we'll come prepared."