CHILLICOTHE — For some, balancing school, work and basketball would be a tough task.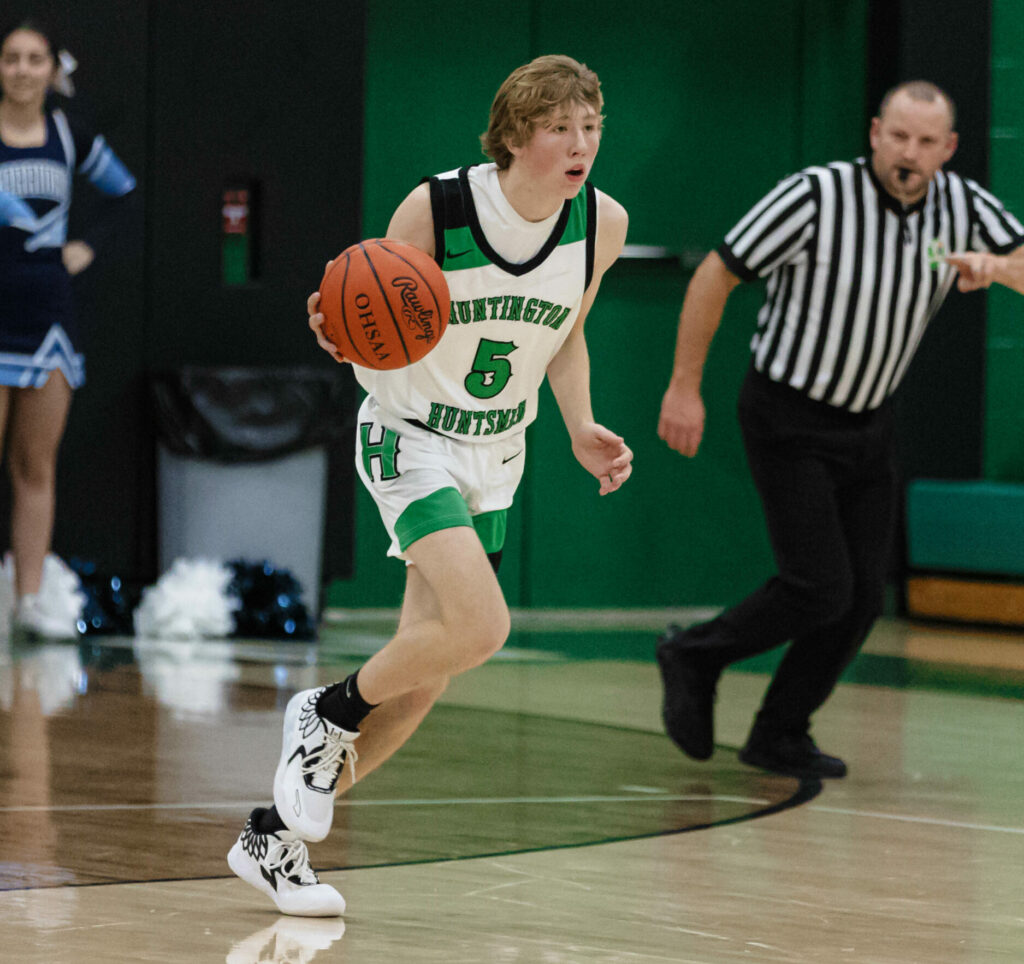 For Caiden Stewart, it's simply his daily routine.
Stewart, a senior at Pickaway-Ross Career and Technology Center, shined on the basketball court at Huntington this past winter while excelling in his chosen career path as well.
He averaged 11.8 points and 1.7 steals per game — both team-highs — and drilled 32 triples, which was sixth-best in the Scioto Valley Conference. All the while, he continued to work towards becoming a member of the electrical field at Pickaway-Ross.
For those reasons, and many more, Stewart is SOSA's Pickaway-Ross Athlete of the Month.
"He was a tremendous teammate and an even better kid," Huntington coach Kyle Bradley said. "He managed to balance working every day and bringing it every night in practice or the game."
The Huntsmen, as a group, grinded through a season where they finished 5-18. But that number isn't what it looks like. Six of the team's 18 losses were decided by less than 10 points.
Stewart and his teammates scratched and clawed their way back into games all year long. And while the ball sometimes didn't bounce their way, it wasn't for a lack of effort.
A big part of that never-say-die mentality was Stewart, who gave Huntington another option to look for in times of need. Together, Stewart and Dalton Black combined to score 23.1 points per night. They were one of three SVC duos to end the year in double-digit scoring figures.
When it was all said and done, Stewart and Black were both all-league honorees.
"Caiden stepped in this year and really gave us the ability to play a faster brand of basketball," Bradley said. "He provided us an additional scoring option and was someone that stretched the floor for us, which really helped open things up for Dalton."
Now, with his final basketball season behind him, Stewart's focus shifts towards the baseball diamond. He'll try and help his Huntsmen improve on last year's 14-10 mark.
In 2022, the Huntsmen' season ended in a Division III district semifinal — an 8-7 loss to Whiteoak in eight innings. In that game, Huntington trailed 5-0 after three innings but fought its way back into the contest.
Stewart, with his hard-nosed mentality in everything he does, will be a perfect fit as he continues to work towards becoming a better ballplayer and a skilled electrician at Pickaway-Ross.
"Regardless of what career path he decides to take, we know that Caiden will be extremely successful and wish him nothing but the best," Bradley said. "His daily approach will be hard for us to replace but the example he set for our younger guys will hopefully carry over into future seasons."