Brock Netter, Staff Writer

Southern Ohio Sports Authority is presented by OhioHealth.
ATHENS — This past weekend, South Point's Caleb Lovely was a one-man wrecking crew.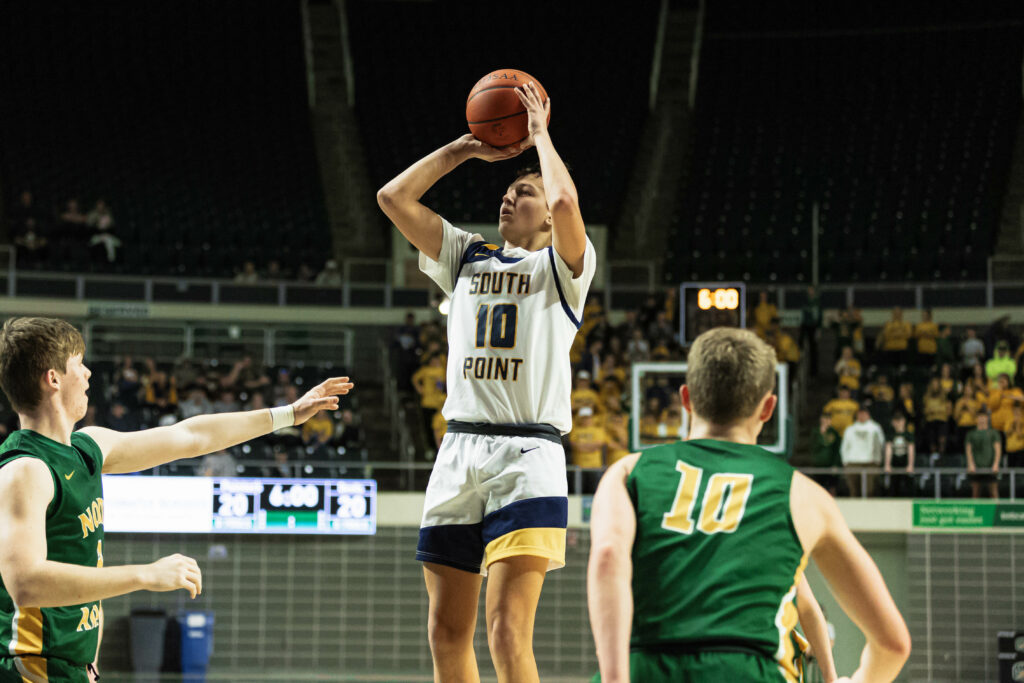 The Pointers' junior poured in 39 points in the team's district championship win over Zane Trace, leading his team to its first district crown in 33 years.
His performance was superhero-ish by all accounts.
However, on Wednesday, he didn't need to put on his cape to keep South Point dancing.
Lovely, flanked by teammates Xathan Haney and Jordan Ermalovich with double-digit scoring figures, led the Pointers to a 57-44 victory over North Adams in a Division III regional semifinal.
South Point's season is still alive and well, and coach Travis Wise's group is hoping to keep it that way.
"I'm just so impressed with how we guarded [North Adams]," South Point coach Travis Wise said. "I tole the kids, 'If we can guard, we can score.' Once we got up seven or eight points, I knew it was going to come down to free throws. I feel like we took the game to the next level from the free throw line."
The Pointers (23-3) opened the game with a triple from Xathan Haney, followed by a pull-up jumper from Caleb Lovely. However, North Adams responded with a 7-0 run behind Bransyn Copas, Cody Hesler and Carson Osborne to take a lead.
Copas later added an old-fashioned three-point play, followed by a rebound and put-back from Kamden Buttelwerth to keep the Green Devils (21-5) ahead 12-11.
The Pointers eventually took a 15-14 lead following a pair of free throws from Haney, but Copas answered with a deep trifecta to put NA back ahead 17-15.
Both teams went scoreless throughout the rest of the half until Copas threw up a prayer from 23 feet out that rattled around before finding the bottom of the net for a 20-15 Devils' lead at halftime.
Lovely opened the third by connecting from deep, which Carter Smith followed with a jumper, and a rebound and put-back, for a 7-0 run, putting the Pointers ahead 22-20.
---
---
"We couldn't buy a basket in the first half," Wise said "We were close but we just couldn't buy one. They hit a 3, got momentum and we went into halftime down by five. We came in, made a couple of adjustments and focused on keeping Copas out of the lane. I knew we'd make shots in the second half. We're too good of a team not to do that. Lovely comes out and hits a 3, and it just got us going."
Copas scored the next five points, then Osborne scored from deep, for an 8-0 run to put the Green Devils back in front at 28-22.
Yet, the Pointers answered behind Lovely, Haney and Jordan Ermalovich to the tune of an 8-2 run to tie the game at 30-30 heading to the final eight minutes.
Ermalovich began the fourth by stealing the ball and dishing to Josh Childers for a score, putting the Pointers back ahead 32-30. Keeping their foot on the gas, Lovely scored the next five points and Ermalovich knocked down two at the stripe to extend the lead to 39-32.
On the other end, Ermalovich was acting as Copas' shadow.
South Point made a switch at halftime that made that happen. It worked like a charm to slow down the Devils' best scorer.
"We were switching as a team. But then we put Jordan [Ermalovich] on him and he did an excellent job," Wise said. "We didn't want [Copas] to see the rim. He was getting rid of the ball and we narrowed the court and made it a little bit tougher on him. I'm proud of our defense and proud of Jordan."
The three-possession lead was enough to run away with as the Pointers converted their free throws down the stretch to end the Green Devils' season and punch their Elite 8 tickets.
Lovely ended the night with 20 points and four rebounds to lead the Pointers, followed by Haney with 11 points and seven boards. Ermalovich added 12 points and four assists.
"[Lovely] is that good to get 20 points after having two in the first half," Wise said. "We knew he was going to get going. But the other kids stepped up, too. It was a team win tonight."
For North Adams, Copas ended the night with a game-high 23 points and five rebounds, followed by Jayce Rothwell with 11 points.
South Point now advances to a Division III regional final at 1 p.m. on Saturday at Ohio University's Convocation Center. The Pointers will meet with Africentric, who defeated Garaway to move on.
"We have a big task in front of us," Wise said. "We have to make [Africentric] shoot outside. We don't like [opponents] getting all the way to the rim. Everything they score has to be pull-up jump shots. That's what we'll try to do, make them shoot outside shots. We'll try to run our offense and stay in the gaps defensively … make them be a jump-shooting team. That's what we're going to try and do."