John Bruce, Staff Writer

Southern Ohio Sports Authority is presented by OhioHealth.
DAYTON — The moment wasn't too big, the atmosphere wasn't too intimidating and the task at hand wasn't too difficult.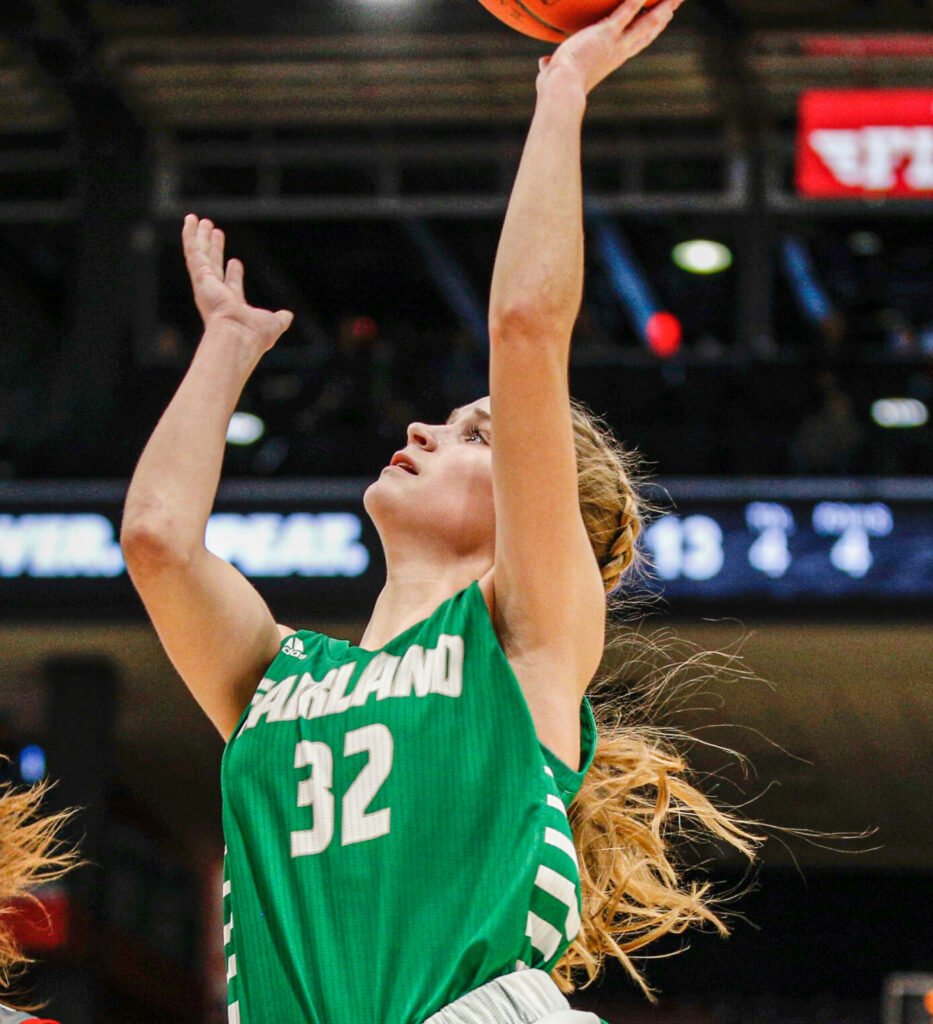 However, the lid on the bucket was too tight.
All season long, Fairland has built its reputation on the ability to knock down shots. But Thursday was an anomaly.
Unfortunately, the poor shooting performance came in a Division II state semifinal as the Dragons (27-1) saw a magnificent season come to an end, falling 56-34 to Canal Fulton Northwest at the University of Dayton Arena.
"It was a tough one. This is the third time our program has been here and we really felt like we had a chance to win the game," Fairland coach Jon Buchanan said. "[Canal Fulton Northwest] really outplayed us in every facet. I know there's going to be questions about the shooting and, obviously, we shot the ball really poorly. We have to figure out a way to be better when we're on this stage."
After feeling each other out, the Indians (27-2) took the first lead of the contest when Gianna Kuhn connected with a streaking Lily Bottomley for a layup. Fairland quickly answered with a driving score from Kam Barnitz for a 2-2 score early.
The first big break of the game came at the 5:50 mark of the first quarter when Bottomley picked up two fouls in a very short time. Fairland's Bree Allen converted both freebies, before Northwest answered with a put-back score from Delanie Carmany.
A deep triple from Allen forced a timeout with 4:49 left in the first with the Dragons leading 7-4. After a score from Northwest's Gwen Lower, Fairland's Tomi Hinkle split a pair at the charity stripe.
Ashley Cudnik then got on the board for the Indians on a right-handed drive, before Kuhn forced a turnover and turned it into three points on the other end, giving the Indians their first lead since early in the quarter.
The Dragons immediately responded, again, this time with a jumper from Barnitz. Both teams then traded scores to end the quarter, with Allen finishing a tough drive to the hoop, giving the Dragons a 14-13 advantage after one.
The second quarter would be all Northwest as it outscored the Dragons by a 16-4 margin to take a 29-18 lead into the break. Fairland went ice cold from the field, and from the free throw line as well. Meanwhile, Northwest was sparked by Gwen Lower and Carmany, who hit a jumper at the buzzer to give her Indians their biggest lead of the contest.
In the first two quarters, the Dragons shot just 7-of-26 from the floor and 1-of 10 from beyond the 3-point arc, allowing Northwest to make its run.
"I think they're ball-handling is good enough to where we couldn't necessarily always speed them up," Buchanan said. "They had longer possessions if they wanted to. So we didn't get our total [shot] attempts we want to get up but on the other hand, we didn't make them when we had them, either. From a lay-up to a free throw, we shot 27 percent as a team. Northwest made shots tough for us. But they didn't guard the free throw line. We just didn't shoot it well today."
Fairland immediately changed the momentum to begin the second half, forcing three quick turnovers, which led to a pair of layups for Bailey Russell and forced a timeout from Northwest with 6:26 to play. The Indians then settled things down, using their experience to get the ball to Bottomley and Cudnik, who each helped to extend the lead to 42-29 heading into the final eight minutes.
As the fourth began, the Dragons were forced to swarm defensively. But the senior backcourt of Kuhn, Cudnik and Ashlyn Stark were able to calmly find the open teammate, leading to a bevy of easy scores.
After the three turnovers early in the third, the Indians only had two more throughout the rest of the game, finding openings throughout the closing minutes.
Bottomley ended the day with a double-double of 13 points and 13 rebounds while Cudnik had 16 points and seven boards. Carmany also chipped in with nine points of her own.
The Dragons were led by Hinkle with seven points, six rebounds and five assists while Russell had a team-high nine points. Allen scored seven points and Kylee Bruce chipped in with six points and five boards.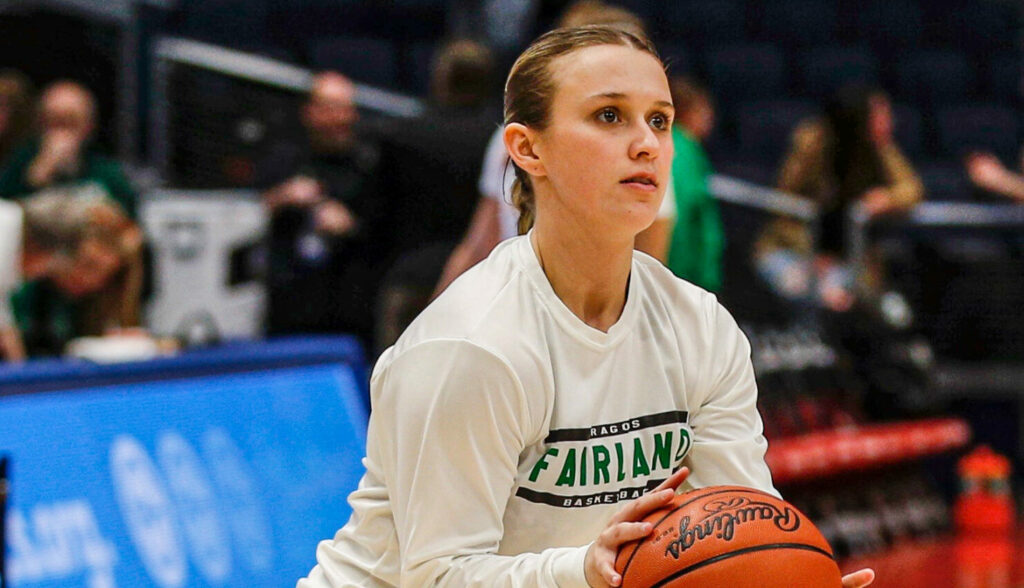 While Fairland bids adieu to its two seniors, Hinkle and Reece Barnitz, Northwest will return to UD Arena on Saturday at 10:45 a.m. when they take on the state's No. 4 ranked team in Cincinnati Purcell Marian.
"Reece and I, I was really proud for us because this was our senior year," Hinkle said. "We were really hoping to get here. And I'm proud of our community, too. They helped us get to this point."
To win their first-ever state championship, the Indians will have to slow down Ohio's Ms. Basketball Award winner, Dee Alexander. Alexander, only a sophomore, scored 34 points and pulled down eight rebounds in the Cavaliers' 61-47 win over Bryan on Thursday.
"We're going to really miss [Hinkle and Barnitz]," Buchanan said. "Tomi has been with us for four years and Reece has been here for three. I don't know how many games they're responsible for winning, but I know it's over 80. Both of them had just great careers. We're super thankful for them. We have a great group coming back. But we're going to have to replace our leader."
BOX SCORE
Canal Fulton Northwest: 13-16-13-14 — 56
Fairland: 14-4-11-5 — 34
Canal Fulton Northwest: 25-47 FG, 5-10 FT, 1-5 3pt., 37 rebounds (Bottomley 13), 13 turnovers, 15 assists (Kuhn 5). Scoring: Cudnik 16, Bottomley 13, Carmany 9, Stark 7, Lower 6, Kuhn 5.
Fairland: 14-50 FG, 4-14 FT, 2-17 3pt., 29 rebounds (Hinkle 6), 11 turnovers, 8 assists (Hinkle 5). Scoring: Russell 9, Hinkle 7, Allen 7, Bruce 6, Godby 2, K. Barnitz 2, Taliaferro 1.