John Bruce, Staff Writer

Southern Ohio Sports Authority is presented by OhioHealth.
ATHENS — The clock has finally struck midnight for the Green Bobcats.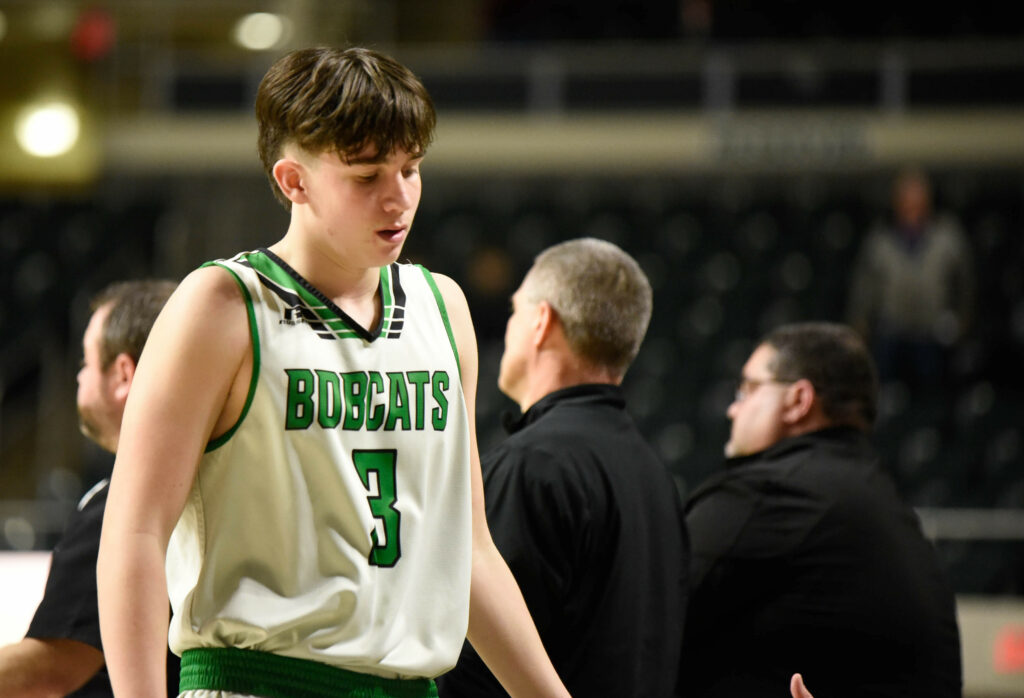 After winning their district as a No. 5 seed — the program's first in 26 seasons — the Bobcats (20-6) ran into a buzzsaw in the Northside Christian Lions, falling 66-56 in a Division IV regional semifinal.
"We know we're not the biggest, the fastest or the most skilled but my guys have a lot of grit," Green coach JD King said. "We're trying to set the expectation of trying to get back [to the regional tournament]. We don't want this to be a once-in-a-26-year thing."
The Bobcats forced turnovers on the first two possessions of the contes and had a short-lived 3-2 lead after a corner trey from Levi Waddell. But after that, it was all Lions as they connected on their first four 3-pointers, with a trio knocked down by sophomore Josh Cook.
All five Northside Christian starters got into the scoring act in the opening quarter, with Landon Vanderwarker scoring five to go alongside Cook's nine.
Green stayed close, thanks in part to a triple from Gabe McBee and six tough points from Levi Sampson. But the Bobcats trailed 20-12 after the opening eight minutes, played mostly without the services of point guard Abe McBee, who turned an ankle in the early goings.
Jon Knapp came along in the second, allowing the Bobcats to continue battling, with six points in the quarter. Abe McBee made his return halfway through and made an instant impact, scoring four straight points to cut the deficit to 30-25 late in the first half.
However, Vanderwarker found a cutting Paul Kuteyi late in the quarter for a layup, before hitting a contested jumper to close out the half, giving the Lions a 34-25 lead at the break.
The first break of the second half came with 6:52 to play in the third, when Vanderwarker picked up his fourth foul, opening the door slightly for the Bobcats to make a comeback. However, Green missed its first eight shots of the quarter, before Abe McBee scored on a driving layup with 3:10 left in the quarter.
Northside Christian was actually able to extend their lead with Vanderwarker on the bench, as Davontrel and Diamauntae Jackson scored at will. Knapp came off the bench for the Bobcats to score the team's final six points of the quarter, but the Lions still led 46-36 after three.
"Something we've talked about during this tournament is getting off to a good start," King said. "Tonight, we didn't. Everyone knows when [Vanderwarker] went out with four fouls, we had to capitalize. We just didn't. That's a compliment to [Northside Christian]. They played really well without him. They didn't crack. Anybody playing this deep, you've got to have some luck, too. And they hit some shots."
In the fourth, Northside Christian extended its lead to as large as 13 points. But the Bobcats continued to battle back.
Triples from Sampson and Gabe McBee gave the Bobcats some life, before Sampson picked Vanderwarker's pocket at mid-court and put down a two-handed jam.
The Bobcats managed to erode the deficit to five points at 57-52 in the final minutes. But the Lions held off the rally attempt, earning their way to the Elite 8 while ending the Bobcats' season.
"That's who they are," King said of his team's fight. "I'm extremely proud of them. I knew we'd go on a run. There's no quit in my guys. That's one of the reasons we're here. We have a lot of grit. We battled and I'm proud of that."
Gabe McBee led the Bobcats in scoring with 18 points alongside six rebounds. Sampson ended the evening with 12 points and eight rebounds while Knapp had 14 points. Abe McBee also helped out with nine points, four boards and six assists.
Vanderwarker led all scorers with 19 points to go along with seven rebounds. Diamaunte Jackson added 14 points and six boards, Cook had 15 points, and Devontrel Jackson added 10 points of his own.
While Green is forced to end its magical postseason run, the Bobcats will also bid adieu to four seniors in Sampson, Waddell, Blevins and Gabe McBee.
"They've done a great job of improving," King said. "It takes a total team effort to get to this point. One of the last things I told them in there, and obviously, you've got some teary eyes and it's emotional, but the amount of support from our community … I've had multiple longtime Green Township folks talk about how they've never been this excited as a community. That's those guys. That's something to be proud of."
BOX SCORE
Green: 12-13-11-20 — 66
Northside Christian: 20-14-12-20 — 56
Green: 21-51 FG, 9-13 FT, 5-15 3pt., 24 rebounds (Sampson 8), 12 turnovers, 11 assists (A. McBee 6). Scoring: G. McBee 18, Sampson 12, Knapp 14, A. McBee 9, Waddell 3.
Northside Christian: 25-46 FG, 11-13 FT, 5-9 3pt., 26 rebounds (Vanderwarker 7), 14 turnovers, 9 assists (Jackson 4). Scoring: L. Vanderwarker 19, Cook 15, Di. Jackson 14, De. Jackson 10, Jury 4, B. Vanderwarker 2, Kuteyi 2.
NOTE: SOSA will have additional details and photos from the Bobcats' Sweet 16 appearance this afternoon.