Tyler Hart, Contributor

Southern Ohio Sports Authority is presented by OhioHealth.
SOSA would like to thank Scott Iles for providing this story's images.
CIRCLEVILLE — Coming into Thursday's matchup, Bloom-Carroll had lost just one set in Mid-State League play.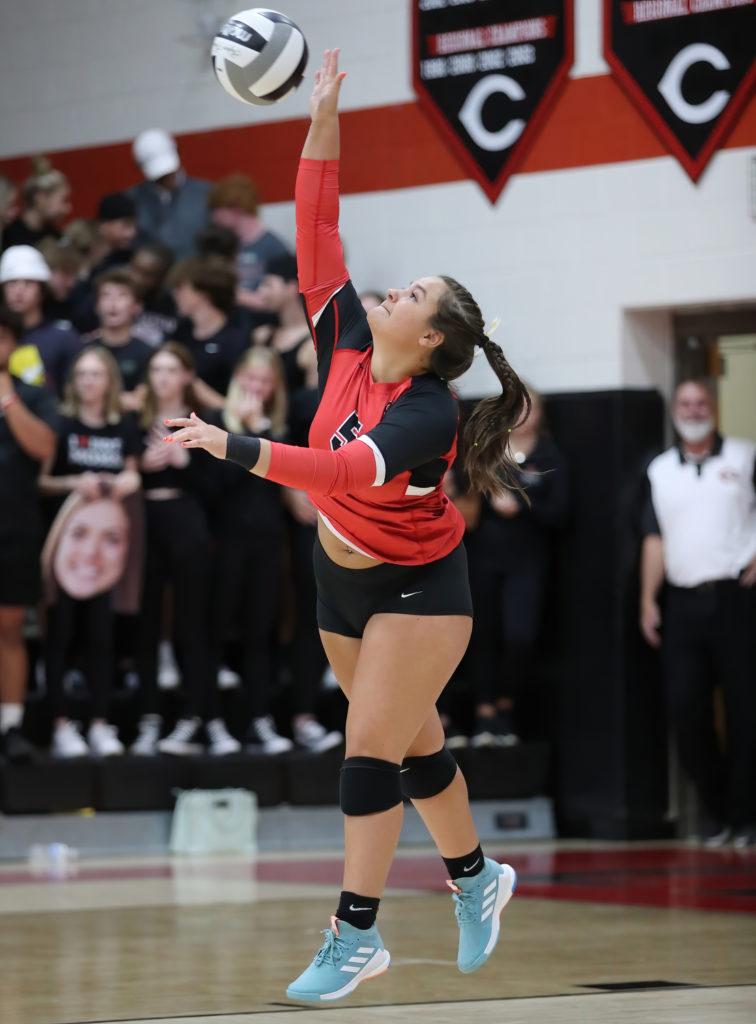 However, when the Bulldogs pulled out of Circleville, that number had grown to four.
The Tigers (14-2, 7-1 MSL) handed Bloom-Carroll a four-set loss by a 25-19, 21-25, 25-12, 25-23 final —avenging an early season loss and forcing a tie atop the league's standings.
"When we lost early in the season to [Bloom Carroll], we were just getting comfortable in our rotation. I think after that loss, we just have been rolling ever since," Circleville coach Danielle Perkins said. "We have seven seniors, a bunch of returning players and some kids who are hungry."
Leading the Tigers' efforts on Thursday was junior Gabby McConnell.
The setter made her presence known early by setting up her teammates for success at the net, sacrificing her body for free vollets and finishing rallies with big hits of her own.
"Gabby is an outlet," Perkins said. "She distributes the ball effectively with her setting, she's big at the net and she's very composed. You won't see a lot of emotion out of her. She plays very focused on setting her teammates up."
McConnelll and the Tigers came into the match clicking on all cylinders. Perkins' group continued to string together passes while handling Bloom-Carroll from the service line. Those two factors led to a wire-to-wire 25-19 win in the opening set.
After the Bulldogs (13-2, 7-1 MSL) failed to hold a single lead in the first set, they quickly took a 4-0 advantage in the second. But Circleville battled back to force a 9-9 tie before taking a 14-13 lead.
Bloom-Carroll answered with a 5-0 burst to go ahead 18-14 before the Tigers ripped off a 6-1 run to seize a 20-19 edge. Staring a 2-0 match deficit in the face, the Bulldogs grinded to take a late lead before putting away a 25-21 win to pull even.
After a back-and-forth start in the third, the Tigers held a 9-5 lead before going on the biggest run of the night. Behind the play of senior Morgan Blakeman on the defensive end — as well as McConnell and Cara Cooper — Circleville went on a 10-0 run and never looked back in a 25-12 victory.
"I just pulled [Blakeman] to the side and I told her I'm sure that a lot of teams game plan around her," Perkins said. "They want to stop her. She leads the team in kills most nights and I told her let's focus on some other things tonight. Let's focus on being the leader and continuing to play great defense."
Displaying grit in the fourth, Bloom-Carroll made the fourth set a see-saw affair. In fact, the Bulldogs held 13 leads in the frame.
However, Circleville responded on every occasion.
After the Bulldogs took their final lead of the evening at 19-18, the Tigers called a timeout to regroup. Out of the break, Circleville took the lead, the set and, eventually, the match with a 25-23 signature win.
Blakeman led the Tigers statistically with 19 kills and 26 digs while McConnell added 17 kills, 11 digs and 28 assists. Cooper finished with 13 digs and 23 kills, Chandler Hayes totaled a team-high 32 digs, and Maddie Blakeman added eight kills and six digs.
"We know what we're capable of," Perkins said. "We just have that grit, really strong drive and that want [to win]. The girls want to make each other look good. They want to do whatever it takes to keep serves alive and the selflessness of this team is a huge part of our success."
While Bloom-Carroll attempts to bounce back on Tuesday with a home date against Liberty Union, the Tigers are back in action the same evening at Fairfield Union.