Derrick Webb, Staff Writer

Southern Ohio Sports Authority is presented by OhioHealth.
Five weeks down. Five to go.
Five weeks to prove yourself. Five weeks to decide conference championships. Five weeks to earn a playoff spot.
Wheelersburg was where my crew decided to go in Week 5 — my dad and uncle tag along on Friday nights. We witnessed a classic slugfest as Jackson completed a comeback to beat the Pirates by a 20-12 final.
But there's plenty of other area excitement to highlight. Here's this week's edition of Sideline to Sideline.
Kickoff
1. Paint Valley is back on track. After back-to-back losses to West Jefferson and Washington, the Bearcats have won two straight and have put up a bevy of points while doing so. This team has a legitimate weapon out wide and his name is Carson Free. In a 53-20 win over Adena on Friday, Free caught five passes for 156 yards and three touchdowns. He's become the perfect complement to Cavan Cooper under center and Dom Chambers and Braylon Robertson in the backfield. Cooper added 105 yards passing, 76 yards rushing and four total touchdowns, Chambers had 118 yards on the ground and two scores, and Robertson racked up 128 rushing yards and a touchdown. After a 1-2 start, the Bearcats are 3-2 and look like they'll absolutely have a say about who wins the SVC. Piketon and Huntington are up next before two huge matchups with Unioto and Zane Trace to follow. Everything is back to normal in Bainbridge.
2. Since a Week 1 loss, West has outscored its opponents 166-23. Yes, that's an actual statistic. It's time to start taking this team seriously. They're two points away from a 5-0 start and have absolutely ransacked the rest of their schedule since. In last week's 42-8 win over KIPP Columbus, Ryan Sissel did what Ryan Sissel does and racked up 179 rushing yards on 14 carries alongside four touchdowns. Mitchell Irwin passed for 154 yards and two scores, and Jeffery Bishop and Cole Tipton caught 80 and 60-yard touchdown passes. Oh yeah, and the team's defense intercepted two passes, recovered two fumbles and blocked a punt. This week, the Senators welcome Waverly to the West Side, which should be an interesting matchup. But if West continues to play like it has been, there's a real chance they could run the table and, potentially, set up a winner-take-all SOC showdown with Wheelersburg in Week 10. That's easier said than done and the Senators' work is far from over. But they have all the potential in the world.
3. I cannot, for the life of me, figure out Northwest. The Mohawks started the year with a shutout win over Southeastern before letting a win slip through the cracks at McClain. Next came a loss to Huntington by a 46-22 final and it seems like that was a tipping point. Since that Week 3 decision, the Mohawks have beaten Oak Hill and Valley. So have they turned it around or are they streaky? Conference play starts this week so we'll learn a lot more. Here's what I do know: Connor Lintz, Wyatt Brackman and Tanner Bolin are three of the best football players in the area. Lintz is an all-around athlete, Brackman is a bulldozer in the backfield and Bolin is a picture perfect game manager. Notre Dame awaits East and Green. The SOC I title should be decided within the next three weeks.
Offensive Juggernauts
McClain's Andrew Potts continues to terrorize defenses. Potts' career night helped the Tigers move to 4-1 in a 48-15 win over Cincinnati Hills Christian. In the victory, the junior needed 21 carries to rush for a school record 352 yards alongside four touchdowns.
Running back Wyatt Brackman helped Northwest get back on track with a 33-carry night. Brackman racked up 148 yards, averaging 4.5 yards per carry, and scored four times in a 37-22 victory at Valley.
The Green Bobcats are putting up points at will. Nathaniel Brannigan and Landon Lodwick are the main reasons why. In last week's 65-52 win over Southern, Brannigan rushed for 289 yards and six touchdowns on 25 carries while Lodwick totaled 12 rushes for 205 yards and a pair of scores. Brannigan now has 982 rushing yards and 13 scores this season, and Lodwick has tallied 706 yards and 11 touchdowns. The backfield duo has the Bobcats at 5-0.
Washington's Troy Thompson and AJ Dallmayer were a dynamic duo on Friday. In a 50-21 win over St. Charles, Thompson went 30-of-47 through the air for 405 yards and five touchdowns. Dallmayer was on the receiving end of 10 catches for 106 yards and two scores.
Video of the Week
Westfall's Casey Cline has been magnificent this season, consistently showing his ability to enhance the Mustangs's offense.
Watch him get up and grab this pass.
Thrice as Nice
Fairland escaped Rock Hill with a win on Friday, completing a comeback effort for a 34-27 victory. Quarterback Peyton Jackson was a huge reason why. Jackson was 9-of-13 passing for 192 yards and three scores. That performance helped the Dragons erase a 27-20 deficit heading into the fourth quarter.
In a 36-6 victory at Piketon, Unioto's Newton Hoops led his team to a fifth straight win. The signal caller was 9-of-13 passing for 167 yards and three touchdowns — two touchdown tosses to Maddox Fox and another to Blake Hoops. Hoops seems to be getting better each week, having passed for 813 yards with a 12-4 touchdown-interception ratio.
Bryce Wickline helped Westfall get back in the win column on Friday as the Mustangs handed Southeastern a 30-14 loss. Wickline was 11-of-16 passing for 280 yards and three scores. Wickline also added 48 rushing yards and had 223 passing yards in the first half alone.
In the Trenches
Remember (how well) the Titans (run the ball)? Notre Dame put up 62 points against Bishop Rosecrans, picking up their second win of the season, and tallied 489 yards rushing while doing so. The team was led by Gavin Hart's 16 carries for 295 yards and five touchdowns while Dylan Seison and Myles Phillips added 86 and 73 yards, respectively, of their own.
There's a reason Ironton is successful. Friday's lopsided win over South Point illustrated why. The Tigers had 425 yards of offense — 172 on the ground and 253 through the air — compared to South Point's mark of 154. Ironton didn't allow a sack, forced four turnovers, and moved the chains 17 times. The Tigers are 5-0 and have scored 29-plus points in their last four contests.
Did you know?
The last time Unioto was 5-0 was in 1969. Yes, it's been 53 years since the Shermans won their first five games. So far, coach Matt Hoops' group has been perfect and, if they can keep it up, there's more history on the horizon. No Unioto team has ever been 10-0 and the last time the program won a conference title was in 1998 — the Shermans shared it with Adena that season.
Shot of the Week
If you haven't heard, Logan Elm is pretty darn good. The Braves earned a 21-0 win over Circleville this past week to move to 4-1. Here, Blayton Reid (3) and Abram Montgromery (54) celebrate a big play.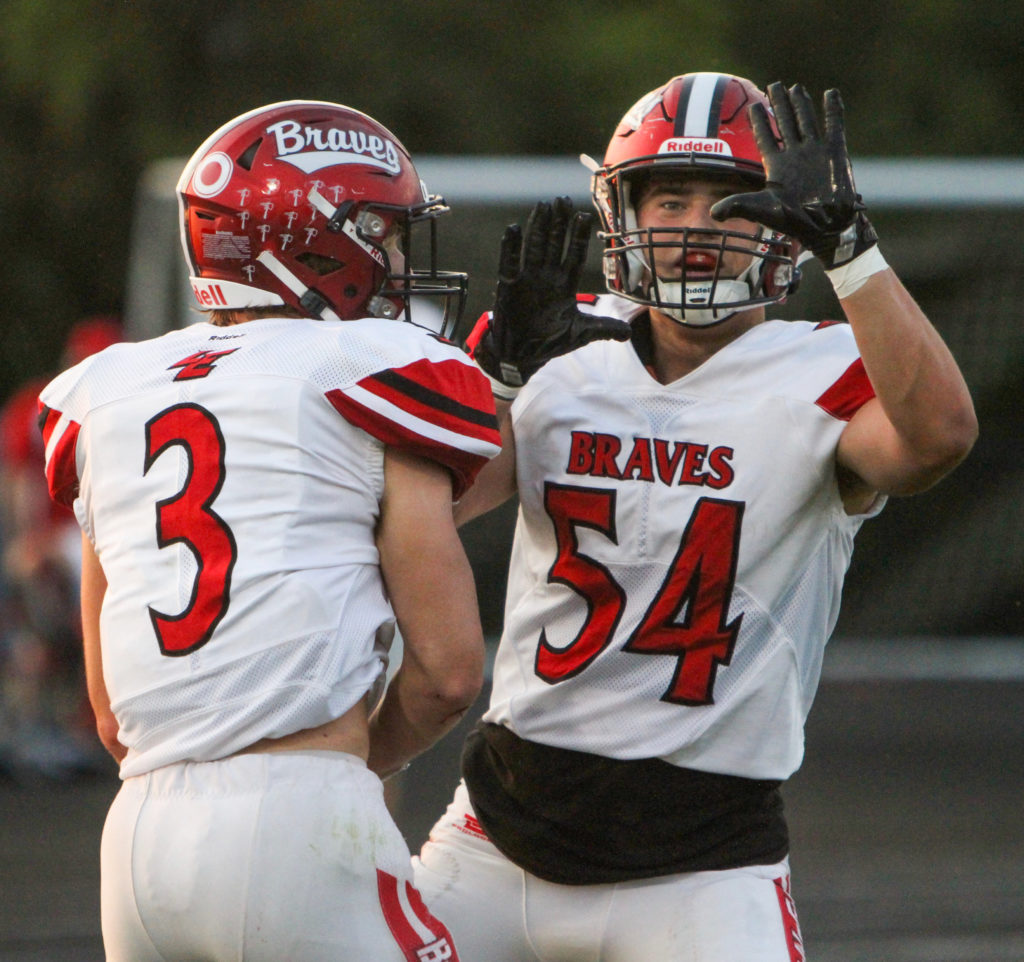 Power Rankings
1. Ironton (5-0) … 2. Washington (4-1) … 3. Jackson (3-2) … 4. Chillicothe (4-1) … 5. Wheelersburg (3-2) … 6. West (4-1) … 7. Unioto (5-0) … 8. Zane Trace (5-0) … 9. Logan Elm (4-1) … 10. Coal Grove (5-0)