Tyler Hart, Contributor

Southern Ohio Sports Authority is presented by OhioHealth.
CIRCLEVILLE — The Backyard Brawl is a Circleville institution, but it's been dominated by Logan Elm in recent memory.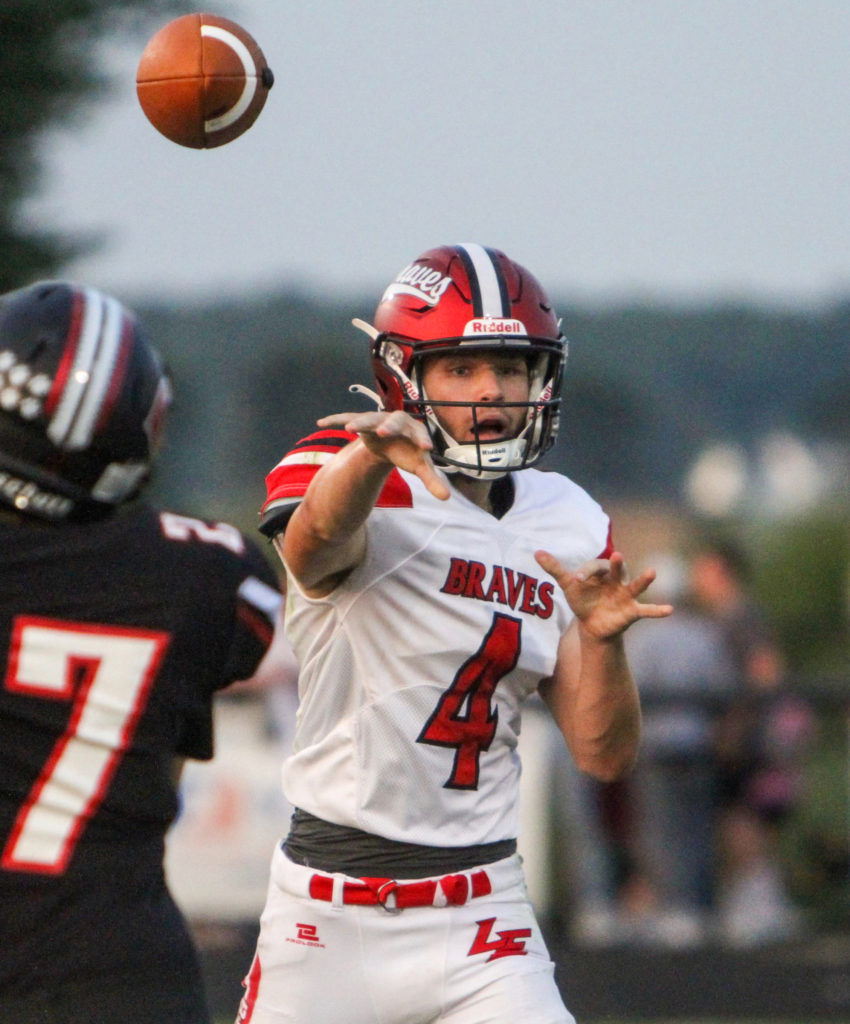 Friday was the latest example.
Behind a dominant defense and a stout running attack, the Braves (4-1, 2-0 MSL) secured their third straight Backyard Brawl trophy with a 21-0 shutout over their Mid-State League rival.
"The atmosphere was unbelievable with two great football teams coming in at 3-1," Logan Elm coach Terry Holbert said. "We knew it was going to be a battle. I give tons of credit to [Circleville] coach Steve Evans and his staff as they are a fine program supported with great leadership."
Scoring became an early testament for Logan Elm as the Braves scored on their first two drives.
Sophomore quarterback Aaron Walters found open targets and connected with Camden Redd in the opening drive for 56 yards. That Walters-Redd connection later set up Blayton Reid for a four-yard touchdown run for a 7-0 lead.
The Braves then made it 14-0, scoring at the 2:36 mark in the opening quarter when Walters snuck it in from the one-yard line.
Walters has been building trust with his wideouts and the Braves' offensive front, according to Holbert. It's becoming more evident each and every week that the signal caller has started to find his rhythm while becoming the leader of the offense.
"Aaron has continued to improve week in and week out. He's made some big throws when we needed him on big-time third down situations," Holbert said. "We trust the ball in his hands and we trust him to get us in the right play."
---
---
Walters ended the night 12-of-19 passing for 170 yards and a touchdown alongside a rushing score. His backfield partner, Reid, has been magnificent all year long. Put simply, it's tough to not give him the ball.
He's shown time and time again that he can succeed in any aspect of the game. Friday was no exception as he ended the night with 161 yards on the ground alongside a score. 
"He has the heart of a lion. Runs the ball like crazy, plays defense and is on about every special teams play," Holbert said. "Love that kid."
Logan Elm's defense played the biggest factor of all as it shut down and limited the Tigers (3-2, 0-2 MSL) from scoring for a second straight season.
Since the Week 1 loss to Zane Trace, the Braves have now held opponents to 17 combined points in their four-game winning streak.
Highlighting the defensive play of the Braves was senior leader Tanner Holbert, who came away with two interceptions, including one that set them up at Circleville's eight-yard line.
Logan Elm wasted no time in cashing in on that opportunity when Reid broke outside for an eight-yard score to put the finishing touches on a win.
"I'm so glad that it came to the forefront tonight," Holbert said. "Tanner is the quarterback of our defense. A lot of times, that unfortunately doesn't show up on the stat sheet. He's had several pass break-ups but he gets our defense, especially with getting our secondary, in the right coverage. He's a tremendous leader and plays his tail off."
The Braves will look to continue their hot streak next week when they travel to Fairfield Union. Last year, the Falcons had the Braves' number with a 21-14 finish.
Logan Elm is eager for their chance at redemption next week.
"Fairfield Union took it to us last year," Terry Holbert said. "It'll be a huge challenge for us next week but we want to continue to grow each and every week. In the next couple weeks, we may be favored and that's part of building a program and building a winning culture, to win and rise up when you're the underdog. But we just have to continue taking care of business. We believe we are the better team and we will not take anyone lightly."