Brock Netter, Staff Writer
Southern Ohio Sports Authority is presented by OhioHealth.
SEAMAN — "I told the girls at halftime that it's going to happen. We're going to get that goal. Just keep battling."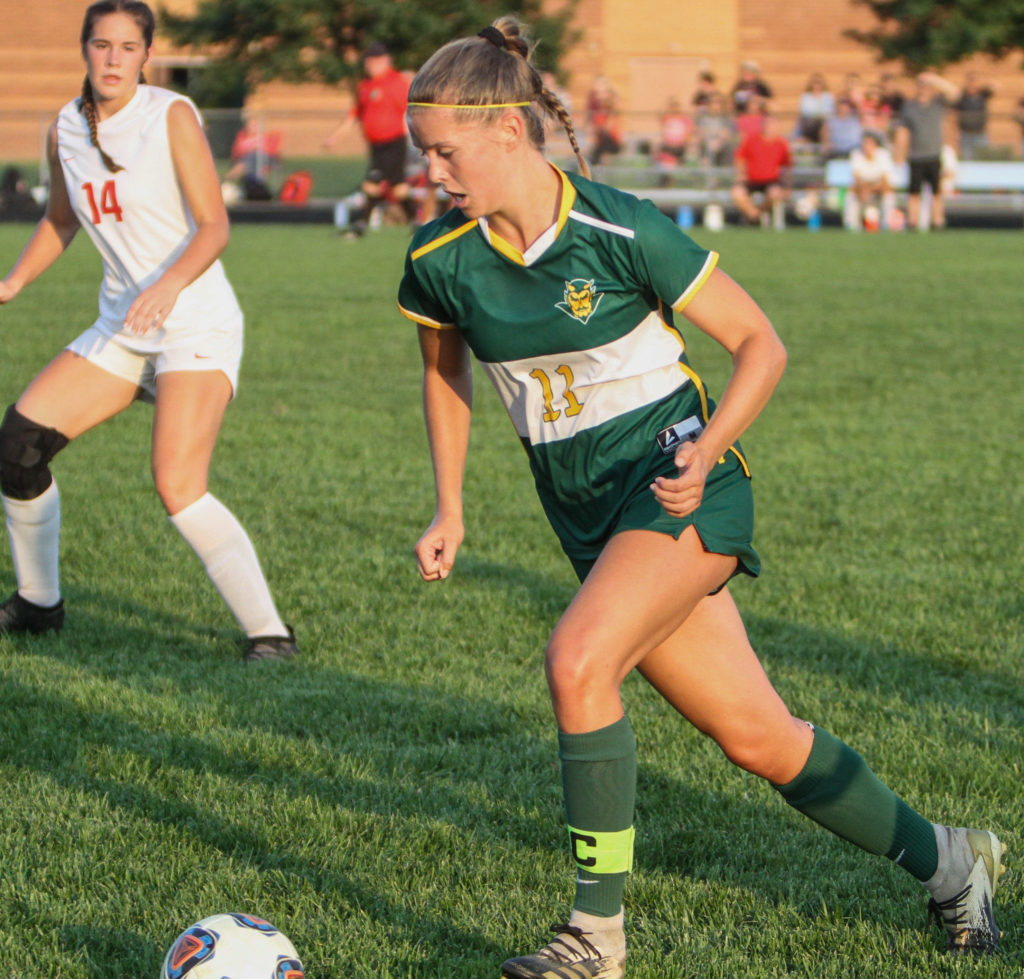 North Adams coach Morgan Hendrickson spoke that goal into existence, and then Kenlie Jones made it a reality. 
With the ball scrambling around in the box — oddly enough off a Jones throw — it ended up at the foot of the junior midfielder and she struck, giving the Green Devils (7-1, 4-1 SHAC) a 1-0 victory over Eastern Brown in SHAC action on Thursday. 
"It was a lot of knocking around and players trying to possess the ball, and sometimes we possess the ball a little too much on the front end," Hendrickson said. "But Kenlie finally fired one that skimmed right off an Eastern defender and it went in. It definitely helped that their goalie came out just enough. It wasn't the cleanest shot but it's a game-winner." 
For the majority of the team, the Devils had never never beaten Eastern Brown (5-3-1, 2-1 SHAC). In fact, 11 of the 15 NA roster members fit that bill.
That made the victory that much sweeter. 
"It's always the same with Eastern. It's a hard-fought game that's usually decided by one goal and we've been on the losing end the last couple of years," Hendrickson said. "These girls have worked so hard and especially coming off a big win over Wheelersburg, we knew we were right there. They deserved this so much and I'm proud of them." 
The way the game was unfolding, it was clear to see that one goal was all it was going to take for the win. Both teams possessed the ball rather evenly, though North Adams was more aggressive in taking shots. 
The Devils fired shots from all areas of the field, attempting to create some type of opening for an easier goal. But nothing materialized from it as the game remained scoreless at halftime. 
"Eastern isn't the same team as last year, but they're still such a solid team with a lot of talent led by Rylee [Leonard] and McKinzie [Dotson]," Hendrickson said. "It didn't help that we were down a player defensively, and I know the girls were tired since we don't have a lot of depth. But I told them they had to maintain their composure and focus on what they can do."
A 0-0 tie seemed inevitable since neither team was budging an inch. The attacks continued and the defensive stops became more prominent as the minutes dwindled and the daylight became scarce. 
But finally, at the 14:06 mark, Jones raced into the box to find herself at the right place at the right time to find the back of the net, securing the victory.
"We changed a number of things up this past week and moved some players around to find what works best for us," Hendrickson said. "We moved some strength to the outside instead of just packing it in the middle, and they're starting to get comfortable with everything. I couldn't have asked for a better game and effort from the girls."
North Adams returns to action on Monday at home against West Union while Eastern Brown travels to play at Fairfield the same evening.