Brock Netter, Staff Writer
Southern Ohio Sports Authority is presented by OhioHealth.
KINNIKINNICK — At the end of Monday's match, Unioto gathered for a quick postgame huddle before breaking and heading home for the night.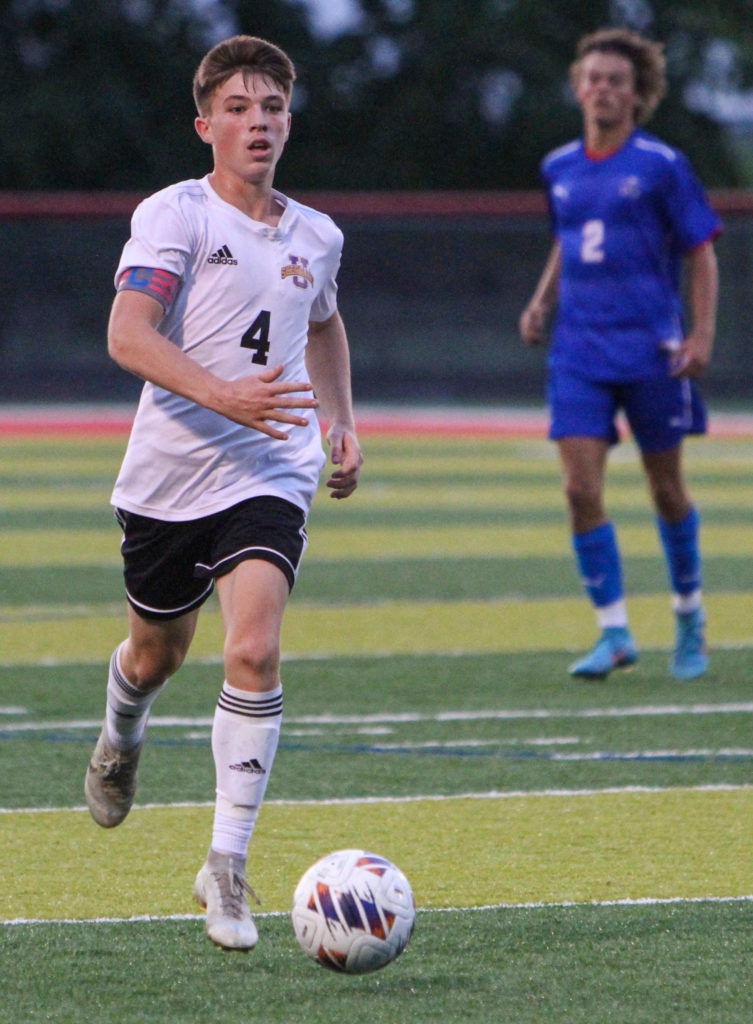 The team had a trophy in their hands that got handed to midfielder Jaydence Gaus — yet it hadn't been updated since 2018. 
It turns out that Unioto has stopped putting name plates on the trophy since Zane Trace hasn't beaten the Shermans since 2016. They haven't felt the need to update it since.
After Monday's 2-0 victory over the Pioneers, they intend to keep it that way. 
"We've beaten them every year that I've been on the team, and we understand that this isn't a game that we want to lose," Gaus said. "We had really good communication on the field, and I think that's a big part of why we won because everybody was on the same page. We stayed aggressive from the beginning and kept up the pressure all night by getting shots off."
It was almost like target practice for the Shermans (7-1, 1-0 SVC), though the accuracy needed a little work after blasting over 40 shots on the night. 
Though they earned the win, 40-plus shots compared to just scoring two goals isn't exactly the winning formula they had in mind.
"You can't ever be mad about a win, but we definitely have to work on our shots," Unioto coach Freddy Cortez said. "We don't have any problems getting shots or creating them, but to have that many shots and only connect twice isn't ideal. I was incredibly pleased with our efforts, our ball control and how we stayed locked in. But we have to finish better moving forward.
---
---
"But credit to [Zane Trace's] goalkeeper [Judah Hanks] as well. He made some really nice saves and we made him really work to get those saves. He did a good job keeping them in the game." 
The majority of the shots taken happened in the second half. However, it was in the first half where Unioto connected on both goals. And they turned to Lucas Hanes to make the magic happen. 
Off a feed from Isaac Martin, Hanes received a pass and struck the back of the net with 29:32 left, putting the Shermans ahead 1-0. A little over 10 minutes later, Kamden Smith sent a perfect pass right to the feet of Hanes, who did the rest for his second goal of the evening and a 2-0 Sherman lead. 
"We're always really slow to start, but we finally got the breakaway and I finished it," Hanes said. "After that, we all just kept up our speed, the pace, ball movement and everything else. Zane Trace's back line is pretty strong and Judah [Hanks] is pretty good. We just have to put in the work and continue working on our shots." 
While they continued to remain aggressive offensively, the Shermans' defense was doing their part in making sure the Pioneers (5-2, 0-1 SVC) never invaded deep into Unioto territory.
Unioto's back line was rarely threatened and made a stop anytime they felt the slightest scoring threat.
"We knew that Zane Trace had three skilled players playing up top, which was number 17 [Ivan Chavez], number 13 [Marco Chavez] and number two [Rece Allen]," Gaus said. "So we had to put pressure on them and didn't let them get the ball with any open space. They got a couple through balls, but we snuffed those out quick and always had someone ready for them." 
Unioto returns to action on Saturday for a non-conference bout at South Webster while Zane Trace aims to rebound at home on Monday in SVC action against Westfall.
"Overall, we played really well. Our composure was great, we showed good character and played with a great effort and attitude," Cortez said. "We have our goals set high and we want to be in that upper echelon in Division II. So there's definitely some things we will work on. I encourage our guys to take shots from all areas, but we have to be a little more selective about them."