Tyler Harris, Staff Writer
Southern Ohio Sports Authority is presented by OhioHealth.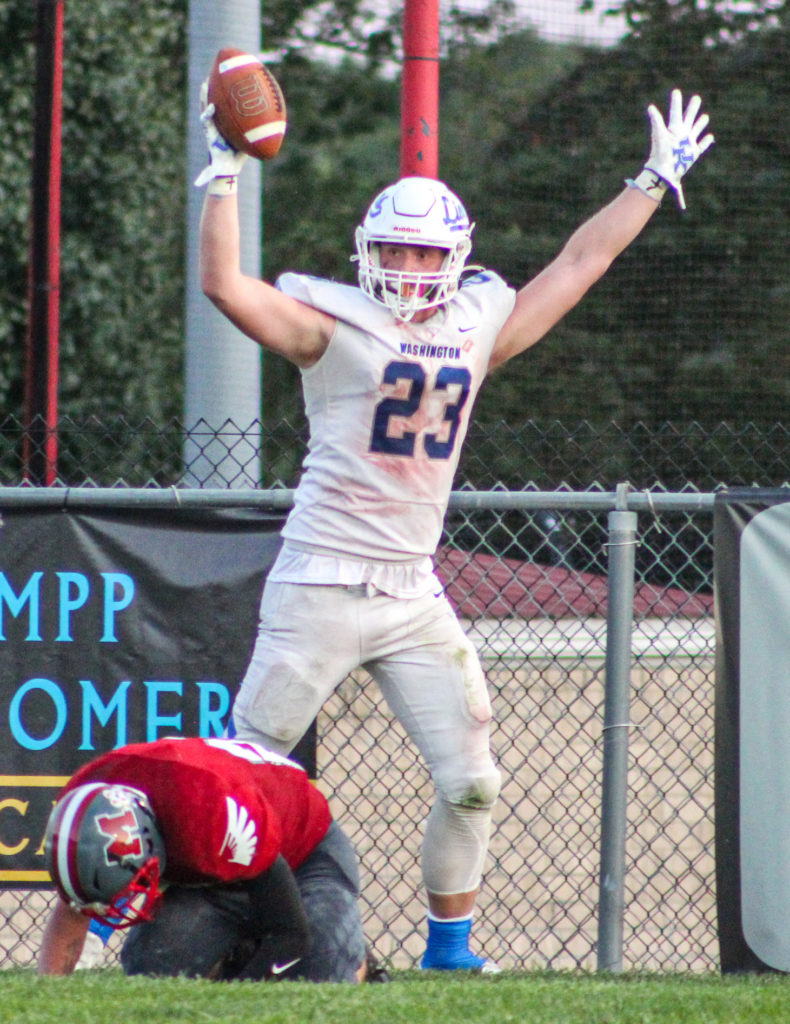 MINFORD — Bigger, faster, stronger.
Put simply, that's what the Washington Blue Lions were on Friday night in Minford.
For the second straight week, the Blue Lions' offense scored 40-plus points while their defense kept a goose egg lit on the scoreboard. The result was a 42-0 rout of the previously unbeaten Falcons.
"Our guys are just playing really hard," Washington coach Chuck Williamson said. "Our coaches have these guys jacked up every practice, playing hard and just buying into everything we are trying to teach. We're really excited about where we're at right now."
Washington used a fast, physical and disciplined attack to keep Minford off the board. It was reminiscent of the team's shutout win over Paint Valley in Week 4 — the Blue Lions have now outscored their opponents 90-0 over the past two weeks.
Minford (3-1) came into the game undefeated with an offense that had been humming along.
But Washington's defense dug in and forced everything to go wrong all night long, forcing four turnovers, creating seven sacks and piling up eight tackles behind the line of scrimmage.
That effort was led by sophomore defensive tackle Jacob Lindsey, who had three tackles for a loss and a sack on the night.
But flip the page, to the other side of the ball, and nothing went wrong for the Blue Lions. It's not familiar to see a high school program do things a little backwards. But Williamson has so much faith in senior signal caller Troy Thompson that he has no problem running a pass-first offense. 
"He's a field general out there. He makes his own calls and he just gets better and better," Williamson said. "He knows what's going on and reads the field so well that we just trust him. He's a great guy to have out there providing senior leadership."
---
---
The party started when Thompson found fellow senior tight end Tanner Lemaster for a six-yard strike just two and a half minutes into the game. The Blue Lions then struck again, this time on a nine-yard toss from Thompson to Isaiah Haithcock, to make it 14-0 and the rout was on.
Washington scored on its next drive by way of a 26-yard strike to — who else? — Tanner Lemaster, after Trevaughn Jackson picked off a Falcons pass. Jackson followed up the stellar defensive play with an 11-yard scamper on the following drive to bring the halftime score to 28-0.
Defense was the name of the game in the second half as the Blue Lions held the Falcons to just 46 total yards in the final two quarters. It's something Williamson's defense is hanging their hats on.
"Our defense is playing fast, and that's all we ask," Williamson said. "We don't care if they blow an assignment if they're playing fast and physical and that's what our guys are doing. They like shutouts and they're really buying into what we're trying to do."
The Falcons took advantage of a few penalties throughout the half and reached the red zone twice. But on both occasions, the drives resulted in a turnover, the last of which set up Washington's four-play 80-yard drive that ended with a Michael Bearden touchdown run from nine yards out. Sophomore Gavin Coffman put the finishing touches on the win with a three-yard quarterback keeper late to round out the final.
"We have to keep getting better every week. We have to keep taking a step up every week," Williamson said.
The Blue Lions were led statistically by Thompson, who finished 19-of-23 through the air for 261 yards and three touchdowns. Lemaster led the receiving core with six catches for 70 yards and two scores while Haithcock had four catches for 36 yards and a score. Seniors AJ Dallmayer and Calum Brown chipped in with four catches for 44 yards and three grabs for 66 yards, respectively.
Jackson led the ground game with seven carries for 71 yards and a score while Rocky Jones piled up 76 total yards.
The Falcons were led offensively by Jeff Pica, who had 19 totes for 130 yards while Tysen Kingery had 11 carries for 36 yards. The Falcons were plagued with turnovers, coughing up the rock four times.
Washington will now host St. Charles next week for a tough non-conference tilt while Minford welcomes in East Clinton in a non-league matchup of their own.