Tyler Hart, Contributor
Southern Ohio Sports Authority is presented by OhioHealth.
GREENFIELD — Last week, the McClain Tigers showed their level of grit with a 14-point comeback win over Northwest.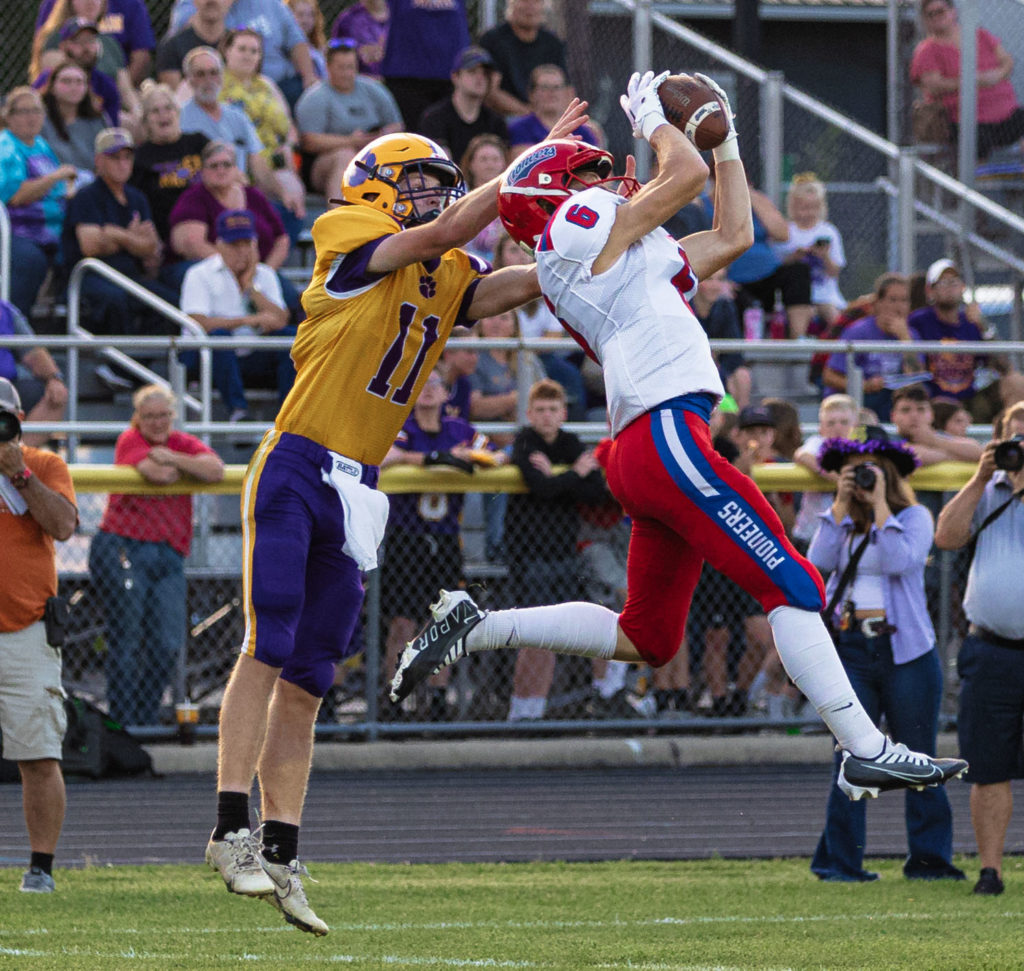 On Friday, Zane Trace showed its level of dominance at the Tigers' expense. 
Powered by quarterback Carter Langley's four touchdowns and a determined defense, the Pioneers traveled to Greenfield and returned to Kinnikinnick with a decisive 40-0 bout over the Tigers. 
"Very proud of our 17 seniors that have been working through the scout teams and being a part of something great by being bigger than themselves," Zane Trace coach Heath Hinton said. "We keep working on our mistakes. We do a great job of picking one another up when someone gets down on themselves. We are a physical running team and our wide receivers are blocking really well right now."
Langley's performance showcased a level of balance the Pioneers (3-0) have become accustomed to seeing on Friday nights. 
He finished with 180 total yards — 90 passing and 90 rushing — and racked up frequent flyer miles in the end zone. 
"He brings a lot of toughness. He's a leader and, now, the captain. I love what he can do for us and the team," Hinton said. "It's hard to replace an all-state quarterback, but Langley worked really hard sitting behind him. He didn't get many reps last year but he mentally bought into it and worked hard physically. Very proud of him."
---
---
Early in the game, Zane Trace faced a 3rd and 12 backed up at its own 11-yard line. Langley took the snap, broke wide to his left and he was gone like a freight train, sprinting 89 yards as he trotted into the end zone for a 7-0 lead. 
Later, Langley again made an impact, but this time on the defensive side of the football. McClain fell into a 3rd and 19 situation that forced the Tigers to throw a deep pass. Langley got a read on it, snagged it in mid-air and made a solid return on the play into McClain territory at the 32-yard line. 
That turnover led to a Conner Smith four-yard score, pushing the lead to 14-0.
The Tigers (2-1) tried to find some type of offensive rhythm, but just as they developed their form, Zane Trace's Aaden Dunn had perfect timing and reached up for an interception. 
Led by Langley, the Pioneers wasted no time producing another big yardage score. Langley found Austen Ison on a short-curl route where Ison, with a big pivot, found nothing but green grass ahead of him for a 70-yard touchdown reception, giving the Pioneers a 20-0 advantage.
The game stalled out over the next few minutes until Langley helped charge ZT down the field in the closing minute of the first half. With under seven seconds to go, he called his own number and found pay dirt yet again, putting the Pioneers up 26-0 at the halftime and, essentially, putting a bow on the win.
Zane Trace capped the night's scoring with a five-yard run from Blake Phillips and an eight-yard touchdown pass from Langley to Drew Lane.
Langley ended the night 4-of-7 passing for 90 yards and two touchdowns while carrying the ball twice for 90 yards and two scores. Phillips ended with six rushes for 34 yards and two touchdowns, Daniel Barnhart had 10 carries for 96 yards, and Ison led the team in receiving with his 70-yard score.
McClain's Drake Stapleton finished 5-of-16 passing for 79 yards while Andrew Potts added 18 carries for 81 yards.
While the Tigers try and bounce back next Friday at East Clinton, the Pioneers welcome in Piketon to start Scioto Valley Conference play.
"Last year we started playing SVC schedule away and this year we start our first two games at home, Hinton said. "Our guys love playing at home with familiarity from the warmups to the game. The guys will come out fired up and ready to play."