Derrick Webb, Staff Writer
Southern Ohio Sports Authority is presented by OhioHealth.
WASHINGTON COURT HOUSE — Just one year ago, Washington had to overcome a late 17-point deficit to beat Paint Valley.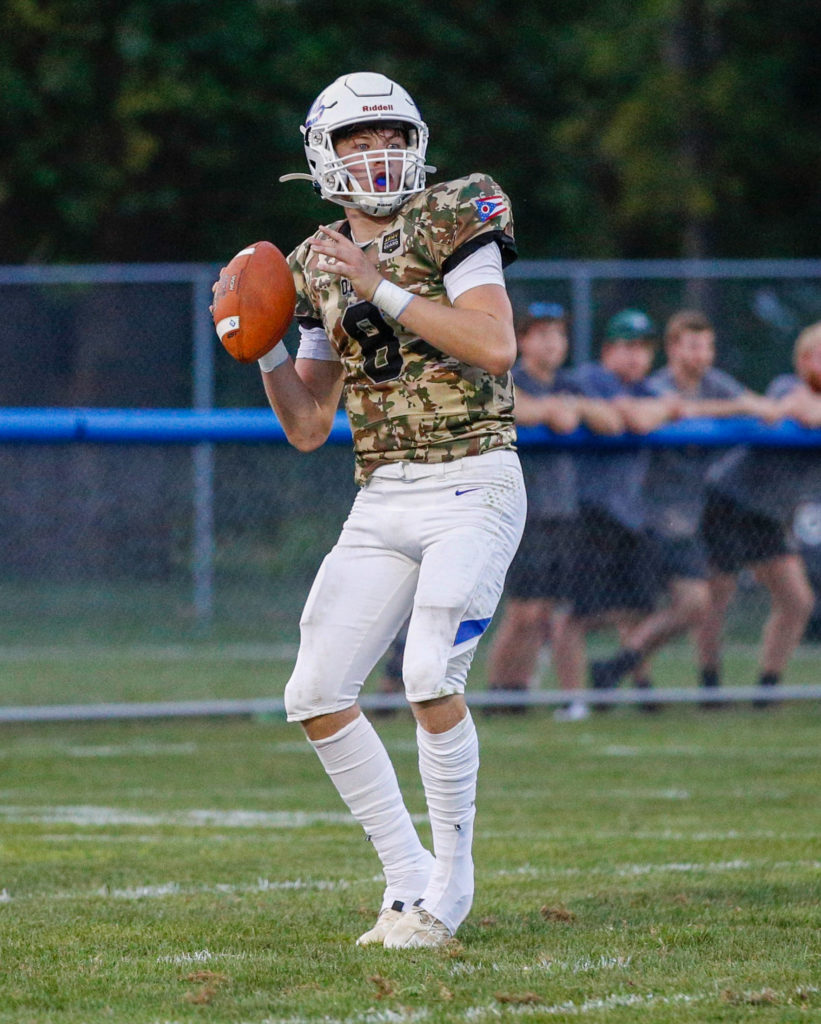 Friday, a deficit was the furthest thing from present.
The Blue Lions (2-1) used a quick-strike, big-play offense to score early and often. Meanwhile, an opportunistic defense kept the Bearcats off the board in a wire-to-wire 48-0 trouncing.
Needless to say, Washington coach Chuck Williamson was happy with his locker room.
"This team can be as good as it wants to be," Williamson said. "They are now, for the first time, starting to understand how to focus in practice. We told them that tonight would be a big test. We played OK last week. So we wanted to be better against a team that we should shutout. That's what they did. If they continued to improve each week, this team can be pretty dang good."
Quarterback Troy Thompson was locked in from the start. The senior logged three first half touchdown passes — two of which came from 72 and 90 yards out and both of which featured Calum Brown on the receiving end.
By halftime, with the Blue Lions out in front by a 34-0 tally, Thompson had already passed for 248 yards and Brown had racked up 162 receiving.
"People don't see the kind of work that Troy puts in," Williamson said. "He stays every day after practice and times it up with his receivers. We have so many weapons that, sometimes, everybody doesn't get the ball as much as they'd like. Tonight was Calum's night. They single covered him and with his speed, once he gets by you, it's over. Troy put the ball right on the money."
---
---
Washington scored its first touchdown of the evening with 7:56 left in the first quarter. Thompson completed a one-yard touchdown pass to Tanner Lemaster to cap an 11-play, 64-yard drive and give the Blue Lions a 7-0 lead.
After the defense forced a three-and-out, Thompson and Brown connected for a 72-yard touchdown strike and a 13-0 edge at the 6:04 mark.
Later, with Paint Valley (1-2) driving deep into Blue Lion territory, Michael Bearden recovered a fumble and returned it 79 yards for a back-breaking score, putting Washington ahead 20-0 with 8:56 left in the second.
That score visibly took the wind out of Paint Valley's sails. From then on, it was all Blue Lions.
"That changed the game," Williamson said. "A lot of kids would've given up on that play. He didn't give up on that play. All of the sudden, we held them out of the end zone [on that drive] and it was because of [Bearden's effort]. You have to be proud of a kid that works like that. So we're very happy with him."
Washington's defense once again answered the bell on Paint Valley's next drive, making a goal line stand inside the 10-yard line. Three plays later, Thompson found Brown for a 90-yard touchdown toss, pushing the advantage to 28-0 after a successful two-point try.
Then, following an interception, the Blue Lions added a fifth first half score. With 44 seconds remaining, Trevaughn Jackson punched in a 20-yard touchdown run for a 34-0 lead and the knockout blow.
With a running clock in full effect during the second half, the game's two final scores came with 6:29 left in the fourth and 4:50 remaining in the fourth. The first was a five-yard touchdown run from Thompson and the second was a 14-yard scamper from Gavin Coffman.
Thompson finished the night 13-of-15 passing for 306 yards and three touchdowns. Brown had three catches for 162 yards and two scores, AJ Dallmayer caught three passes for 53 yards, Rocky Jones led the ground game with seven carries for 59 yards, and Jackson ended with three carries for 41 yards and a touchdown.
Paint Valley was led statistically by Cavan Cooper, who was 8-of-18 through the air for 96 yards. Dom Chambers added 14 carries for 112 yards, and Carson Free caught four passes for 58 yards.
While the Bearcats are back in action next week, beginning conference play at Westfall, Washington will try to stay on track at Minford against the unbeaten Falcons.
"This team has talent and they know they have talent," Williamson said. "Yesterday's walk-through was the best we've had in the seven years I've been here. It was completely focused. There was no talking and they were soaking everything in. They were ready for tonight."