Dewey Dailey, Contributor
Southern Ohio Sports Authority is presented by OhioHealth.
WAVERLY — For the second time in the past three meetings, Unioto walked away with a win over Waverly on Friday.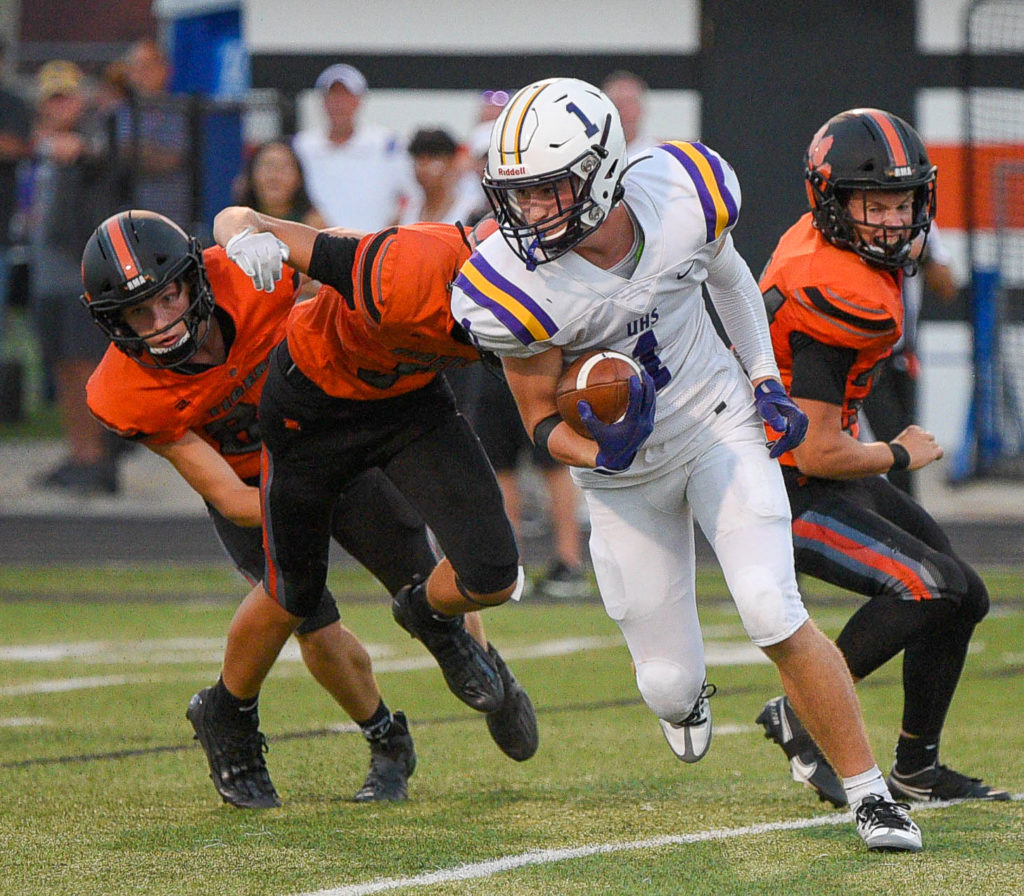 In what was a one-possession game throughout the second half, Unioto (3-0) pulled away to capture a 48-27 win on the road in Tigertown.
The Shermans, who were leading 18-0 at the end of the first quarter, fell behind 27-26 early in the second half due to a furious 27-8 scoring run from Waverly that spanned from the start of second quarter to the first drive of the third.
But Unioto then went on to score the contest's final 22 points, cementing a 21-point win to stay unbeaten.
"We knew they weren't going to give up," Unioto quarterback Newton Hoops said. "They were going to play hard the whole game, and we knew we couldn't stay satisfied."
Unioto pieced together an efficient opening drive and capped it off with a 20-yard touchdown pass from Hoops to Maddox Fox. After an unsuccessful PAT attempt, the Shermans had an early 6-0 lead.
On the Tigers' first drive, things went awry when Isaiah Cunningham stepped in front of a pass and returned the interception 55 yards for a touchdown and a 12-0 lead.
On the ensuing kickoff, River Pettigrew executed a perfect mortar kick for the Shermans, which they were able to recover on Waverly's 39-yard line.
Later, faced with a 4th down play in the red zone, Hoops hooked up with Holden Neukirchner from 19 yards out for his second passing touchdown of the day, making it an 18-0 tally with 4:42 left in the first quarter.
---
---
"A huge boost of momentum" is how Hoops referred to the 18-0 start for the Shermans.
It would be short-lived, however, as the Tigers were far from finished. An 18-0 deficit was far from unfamiliar territory — Waverly trailed Miami Trace in Week 1 by a 20-0 margin and ended up winning that game.
So quarterback Mason Kelly and the Tigers' offense went to work.
They'd put up their first score with 11:30 left in the second, topping off an 11-play drive with an 11-yard touchdown pass from Kelly to Wyatt Crabtree.
Later in the quarter, the Tigers pounced on top of a Unioto fumble, which put the offense front and center on Unioto's 28-yard line. Running back Jase Hurd cashed in on that mistake with a two-yard rushing touchdown, trimming the Shermans' lead to 18-15 with 3:27 to go in the first half.
Less than two minutes later, Unioto answered with a solid drive that was finished off by an eight-yard rushing touchdown from Cody Tuttle. However, the Tigers struck back with just 23 seconds remaining whne Hurd scored from five yards out, making it a 26-21 lead at halftime.
That track meet style pace continued in the final two quarters.
Waverly received the half's opening kickoff, which gave the Tigers a prime opportunity to take their first lead of the night. Kelly hooked up with his older brother, Hudson, for a 60-yard touchdown that put the Tigers ahead 27-26 just one minute and forty-two seconds into the third.
But, unfortunately for Waverly, the Kelly-to-Kelly connection represented the final time Waverly found pay dirt in Friday night's contest.
Unioto proceeded to score 21 unanswered points, thanks to two rushing touchdowns from Matt Griffin, and a 64-yard rushing score from Casey Dray — the knockout blow coming with 1:42 remaining.
Dray led the Shermans' offense with 144 rushing yards and a touchdown on just eight carries. Griffin added 83 yards and a pair of touchdowns and Corbin DeMint totaled 14 rushes for 103 yards. Hoops went 9-of-16 through the air for 109 yards and two touchdowns while Fox finished with four catches for 48 yards and a score.
For Waverly, Hurd led the way with 33 carries for 148 yards and two touchdowns. Kelly was 19-of-37 passing for 262 yards and two touchdowns. Hudson Kelly hauled in six passes for 115 yards and a score.
All in all, the two offenses combined for 973 yards of total offense — 503 for Unioto and 470 for Waverly.
With the win, Unioto heads into league play at 3-0 for the first time since 2014. The Shermans will look to make it four in a row next week when they play host to Huntington. Meanwhile, Waverly looks to get back in the win column, hosting Chillicothe.
"Being 3-0 is great," Hoops said, "we can't stay satisfied and we have to keep working hard. We can't take any team on our schedule as easy. We have to prepare for every game like it's the biggest game of the year."