Austin Hannah, Contributor
Southern Ohio Sports Authority is presented by OhioHealth.
PIKETON — It was almost déjà vu for Valley on Friday.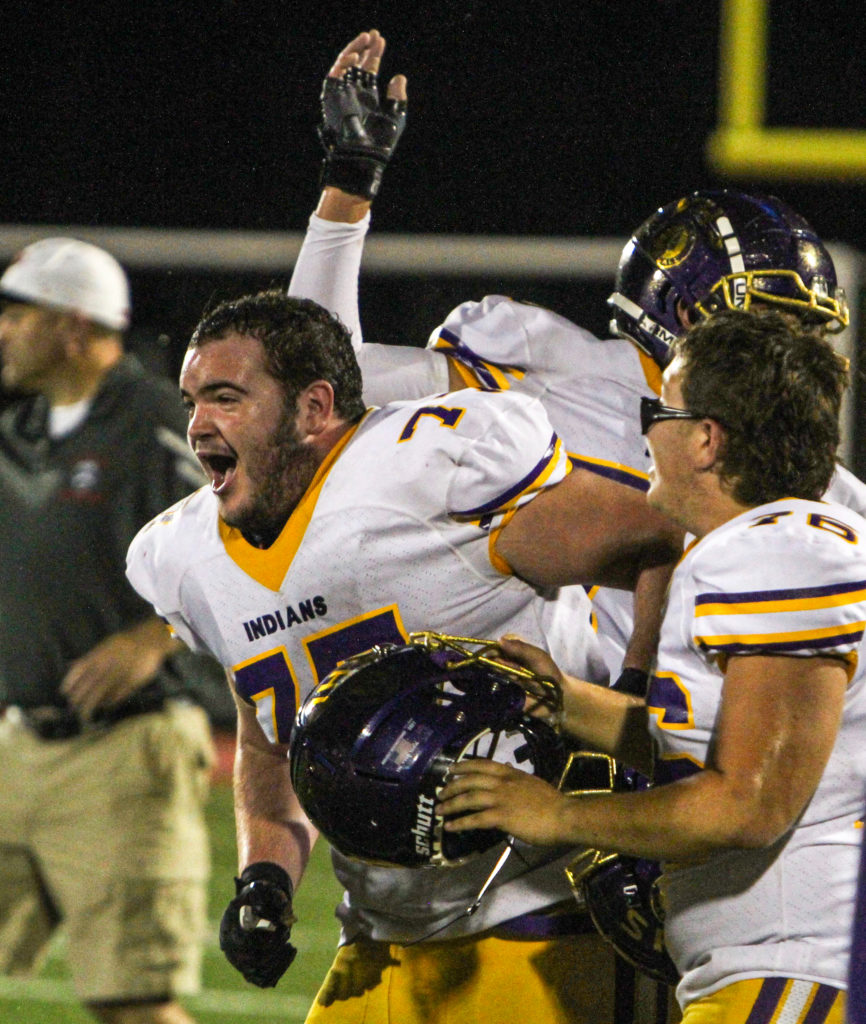 A halftime lead and then, suddenly, finding itself in a fight for survival in the second half. 
However, this time, the Indians (1-2) had enough gas in the tank to cross the finish line as they earned a 21-14 victory over Piketon — the first win of the year and coach Nolan Crabtree's first victory.
"It's something else. It's a big, big weight off my shoulders," Crabtree said. "We've played really hard the last couple of weeks and just didn't come out on top. Tonight, we got off to a hot start and, all of the sudden, couldn't hold onto the ball. But our kids battled all night long."
As Crabtree mentioned, Indians started the game firing on all cylinders.
After forcing Piketon (2-1) to punt on its opening drive, Valley pieced together a scoring drive that ended with quarterback George Arnett finding Carter Nickel for a six-yard touchdown, making it 7-0.
With a lead, defensively, Valley continued to stifle Piketon's offense, forcing a fourth down stop, followed by a three-and-out.
"We really emphasized defense this week," Arnett said. "Our defense being better, as a whole, really pushed us throughout the entire game. And, our offense was able to make some plays early and set up good blocks. We hit a couple of good deep shots early that set us up for scores."
---
---
Arnett and company went back to work and the senior threw his second touchdown of the game, this one to Colt Buckle, who made the catch in double coverage and scampered into the end zone from 26 yards out. to put the Indians ahead 14-0.
The Indian defense continued to make its mark on the following possession, recording a sack while forcing a fumble and recovering at Piketon's 24-yard line. Arnett didn't waste any time cashing in as Valley's well-oiled offense put up another score. Arnett found Buckle again for a 24-yard strike to make it 21-0.
However, that's when Piketon's offense finally found some rhythm and began to shift momentum.
Buddy Wilson found the end zone from 27 yards out to cut the deficit to 21-6 at halftime following an unsuccessful two-point try.
In the third quarter, Piketon found itself pinned down at its own 1-yard line following a textbook punt. But Wilson was about to put himself in the record books. 
On the very next play, the sophomore back took a handoff and hit the edge, blazing by the Indians' defense to record a 99-yard touchdown run — tying an OHSAA state record for the longest rushing touchdown and cutting Valley's lead to 21-14 in the process after a successful two-point try.
From that point on, with momentum drastically shifted to Piketon's sideline, each team traded possessions. While the Redstreaks continued to try and score, Valley's defense continued to answer the bell.
With less than three minutes to play, Piketon had the football and was driving. But a broken up pass attempt on 4th and 14 ultimately dashed the Redstreaks' hopes and put Valley's win on ice.
"When it comes down to it, we had some guys make some plays," Crabtree said. "That's what we've been asking of them and it was our seniors tonight. They stepped up and that's what we needed."
While Piketon will attempt to bounce back next week, opening SVC play at Zane Trace, Valley will welcome Eastern to Lucasville in a non-conference matchup.
"We hope this is a turning point in our season," Arnett said. "We took the first two losses [to Portsmouth and Coal Grove] to heart. They were pretty tough losses. We were in both games. So to come out here tonight and get a win, I think, it's a really big deal for our team and for our program."