Tyler Harris, Staff Writer
Southern Ohio Sports Authority is presented by OhioHealth.
PROCTORVILLE — The animosity between Ironton and Fairland could be felt as you walked into Jim Mayo Memorial Stadium on Friday.
From the opening kick, there was no doubt that there was no love lost between these schools — Fairland made that very clear, winning the toss and deciding to take the football first. And, if you just saw the first drive, you might've thought Ironton was in for a dogfight.
The Dragons opened the game with a six-play, 64-yard drive that was capped with a touchdown pass from Peyton Jackson to Brycen Hurt just two minutes into the game. And, when Ironton followed with a fumble and a punt on their first two offensive possessions, it appeared the Tigers just didn't have it.
Enter CJ Martin.
The senior defensive back had seen enough of that slow start and made it clear when he stripped the football out of the hands of Fairland's Steeler Leep on Fairland's next possession. The Tigers recovered at their own 35-yard line and, from that point on, their defense locked in and took control in a 34-13 win.
Ironton (3-0) finally got on the board in the second quarter with 6:50 left when Tayden Carpenter slung a pass out wide to Ty Perkins, who did the rest and weaved his way to a 28-yard score, giving his team a 7-6 lead.
The Tigers didn't look back as they followed their first touchdown with an eight-play, 57-yard drive capped by Wisconsin commit, Jaquez Keyes, from nine yards out. Keyes was the team's workhorse all night long.
"He just wears on people," Ironton coach Trevon Pendleton said of his senior back. "He packs a punch, runs behind his pads and we keep him fresh just for that."
Heading into halftime, it still felt like anyone's game, but the Tigers were just getting started — and so was Keyes.
Throughout the second half, it was a great balance of offense, utilizing a steady, crushing run game by Keyes and splash plays through the air to put the Dragons away. While Keyes was a focal point, the Tigers still put up nearly 200 yards through the air, a nice compliment to a bruising running back who seems to get better with every time he touches the ball.
"My job in the second half was to run the ball and run hard," Keyes said of his performance. "I knew it was getting harder for them to tackle me and so at the end of the game, we just kept pounding and pounding."
As the second half weaned on, the Dragons (1-2) slowly ran out of gas and Keyes got better and better … and better. He started the half with a run from nine yards out for his second score, stretching the lead to 21-6.
But while the Dragons looked to be worn down, they weren't done yet. Fairland answered with an impressive 10-play, 51-yard drive that was finished off by Jackson on a 10-yard scamper, closing the gap to 21-13.
The Tigers came right back and scored again, following great field position, thanks to kick returner Landen Wilson who was all over the field offensively and defensively for the Tigers. Amari Felder took a five-yard carry into the end zone, stretching the lead to 28-13 with 11:27 to go in the fourth.
Needing a score to stay in it, the Dragons' very next play from scrimmage would spell disaster.
What was supposed to be a simple swing pass out wide turned into Wilson's moment for the Tigers. The speedster jumped the pass, picked it off and took it to the house from 28 yards to put the win away, 34-13.
"Landen is a heck of a football player," Pendleton said. "He may not be the biggest, but he has the heart of a Tiger and if I could take 100 of him to war, I would any day of the week."
"That play was our, 'Foot on the throat moment.'" Wilson recalled. "We knew we had to cut them off there and just end it. That's it."
Statistically, the Tigers used a balanced offensive attack, led by Keyes, who finished with 17 carries for 94 yards and two scores. Felder came on late, finishing with eight touches for 35 yards and a score.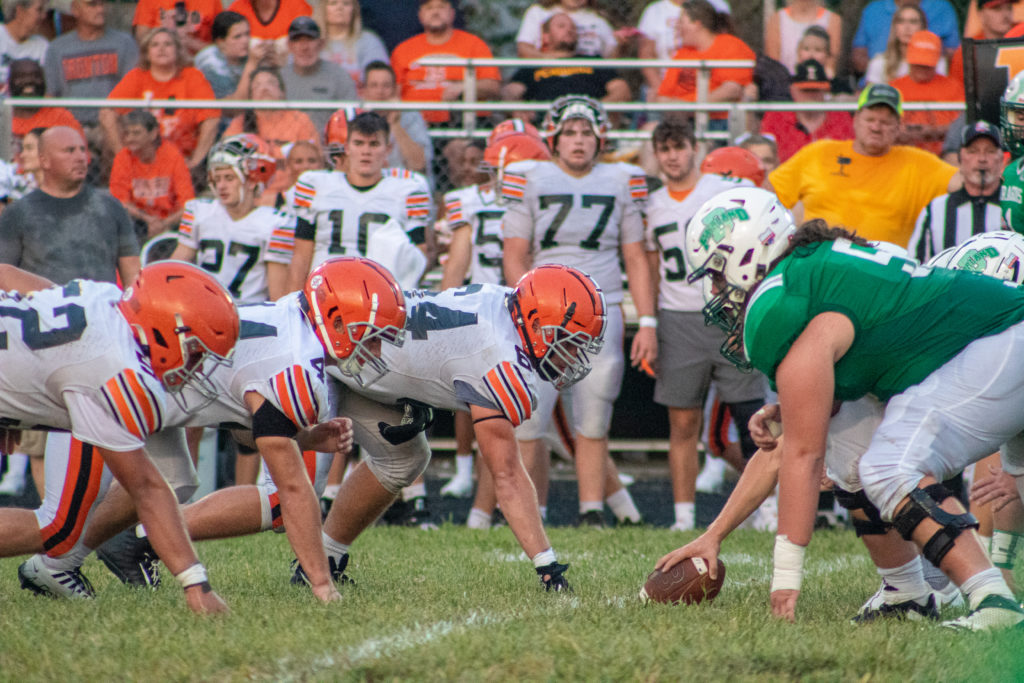 Carpenter provided consistency through the air, finishing 14-of-23 for 194 yards and a touchdown. Carpenter tacked on 46 more yards on the ground. Ty Perkins was the favored target, finishing with a tidy four catches for 64 yards and a touchdown.
The Dragons were led by Jackson, who was 11-for-19 through the air for 159 yards and a score while toting the rock 10 times for 44 yards and a score on the ground. Leep finished with 123 total yards on eight touches and sophomore Kam Kitts caught six passes for 88 yards.
Fairland will attempt to bounce back next Friday with a road trip to Trimble. Meanwhile, Ironton will entertain Johnson Central (Ky.) at home on Saturday.
"We really had to lock in. We've been starting slow in the first half all year," Wilson said. "I think there's always just a switch that flips. We have to figure out how to do that in the first quarter."