Derrick Webb, Staff Writer
Southern Ohio Sports Authority is presented by OhioHealth.
RUSHVILLE — When Monday's final whistle blew, Unioto junior River Pettigrew's jersey was soaked, torn and tattered, and had adopted a green tint to flush out the white.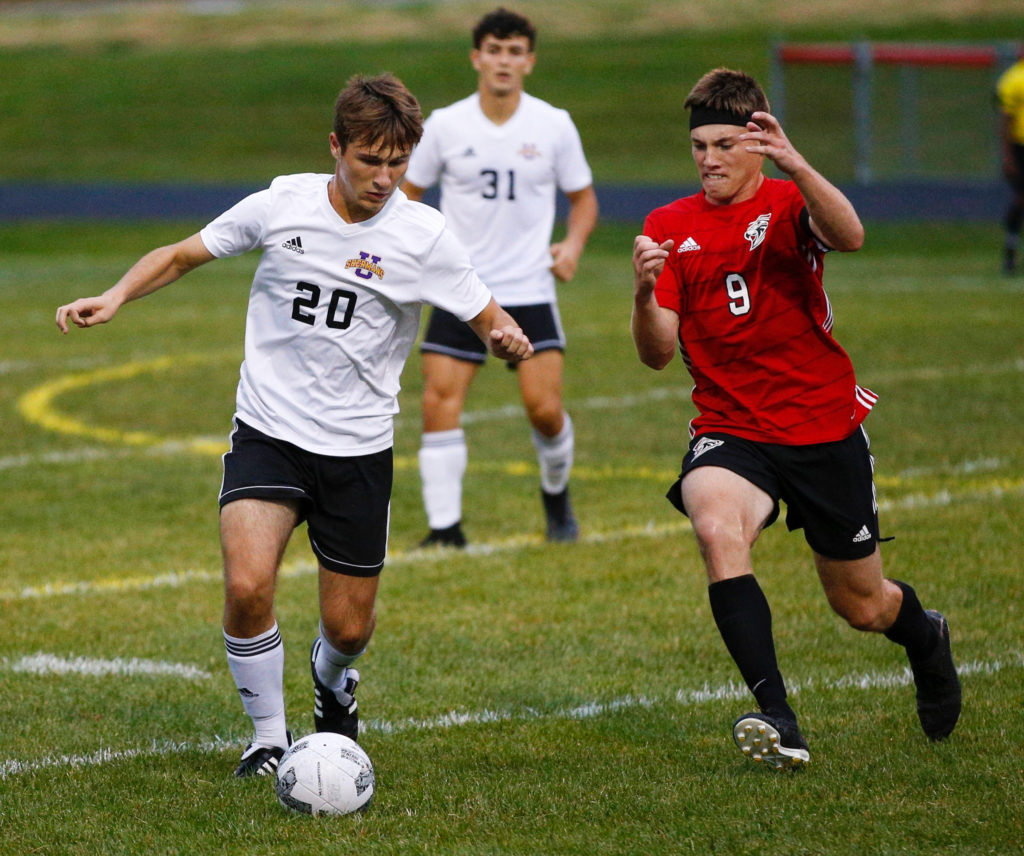 After a physical match that featured 25 combined fouls, and one that saw most of the second half played in a steady rain, Pettigrew's Shermans (4-0) walked away with a 2-1 win over Fairfield Union.
It wasn't pretty. It wasn't ideal. But it was a win … and a pivotal one at that.
"Our warm-up was slow and we started out [playing] terrible," Pettigrew said after the win. "In the game, it was the same exact [pace] of how we were warming up. Once we got that PK, and I put it in, we picked up momentum a little bit. But we were still sluggish. We finally picked it up with about twenty minutes left in the first half and we got going."
Pettigrew's penalty kick was awarded with 31:34 left in the first half after the Falcons were whistled for a handball call inside the box. Pettigrew capitalized on the mistake when he found the lower-right corner of the net to give Unioto an early 1-0 lead.
From there, offensive chances were limited for both squads.
Unioto's Micah Geise and Fairfield Union's Caleb Pack continued to parry shots away from the goal while each team's defense tightened their grips.
"We played together tonight," Geise said. "We played great defense. We couldn't have [won] without my back line, my back four. It was just a great overall game for [the defense]. It's a huge win, obviously, for the tournament [seeding]. And, it's just a huge victory in general."
The Shermans' 1-0 lead stood at halftime but it disappeared quickly in the second half.
---
---
The Falcons forced a tie with a goal off the foot of Caden Fyffe at the 34:17 mark, reversing momentum onto their sideline. Fyffe's goal followed a free kick from a teammate that ricocheted to his own feet after Geise picked up a ball from teammate's throw-in.
However, the senior keeper more than made up for that mistake throughout the rest of the match with save after save in between the pipes. The Falcons sent 15 shots in Geise's direction, 11 on goal, and Geise piled up 10 saves.
While his teammate kept the Falcons off the scoreboard, Unioto junior Lucas Hanes delivered the knockout blow on the other end.
With 17:51 remaining, Hanes beat his defender and sent a rocket past the outstretched arms of Pack into the upper-right corner for a 2-1 lead. That was, ultimately, the difference in the match.
Per usual, the Shermans got their opponent's best shot.
The Falcons (2-1) took the loss but held Unioto to eight shots, six of which were on target. Unioto was whistled for 17 fouls in the match, compared to the Falcons' mark of eight.
"I've felt [that pressure] all season," Pettigrew said. "In the Amanda game [a 7-0 win this past Saturday], they were just all over me. They man-marked me and were on top of me the whole game. When they man-mark us, we're going to have to figure out different ways to play through. It's something we'll have to work on."
While Fairfield Union is back in action on Wednesday, hosting Bloom-Carroll, Unioto now has an eight-day break before the Shermans travel to Athens for yet another non-league showdown.
That match will also have Division II district tournament seeding implications. Last season, Unioto beat the Bulldogs by a 6-0 final after dropping a 3-0 decision the year prior.
"We need to work on winning the ball in the middle," Pettigrew said. "As you saw tonight, we won maybe two out of one-hundred in the middle. Something like that. It's going to kill us against better teams, like Athens, if we don't clean it up."