Brock Netter, Staff Writer
Southern Ohio Sports Authority is presented by OhioHealth.
JACKSON — Although this year's meeting may not have made Saturday's episode of SportsCenter, Ironton and Jackson still produced another instant classic on Friday.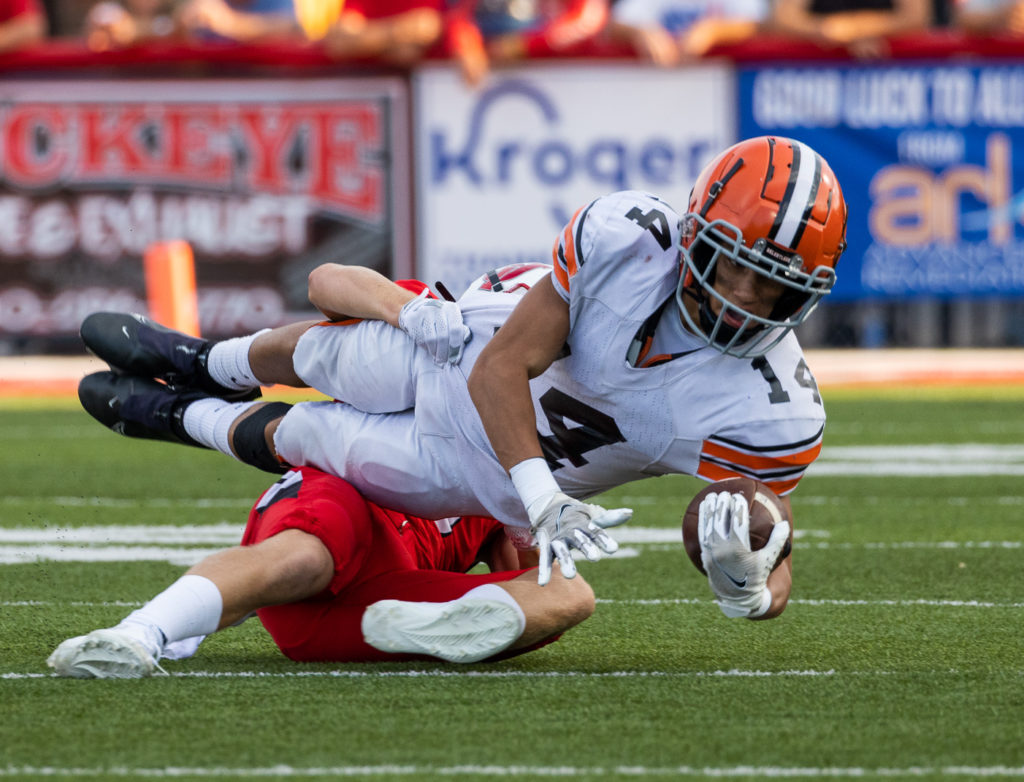 Jackson dominated the game's first half, taking a two-possession lead into halftime. However, the Tigers' defense took their game to a new level in the next two quarters, forcing five turnovers in the second half.
Meanwhile, Ironton's offense continued to fight and had just enough in the tank to cross the goal line last, escaping Alumni Stadium with a 29-26 victory.
"When your back is against the wall, you find out in those moments what your team is made of. And our guys grew up tonight and found a way," Ironton coach Trevon Pendleton said. "It's 11 teenage kids against 11 teenage kids and it's not always going to be pretty. We would like to play a lot cleaner and prettier, but we'll take the win however it comes."
Ice Cold
Ironton (2-0) stayed with Jackson to open the game, scoring on a four-yard touchdown from Jaquez Keyes and a 53-yard touchdown pass from Tayden Carpenter to Ty Perkins.
However, the defense could not stop Jackson's Jacob Winters.
The Ohio University commit was locked in and carved into Ironton with relative ease from the opening snap and throughout the first half. Jackson started the game with an onside kick and recovered, setting the tone early and making the first big move of the night.
The Ironmen (1-1) then cashed in on the onside kick as Winters began his evening by hitting Brodie Butcher on a 40-yard strike to put them ahead 7-0. Following Keyes' score, Winters and Butcher connected again on the Ironmen' next possession on a 13-yard touchdown pass, giving the Ironmen a 14-7 lead.
Perkins' touchdown tied the game at 14-14 on the following drive, but Winters was about to show that he had nothing but ice running through his veins.
"Both teams were scoring early and I thought offensively, we started out the game pretty well," Carpenter said. "But Jackson just kept scoring and we had trouble stopping them in the first half."
Winters threw a 42-yard score to Eli Broermann, who muscled the final five yards for a score. The Ironmen then scored on the next possession after a defensive stop when Winters found Jacob Wood for a 13-yard score that put Jackson ahead 26-14 at halftime.
In the first half alone, Winters went 8-of-10 passing for 160 yards and four touchdowns.
"It was the greatest first half in Jackson history from a quarterback, and it's not even close," Jackson coach Andy Hall said. "He was locked in and making every pass beautifully. We put a lot on his shoulders and he answered the bell every time."
Momentum Shifter
Ironton didn't have the chance to pull a surprise onside kick like Jackson did to open the game as the Ironmen were prepared for it. However, on the kickoff, they fumbled the ball and the Tigers recovered.
"That kickoff play sparked everything for us," Perkins said. "I don't know who caused the fumble, but that was the craziest thing ever and it was exactly what we needed at that moment."
That moment was the complete turning point for both teams.
On the first play after, Carpenter connected for a second time with Perkins, this time on a 34-yard touchdown pass, closing the defifit to 26-21.
"Post routes, slants, crossing routes and getting over the top of the safeties," Perkins said. "Me and Tayden's chemistry is like no other. We're working on the field every single day during the offseason, during practice and after practice just getting things clicking. There's nothing like it."
The 26-21 tally remained throughout the rest of the third quarter, and most of the fourth, as turnovers from both teams coupled with defensive stops took center stage.
The Ironmen faced a 4th & goal play from the four-yard line, and were inches away from crossing the goal line. However, they fumbled on the one-yard line and the Tigers pounced with 7:58 left.
"Our guys defensively just told us that they had it and they were going to make plays," Carpenter said. "I think there was a point where they made Jackson go three-and-out four times in a row, but we just couldn't find the end zone, despite having three good chances to do so. We just continued to fight until the end and give ourselves a chance."
With the clock at 1:14 left, Ironton faced a 4th & 1 from Jackson's two-yard line, and Carpenter managed to just gain that one yard on a quarterback sneak. On the next play, Landen Wilson powered his way into the end zone for the score — and the Tigers' first lead of the night — at 29-26.
With time still left on the clock, the Ironmen drove down the field and made their way down to the Tigers' 18 with 25 seconds left. They went for the end zone, but the pass attempt was intercepted by Braden Schreck to put the game on ice.
"We were supposed to be in man coverage, but our middle backer missed the assignment and didn't go man coverage with the third receiver," Schreck said. "Both receivers ended up running out routes so I just tried to play in the middle and the ball came right to me."
Stat Book
Carpenter finished 15-of-26 passing for 245 yards alongside two touchdowns and an interception for Ironton, while Perkins had seven catches for 164 yards and two scores.
Keyes finished with 18 carries for 107 yards and a touchdown, and Wilson had five carries for 20 yards and a score.
For Jackson, Winters finished 12-for-18 passing with 210 yards, four touchdowns and an interception.
Butcher had three catches for 60 yards with two touchdowns, Wood caught two passes for 31 yards and a touchdown, and Broermann added a 42-yard touchdown catch on top of 15 carries for 95 yards.
What's on tap
Ironton opens OVC play on Friday at Fairland while Jackson travels to play at Tri-Valley that same evening.
"We haven't even scratched the surface of our abilities yet," Perkins said. "But once we do, we're going to be unstoppable."
SPONSORED BY IRONTON PURETAP