Derrick Webb, Staff Writer
Southern Ohio Sports Authority is presented by OhioHealth.
JACKSON — When Jackson coach Jon Groff spoke to his team at halftime of a scoreless game, he told his girls that someone had to "want it."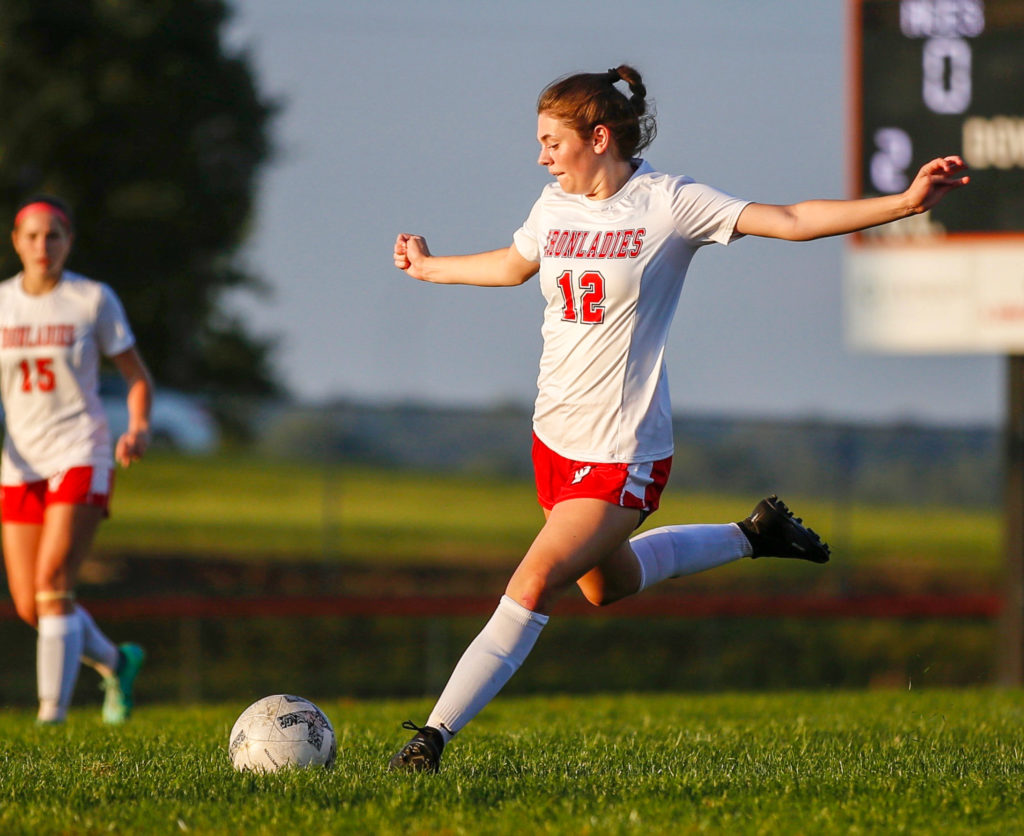 Senior Makayla Wyant was that someone.
For nearly 76 minutes, both the Ironladies and Amanda-Clearcreek tested each other's defenses. And, while both took multiple shots on target, neither could grace the scoreboard.
That is, until Wyant decided to take matters into her own hands.
Thanks to a late surge into the box, coupled with a deflected shot attempt that fell out of bounds, Jackson was awarded a corner with 4:07 left in the second half. That's when senior Abby Seimetz sent a beautiful, bending strike near the goal post.
Seimetz' ball found Wyant, who had two defenders draped on her, and with one touch, she gave the Ironladies (2-0-1) the game's first and only lead.
"Amanda-Clearcreek is always a physical team and we have full respect for them," Groff said. "We knew it was going to be a grind coming in and we struggled to score throughout the game. But we just kept grinding to come out with a tough win. Abby played a great ball, took her time and played with confidence. Makayla put it in the back of the net."
Groff mentioned that he had asked his team who would be the team's goal scorer at halftime. Wyant must've heard that message loud and clear.
---
---
"The past couple of games, we've found it hard to find the back of the net," Wyant said. "We talked about it at halftime, about someone [who] has to want it. I really wanted it. [Seimetz' corner] came right to me and I just played it off my body. It went right in. It felt good."
The 1-0 win is the team's third shutout to begin the season — the Ironladies topped Warren by a 1-0 final to begin the year before tying with Circleville, 0-0.
Two goals have equaled two wins and a tie and, while Groff knows his team will have to eventually find different ways to score, it's a credit to how well Jackson's defense has played.
"We know we have the defense and we take a lot of pride in the defensive effort," Groff said. "Those girls don't come off the field. They just keep playing and communicating. And it's always great to have [goalkeeper] Matt Walburn in the back to save you when we do make mistakes. She made a couple of really nice saves tonight."
Walburn ended the night with five saves, one of which came in the final 10 minutes and was a near-goal for the Aces (1-1).
On the other side of the pitch, Amanda-Clearcreek keeper Kayden Kern was tested all night long. The Ironladies tallied 14 shots and 11 on target. Kern had 10 saves and worked for each.
"It's a confidence thing," Groff said. "One of these games, I think we're just going to explode. We're getting opportunities and we've gotten a lot of opportunities in earlier games. It was the same thing against Circleville. We had a lot of chances but we just couldn't get it in. So right now, that's what we're working on. But I know at some point, that lid is going to come off."
Jackson is back in action on Thursday, hosting Unioto, while Amanda-Clearcreek looks to get back on track in conference play on Wednesday against Bloom-Carroll.
"They're a physical team but we're not ones to shy away from physicality," Wyant said. "I don't think we'll have a problem with that. Our defense is the strongest it's ever been and our passing will be the strongest we've ever had once we start working together as a unit. That's what we've worked on in practice. Once we get it down, we'll be hard to beat."