Brock Netter, Staff Writer
Southern Ohio Sports Authority is presented by OhioHealth.
LUCASVILLE — If their second half performance on Thursday is any indication of how the rest of their season will go, then Portsmouth Trojans fans should be very happy.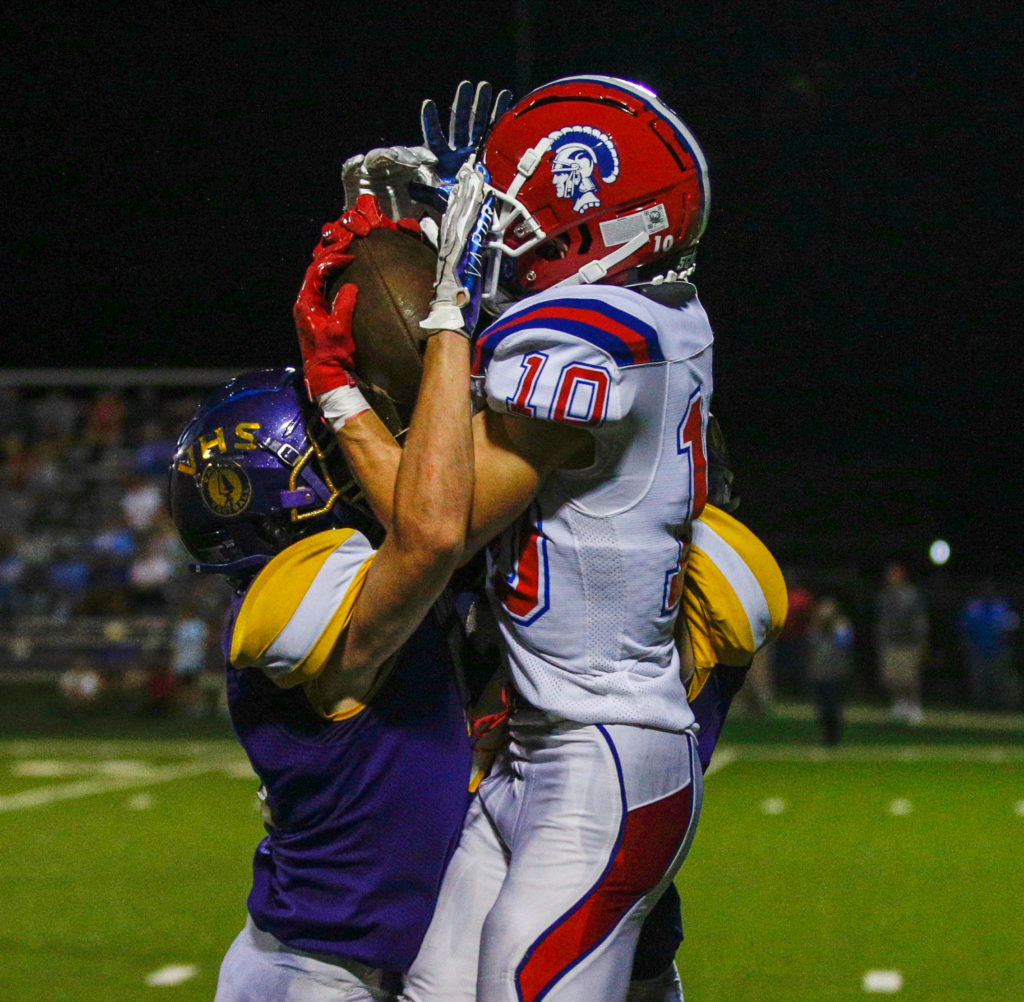 After struggling to find its footing in the first half, Portsmouth (1-0) exploded for 35 second half points to earn a hard-fought season-opening 42-28 road victory over Valley.
"We started off a little rocky. We're on the road in a Thursday night game in front of a packed house," Portsmouth coach Bruce Kalb said. "But as the game went on, I felt like our kids settled in and got more comfortable. Defensively, we made the adjustments necessary and offensively, once we got comfortable, we got our playmakers the football."
Quarterback Tyler Duncan and receiver Devon Lattimore have played football together since third grade. Their chemistry was on full display throughout the evening.
Duncan spent the first half in limbo, second-guessing himself and scrambling to keep plays alive somehow. But in the second half? He was full of confidence and played like a seasoned veteran.
Lattimore was easily the most explosive player on the field and had no issues showcasing his speed, quickness, and elusiveness all night long.
The duo gave the Indians' defense fits as they connected six times for 159 yards and three touchdowns on. Duncan was 18-for-30 passing for 286 yards and four touchdowns.
"He's a young man who I've watched since he was little," Kalb said of Duncan. "You could tell when he started to feel comfortable in the pocket and I think it was after that first touchdown pass he let rip. He's taken ownership of this offense. Watching him grow into that type of player has been awesome."
While Duncan and Lattimore would eventually get going, it was Valley that started the game with a head full of steam.
Behind the stout running of Colt Buckle, the Indians (0-1) drew first blood behind a four-yard touchdown run from the back to take a 7-0 lead. The Trojans answered when Duncan and Lattimore hooked up for an eight-yard score just seconds later to tie the game at 7-7.
Buckle found pay dirt again on the following drive, from a yard out, putting Valley ahead 14-7 — a score that remained until halftime. That's, however, when the tide started to turn.
---
---
"Some of the mistakes we made early on, not lining up right, not playing in the right coverage, not communicating well with one another, those things started to clean themselves up," Kalb said. "We've got 16, 17 and 18-year-old kids trying to execute a game plan formed by adults. We have to remember that sometimes. So we told them before the game that no matter what happens, we needed to persist. If we persist, we'd show what we're capable of. I thought they showed that on both sides of the ball tonight."
Portsmouth opened the second half by blocking a punt, creating a short field and tying the game at 14-14 with a a nine-yard touchdown pass from Duncan to Jayden Duncan.
Then, the Trojans rolled the dice and recovered a short squib kick that flipped momentum towards their side. A few plays later, Reade Pendleton took a jet sweep four yards into the end zone for a 20-14 lead after a blocked PAT.
Valley however, answered quickly with Buckle's third rushing touchdown of the night on a three-yard score, tying the game at 20-20 after another blocked PAT.
That's when Tyler Duncan and Lattimore's chemistry began to show. Facing a third and long play after a penalty, Lattimore turned on the burners and caught on a 71-yard touchdown pass to put the Trojans up 28-20 following a successful two-point try.
"Coach told us we were going to have to come in and play our best," Lattimore said. "We started off really slow. But we picked it up and got really excited after halftime, came out and did our best. We weren't playing too well but talked about it at halftime. Tyler and I have played together since third grade. He's used to throwing to me. After doing it in practice and in games, it's just normal now."
Not to be outdone, the Indians answered with their own aerial assault. It took just a four-play drive, all of which were passes, and ended with George Arnett connecting with Carter Nickel for a 23-yard score, tying the game at 28-28 after a successful two-point attempt.
But in the end, the Trojans had more gas left in the tank.
Beau Hammond scored a one-yard touchdown run and Lattimore collected his third score of the night, a 22-yard touchdown pass from Duncan, to put the finishing touches on a season-opening victory.
"It's huge. Every game on our schedule is tough," Duncan said. "We knew this would be a big night. Valley is a good team. We didn't underestimate them. There's not an easy game any week. Getting that first win is really big. It gives you momentum moving ahead."
After Tyler Duncan and Lattimore's final numbers, Jayden Duncan finished with two catches for 19 yards and a score, Nolan Heiland had a pair of receptions for 64 yards and Pendleton had four catches for 49 yards, alongside a rushing score.
For Valley, Arnett finished 21-of-33 passing for 255 yards alongside a touchdown and two interceptions. He also rushed for 61 yards on 13 carries. Nickel had four catches for 106 yards and a touchdown and Buckle ended with 17 carries for 76 yards alongside three scores.
Portsmouth returns to action next Friday at West while Valley travels to Coal Grove that same evening.