Brock Netter, Staff Writer
Southern Ohio Sports Authority is presented by OhioHealth.
CHILLICOTHE — For 364 days, Unioto never forgot the sound nor visual of fireworks going off after losing its 2021 season opener to Vinton County.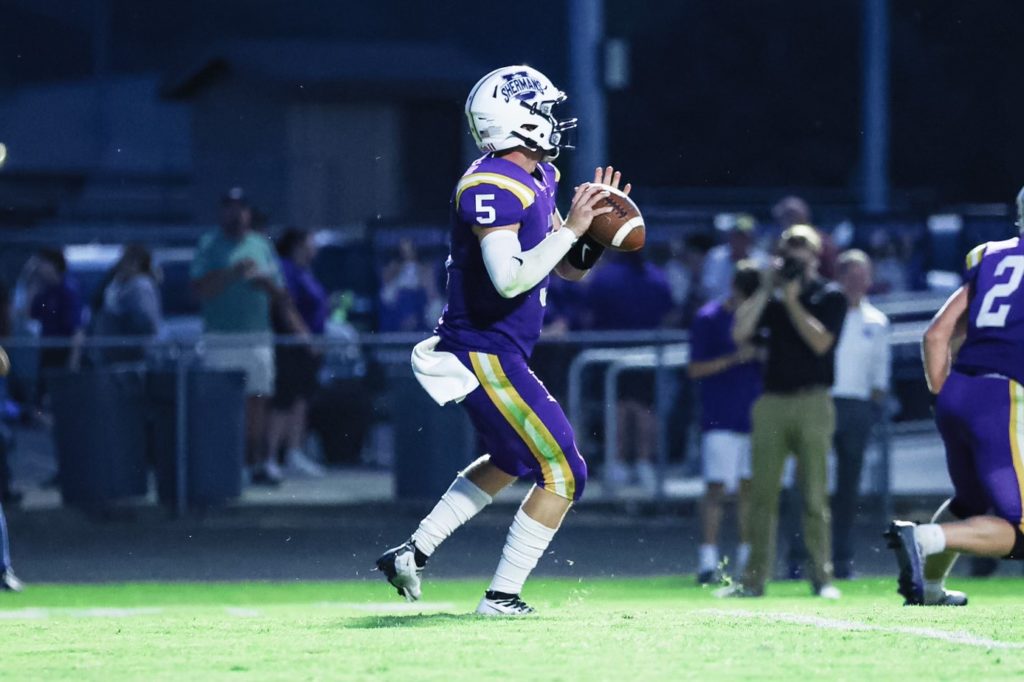 That loss a year ago was the first time in eight years the Vikings had defeated the Shermans. So needless to say, Friday was a chance at revenge and the Shermans didn't miss. 
Behind a stout defensive performance and a solid running game, Unioto racked up 215 rushing yards and earned a 21-6 victory over the Vikings to begin a new season.
"We remembered them shooting off fireworks last season after beating us 12-7, and we were out for revenge," Unioto's Matt Griffin said. "We took that personal. So it felt good to come out, smash the ball down their mouths and score throughout the night." 
Unioto (1-0) understood that Vinton County wasn't going to pass the ball much. So it took a simple approach: load the box, adjust as needed and fly to the ball. 
And, as the game continued, it was clear the Shermans had more energy in their tanks — pun intended — and weren't letting up. 
"Our defensive coaching staff did an outstanding job preparing our guys for this one," Unioto coach Matt Hoops said. "If we could force them to throw the ball, we had the advantage. We felt like we were in the right spots all night long and made things really difficult for [VC] to find any running lanes to go through." 
Both teams struggled to find their footing early on, but Unioto took a chance in the first quarter and it paid off. Facing a 4th and 9 from VC's 18-yard line, Newton Hoops faked right and found Cody Tuttle on a swing pass. The senior back broke a tackle, cut back in and barreled his way into the end zone for a 7-0 lead. 
After the score, drive after drive ensued, but nothing materialized from any of them. However, Unioto had the ball with less than one second left to end the first half and decided to run a play instead of just taking a knee. 
---
---
That decision paid off.
Griffin's number was called and he took the handoff, found a seam and galloped his way 54 yards up the right sideline for the touchdown and a 14-0 lead at halftime. 
"Honestly, credit to the offensive line and Blake Hoops as well," Griffin said. "The line opened up a hole for me to go through and I knew I could outrun their safety. But a couple plays before, I fumbled and Blake recovered it for us to even have a chance for that play at the end to happen. I got in the end zone, but props to him for making the recovery." 
The Vikings (0-1) managed to invade Sherman territory on back-to-back drives in the third quarter, trying to fight their way back into the game. However, they ultimately fumbled on one and was sacked on fourth down on the other. 
"We switched things up a little bit and that allowed me to chase their quarterback in the second half," Unioto's Andrew Griffin said. "We knew he was a bit of a scrambler and could make some plays. But we adjusted and everything worked out pretty well." 
Unioto put the game away in the fourth with a three-yard touchdown run from Casey Dray for a 21-0 lead. Vinton County scored on a 15-yard run from Gabe Raschke with just a minute left in the game, but the night ultimately belonged to the Shermans.
"The first game is always the toughest, but we never quit playing," Hoops said. "We had some early jitters and made a couple mistakes, but our guys were resilient and kept battling. I think that's the biggest difference from last year to this year. These guys understand it's a 48-minute game. We made some key plays when we needed to and huge credit goes to our defense." 
Newton Hoops finished 12-for-20 passing with 152 yards alongside a touchdown and two interceptions. Matt Griffin had seven carries for 86 yards and a touchdown, and Dray added 10 carries for 47 yards and a score. 
For Vinton County, Raschke finished with 13 carries for 76 yards and a touchdown.
Unioto returns to action on Friday at Amanda-Clearcreek, while Vinton County aims to bounce back at home against Rock Hill.