Brock Netter, Staff Writer
Southern Ohio Sports Authority is presented by OhioHealth.
CHILLICOTHE — The Chillicothe Paints had been walking a tight rope throughout the Prospect League playoffs.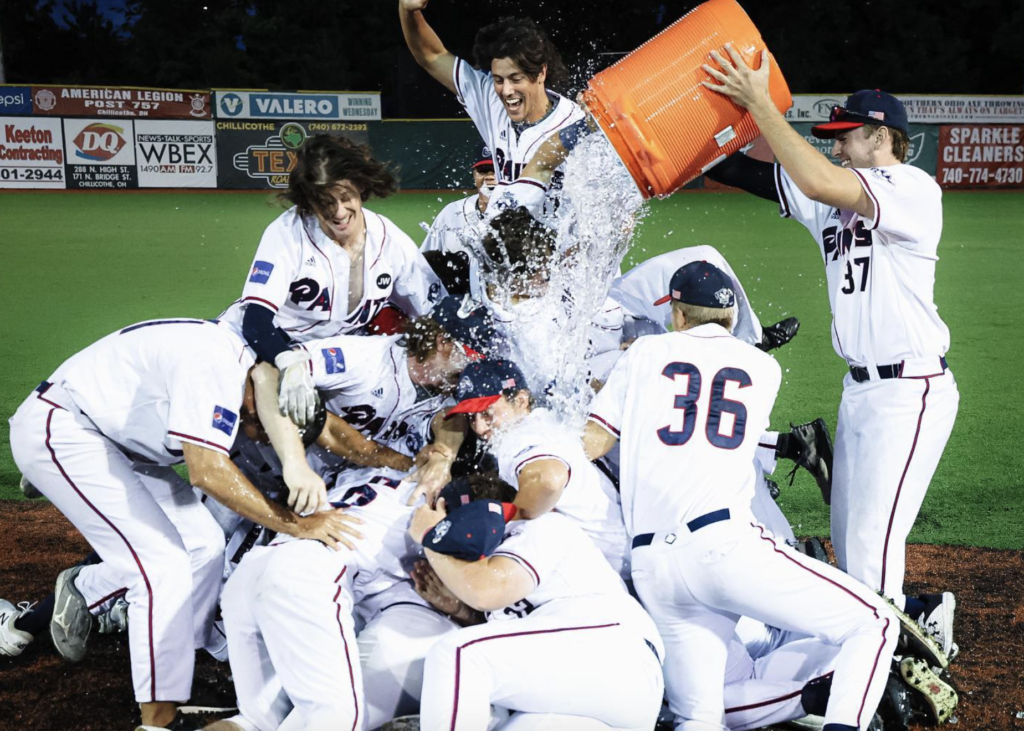 However, that balancing act led them to the promise land on Sunday.
Trailing 4-0, the Paints exploded for 14 unanswered runs in the seventh and eighth innings, claiming their second Prospect League championship in three seasons with a 14-4 rout over the Alton River Dragons.
"I'm so unbelievably proud of these guys, and credit to our coaching staff for finding the right guys to compete on this team," Paints manager Jackson White said. "I didn't do anything except fill out a lineup card every game. I can't say enough about these guys and the work they put in to get here. There's so much to soak in about this moment, but all credit to the players."
After thrashing Johnstown to advance, the Paints erased a 4-0 deficit against Illinois Valley to clinch their spot in the Prospect League Championship Series.
Then, they took Game 1 at Alton, but got shutout in Game 2 on Saturday.
"I think we were a little timid and tight coming back to Chillicothe after winning Thursday in Alton," Chillicothe's Brett Carson said. "We just had to get back to playing the way we know and having fun and dancing around."
Sunday was ultimately their moment, but it took a while to finally put all the pieces to the puzzle together.
The Paints had their share of errors, and disaster struck in the top of the fourth. They committed a throwing error that allowed two runners to score for a 2-0 Alton lead.
The River Dragons then made it 3-0 in the fifth on fielder's choice from Ethan Kleinheider. An inning later, Cameron Hailstone ripped an RBI single to left field, making it 4-0.
"We had a few games in the end of the end regular season where we committed errors and it put us in a hole," White said. "We did it at Illinois Valley, but came back to win. We're a gritty team, but we also have a powerful offense that will always keep us in games no matter what. These guys hit the ball and we just had to come up with that one hit."
Alton went to the bullpen in the seventh after starter Alex Redman allowed just three hits in six innings of work.
And that's when the Paints suddenly got hot.
With the bases loaded, Gianni Passarelli and Brett Carson ripped back-to-back RBI singles to put the Paints on the board.
A wild pitch brought home another runner and then Santrell Farmer hit an RBI single to tie the game, 4-4.
"It's such a blessing to be a part of this team and play for something much bigger than yourself," Farmer said. "Sure we started out very slow, but I'd go to war with any of these guys and knowing our personnel, once we get going, there's no stopping us."
Tim Orr was next to join the party and stepped up to lace an RBI double to put the Paints ahead, followed by a sacrifice fly from Nate Dorinsky for a 6-4 lead — an edge that wouldn't be surrendered.
With all momentum on their side and Alton running out of pitching, the Paints put the game away for good and poured out eight runs, capped by a three-run double from Carson, to bring the trophy back to Chillicothe — again.
"I had no idea what happened when I even got to second, I kind of blacked out for a moment," Carson said. "The field umpire looked at me and said, 'You just walked off for the championship,' and I saw a bunch of white jerseys coming at me, and the celebration was on.
Passarelli went 3-for-4 with an RBI, while Carson finished 2-for-6 with four RBIs. Dorinsky went 2-for-4 with three RBIs, Farmer and Orr each had two hits and an RBI, and Thamann added an RBI.
"Being a Teays Valley kid, I've played here before and I tried for the last three years to get on the Paints, but the wait was worth it for this moment. I got on with a great group of guys, great management and no one does it like Chillicothe."