Brock Netter, Staff Writer
Southern Ohio Sports Authority is presented by OhioHealth.
CHILLICOTHE — When you hear the name Ed Yates, baseball comes to mind, and understandably so.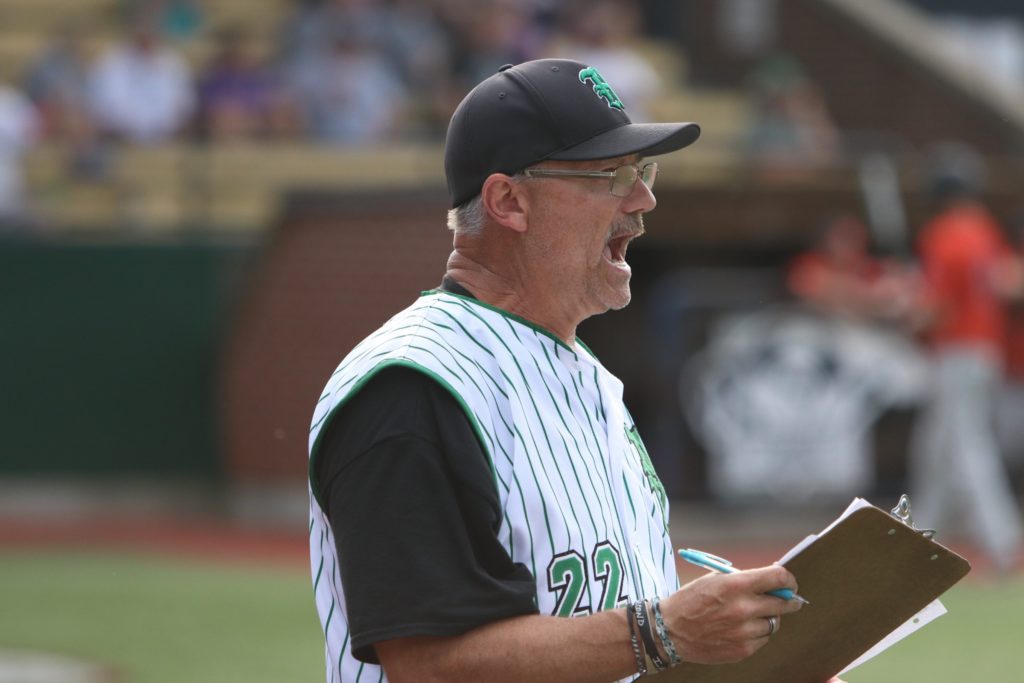 He's a legend throughout Southern Ohio on the diamond, spearheading the success of the Adena Warriors for 20-plus years before doing the same at Huntington. 
But while baseball is mostly what Yates is known for, a new challenge awaits the legendary skipper as he'll lead his Huntsmen this fall as the program's newest head football coach.
"I took a lot of time to think about it back when the opening came up following [former Huntington coach] Scott [Keller] leaving the program all those months ago," Yates said. "I've been fortunate to learn from a lot of great football minds and I've seen a lot about how things are done. But in the end, I'm me, whether it's on the baseball diamond or football field and I'll run things similarly in terms of discipline, commitment, energy and time.
"I knew that the kids needed some stability within the program and someone who really cared about them, and I know Scott did. But they also needed someone who wasn't going to look at this position as a stepping stone before moving onto somewhere else," Yates continued. "I'm not a young guy, so I'm not starting my career. I can retire after this year if I choose to, but I doubt I want to do that. I want to stabilize the program while I have it before turning it over to someone I know who will continue to keep things going in the right direction."
Yates has spent more than 30 years roaming the sidelines as an assistant coach, most notably at Adena, alongside multiple stints at other surrounding area schools.
However, he and his coaching staff undoubtedly have their work cut out for them heading into the season. Huntington hasn't had a winning season since 2000 and hasn't won the Scioto Valley Conference since 1986 — the longest drought of any team in the SVC.
While Yates doesn't expect those two things to end overnight, what he does expect is for his players to battle every Friday for 48 minutes. He likes the progression the team has made as far as learning a new system and the competition among one another throughout the summer.
"The kids have been excited from the first day I took over, and we've done some different things within the program and the locker room to keep that energy going," Yates said. "One thing that really helped is that the kids all know me, whether from baseball or being an assistant the past few years, so they know what I'm all about. There's structure and discipline. But they're also seeing the things we've worked on translate to on the field success, and that gives them the inner belief and confidence that they can accomplish anything." 
However, the results at season's end are the least of Yates' worries for now. He wants to see his players play the game with character and playt for one another once the Huntsmen take the field for the first time under the Friday Night Lights. 
"We're always going to face adversity, and I want to see how they handle it. They've faced it before in different ways and all handled it in different ways," Yates said. "As a team, we have to be on one accord and be encouraging. Mistakes happen, but it doesn't mean they did it on purpose. No one means to fumble the ball or drop a pass. It happens. But how they pick up their teammate and continue to encourage him makes a difference. We are a family and we're going to play like one." 
Yates will make his football coaching debut on Friday as the Huntsmen host Circleville in Week 1.
"I've known [Circleville defensive coach] Jeff Arndt for a long time, and he's a great football mind and a really good friend of mine. Arguably, he's one of the best defensive coaches ever. So we'll definitely have our work cut out for us," Yates said. "But I want to see us go out, play disciplined football and execute the things we've worked on all summer. We have to have each other's backs. The wins will come if we stick together through those tough moments."