Derrick Webb, Staff Writer
Southern Ohio Sports Authority is presented by OhioHealth.
SEAMAN — If you're looking for the best player in the Southern Hills Athletic Conference this fall, you may want to travel to North Adams.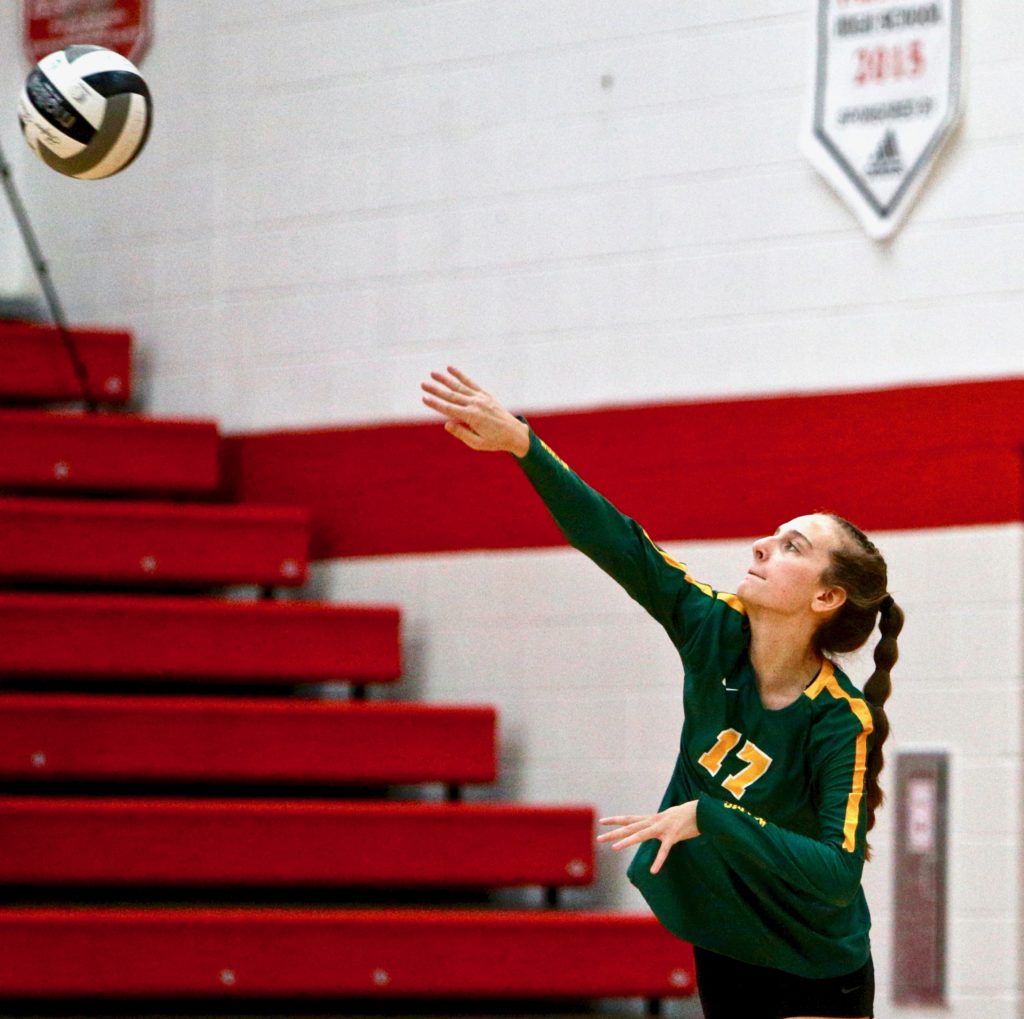 It's where Keetyn Hupp resides.
For the past three seasons, Hupp has dominated defenses while providing a matchup nightmare. The senior has racked up 566 kills, 95 blocks, 90 aces and 317 digs.
Most of that stat set came last season where she blossomed, posting 418 kills, 64 blocks, 60 aces and 205 digs — leading her to all-conference and all-district honors.
This season, she's looking to be even better. With a roster that's fairly inexperienced, Hupp will be the Green Devils' unquestioned leader, and she's ready for that challenge.
Before this season starts, we caught up with Hupp to discuss her expanding role, North Adams' success in SHAC play, adjusting to defensive game plans and much more.
Question: Let's start here … how has the offseason treated you? What have you worked on as a team and as an individual?
Hupp: This offseason has been nothing but focusing on the upcoming season. I'm really determined to have a great year with my team. As a team, we've worked very hard on adjusting to playing the game with different teammates. Individually, I'm training myself to jump higher, hit harder, and move my feet faster when playing front and back row.
Q: The road to a SHAC title runs through North Adams. You were impeccable in league play last fall. What's the key to that? Why do the Devils perform so well in that part of the schedule?
KH: I think our team does so well in our league because when we are underestimated, we take it as a challenge and it fires us to play the game the best way we can.
Q: Having said that, you lost a lot of leadership and talent from last year's team. How are you planning to make up for that?
KH: I plan to take a huge part in leadership this year. I want to lead and support our team. Talent wise, yes we lost a lot. But we also gained so much. We have a few new rotations that we're working on that will be hard to defend.
Q: Individually, you posted a team-high 418 kills last season. That's a great year and that stat is the tip of the iceberg. What worked so well for you last season?
KH: I think one huge piece that worked very well for me, and our team, was last year's setter [Sierra Kendall]. I had a three-year connection with her, which is a strong bond between a setter and a middle hitter. I'm gaining that connection with our new setter and I'm very confident in her ability to play.
Q: Defenses will continue to plan around you. How can you combat that?
KH: I'll just play my game and not let anything get in my head. Even if I'm off in some games, which I will be, I know my team is counting on me to hold up my part. I won't let them down. I'll work harder everyday to push myself to the best of my ability.
Q: Can you name a couple of teammates who may be flying under the radar this season?
KH: I think sophomore Katelynn Boeger is definitely a player that teams are going to have trouble adjusting to. Also, Brea Stout, Kirsten Campbell and Riley Richey are three great players that should be watched this season.
Q: What can we expect from North Adams this season? What are your team goals?
KH: I would say you can expect a team that is still growing, but is also working very hard to pick up where we left off. Expect the unexpected. One of our biggest team goals is to realize we're going to have to quickly adjust to the new rotations and new teammates. We must be confident with ourselves and stay up in all situations.