Derrick Webb, Staff Writer
Southern Ohio Sports Authority is presented by OhioHealth.
CHILLICOTHE — Ear-to-ear.
That's how far Ella Cutright's smile spans when she's on the volleyball court, no matter the circumstances, no matter the score, no matter what's going on outside the lines.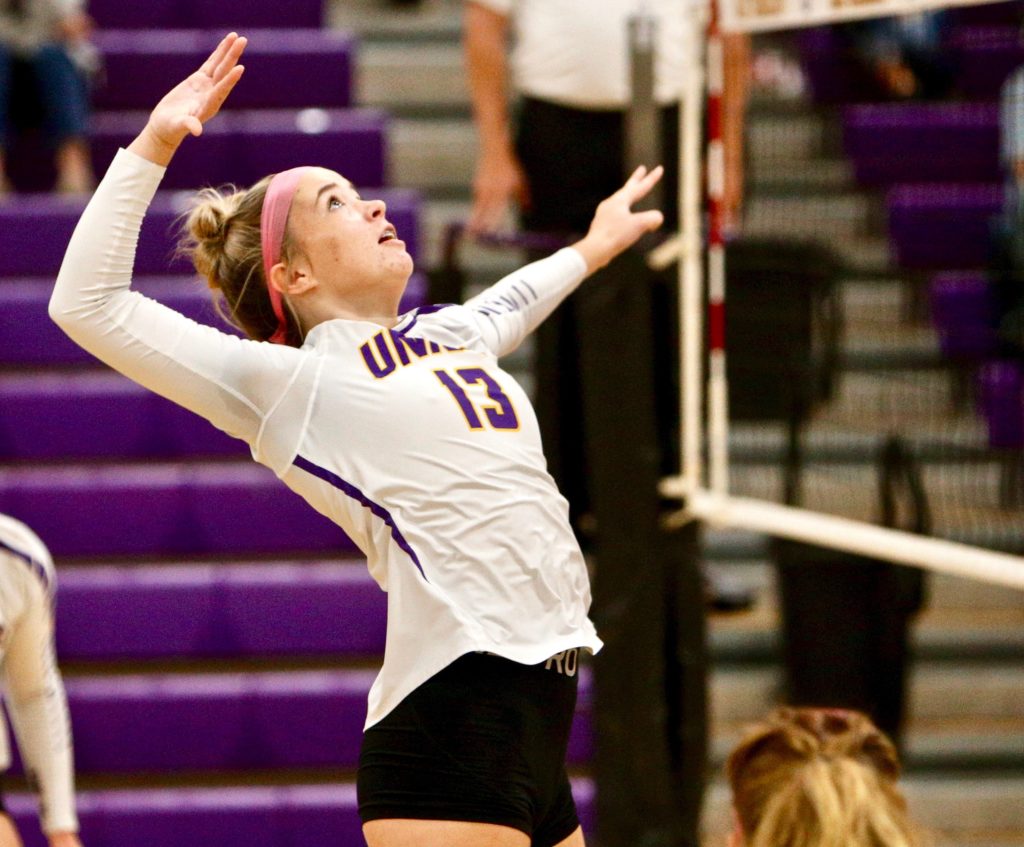 Volleyball is Cutright's happy place and has been for quite some time.
"I honestly just love the game, the atmosphere, everything," Cutright says. "I've been playing since sixth grade and have grown a passion and love for the game. No matter what goes on outside of the sport, it's always been a safe place for me. This sport has brought me many friendships and has given me the opportunity to play with the best teammates."
And she's pretty darn good at it, too.
Unioto's star middle hitter racked up 166 kills and 33 blocks last fall — a sharp increase after a freshman year that saw 105 kills and 23 stuff at the net.
As those numbers may suggest, Cutright's skillset has continuously improved. This offseason has been no exception. The gym has been her sanctuary.
"During the offseason, I played club volleyball for a great coach in our league, [Adena assistant] Donna Atchison," Cutright said. "She had me playing in all positions and I feel like that helped me become an all-around player. Besides playing club, over the summer, the gym and the court have become my second home. My main goal was to become a stronger and smarter hitter. I'm hoping all the work my team and I have put in will pay off and lead to a successful season."
When Cutright entered the Shermans' varsity program two years ago, it was with another great teacher of the game. She quickly soaked up lessons from then-Unioto coach Jackie Kellough.
"Coming in as a freshman, on varsity, I think coach [Jackie] Kellough really helped me mentally. She encouraged me and my teammates to give 110 percent during a game, but also outside of volleyball. I think that was one lesson we really learned from her, to keep going and not give up, in everything we do."
After the end of last season, Kellough took a head coaching position at Huntington, prompting Unioto to bring in coach Jimmy Hutton — alongside heralded assistant Paul Tanedo — to lead the team forward.
Hutton's track record of success is no secret. While at Southeastern from 2015-2019, the Panthers were 77-39 and won three district championships alongside two regional runner-up finishes.
In just a few months, Cutright says he's already left a mark on her and her teammates.
"Jimmy and Paul have brought a ton of positive energy to our team already. It makes me so excited for the season," Cutright said. "For years, I've looked up to Jimmy and always trusted him because, in my eyes, he was the best of the best. Now having him as my coach is the greatest feeling. He is constantly on the sidelines giving us tips and pushing us to the next play. Having Jimmy and Paul will do nothing but amazing things for our program."
The positive energy the duo have brought in has spread like wildfire in Unioto's locker room.
According to Cutright, now more than ever, the Shermans are playing for each other — which goes a long way in the wins and losses column.
"I feel like this season, everyone has the same mindset and we are all playing for each other, rather than anyone playing for ourselves," Cutright said. "That's my favorite part about this year's team, our chemistry and support for one another. In volleyball, and in any sport, you have to love the game. But you also have to love your team, which is one of our strong suits."
Cutright won't be alone at the top of Unioto's stat sheet. She'll have plenty of help.
A host of returners that include Sophie Coleman, Emma Specht, Megan Miller, Jade Stewart, Madelyn Wetzel, Kyra Stulley and Addison Platt, alongside a platoon of fresh faces, could lead the team to newfound success.
The Shermans start the year on Aug. 23, hosting Logan Elm.
"The SVC and Division II have loads of talent and are always fun to watch," Cutright said. "As for our team, we have many goals this year. One is to be at the top of our league and to make a long run in the tournament. We all have the same goals in mind and are set to achieve them.