Brock Netter, Staff Writer
Southern Ohio Sports Authority is presented by OhioHealth.
WAVERLY — The talent has always been there for Waverly's Kelli Stewart. All she ever needed was an opportunity to showcase her skills.
While she waited for that chance, she continued to put in the work day after day, understanding that her time was coming. When her junior season arrived, she made herself a household name on both the basketball and volleyball courts. 
She was a double-double machine in hoops, averaging 18 points and 12 rebounds en route to a first-team all-district selection. But volleyball was where she first made her mark as Waverly's go-to player, racking up 224 kills, 199 digs and 25 blocks, leading the Tigers to a 12-6 mark and a 9-5 record in the SOC II. 
Now, as she enters her senior year, she aims to leave a lasting impression on the court and within the program. 
"As a senior, my biggest goal that I'm working towards is being the best leader I can be. When I look back on my freshman year,  it makes me realize how much younger girls really do look up to you.  When mistakes are made, I want to be the person they turn to,  the person to let them know, 'It's okay, you got the next one, I believe in you,'" Stewart said. "To even be talking about my last year seems unreal. It puts into perspective how much impact a sport can have on you. No matter what I accomplish this season, the biggest accomplishment to me would be leaving a pattern for future Waverly Volleyball teams, to not just be teammates, but family. These are my sisters, and I want everyone to get to experience that." 
Waverly faced multiple uphill battles last season with cancellations left and right, meaning its team chemistry didn't have the chance to develop as quick as others. All the while, the Tigers' roster was learning a new system under first-year head coach Aleah Rhodes.
However, that change breathed new life into the program and Rhodes' previous volleyball playing experience allowed Stewart to absorb knowledge like a sponge. She took her game to another level. 
"Last season was a big adjustment for everyone and a positive one. Coach Rhodes has turned the program around completely," Stewart said. "Being coached by someone with so much experience and so much passion for the sport has made the biggest difference. I can see it in my teammates, and in myself. It's changed our mindset. That's why being a family is so important to all of us. We're playing for the girl next to us. This season, we're ready for anything because no matter the outcome, we're in this together."
As the Tigers prepare to enter this fall, they'll do so with another uphill battle to climb as they try and replace seven players from last season's roster. 
It's a new collection of talent ready to make a name for themselves,and it's Stewart's ability to find open spaces that could make or break Waverly's year — a year in which she has set the highest of expectations for herself. 
"My expectations for myself this season is to win Player of the Year. I've got a lot of great volleyball players around me, but this season is my last and I want to end it with something like that," Stewart said. "As a team, we expect a lot of wins against good competition and we've been waiting to win the SOC. It's been too long."
Stewart was in elementary school the last time Waverly won an SOC II title back in 2013. She knows better than anyone how tough the competition. Facing the likes of South Webster, Wheelersburg, West and Northwest night in and night out can take its toll.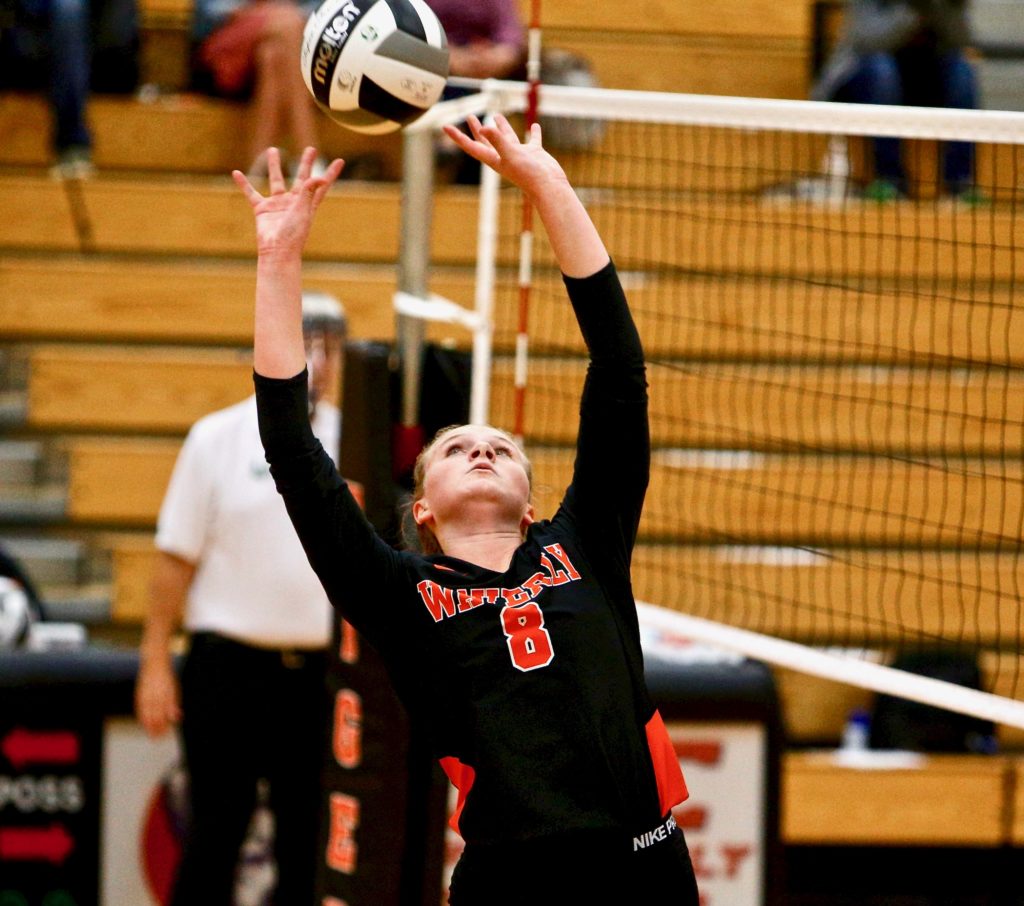 A highlight of the Tigers' season last fall was a four-set win over Wheelersburg. That victory showed that, when they put everything together, they can be downright dangerous. 
"Our conference definitely has some great competition. Every season, we bring focus against teams like South Webster and Wheelersburg because they are solid every year. It's tough, but I think it helps build your skill, and set goals for your team," Stewart said. "A big milestone we completed last year was actually beating Wheelersburg, and doing something like that, which rarely happens in the SOC, is a huge confidence booster. It gives you the spark for the next game. A win in our conference isn't just any win."
With Stewart in the driver's seat and the SOC II a little more wide open this season with a number of graduating talents from rival teams, this could be Waverly's year. 
Stewart is as motivated as ever to prove it. 
"Knowing Waverly hasn't won the conference in so long seems like it would be a weight on our shoulders. But if anything, I think it lifts us up, and is the motivation we need to secure it this year," Stewart said. "Winning the SOC is a huge goal for our team this season. Ever since I've been in high school, we've always had the chance and talent to do so but were missing that little something to do it. This season, all the pieces are finally together. We're getting better every day. People will be shocked. I can assure you that."