Brock Netter, Staff Writer
Southern Ohio Sports Authority is presented by OhioHealth.
WHEELERSBURG — From the very first moment that Max Hagans stepped onto the soccer pitch, it was evident that Wheelersburg had another up-and-coming superstar on its hands.
But it took a season for everyone outside of Wheelersburg to see his talents — not because he had to adjust to the varsity speed and the system, but because his soon-to-be spot was occupied by Aaron Jolly, who scored 48 goals and was a first-team All-Ohioan during Hagans' freshman year.
However, last season was Hagans' time to shine. As the master moved onto collegiate soccer, the apprentice scored 25 goals and dished out 14 assists.
But that was just Hagans' first act. He's now the Pirates' unquestioned leader and has no plans of slowing down that pace.
"I have been emphasizing my work in the weight room. I know I have a lot of room to grow there in getting stronger. That is also going to help my quickness and speed on the field," Hagans said. "Along with that, I'm also focusing on my dribbling ability with the ball and being equally as effective with both feet. During my club season this spring, I injured my left foot, which allowed me to focus my attention on improving my right foot and utilizing it effectively on the field."
As he enters his junior year, Hagans currently owns 32 goals and 21 assists during his varsity career and Wheelersburg has compiled an overall 36-6 record in those two seasons.
In that time, the Pirates have won a conference crown, two sectional titles, two district trophies and a regional championship.
"We continue to improve each year because of the work we put in during the offseason. Right after the soccer season ends, we are back to work lifting and conditioning, preparing ourselves for the upcoming year," Hagans said. "This allows everyone to buy into the program early as our coaches do a great job motivating us to push ourselves from the start."
Part of that success is having multiple scoring options on the field and guys stepping up at the right time. That trend aims to continue this year with Hagans leading the charge. And he'll have a couple familiar names in Jackson Schwamburger and Connor Estep creating havoc alongside him.
"Wheelersburg has always been blessed with multiple players who can score. We see that this year with Jackson Schwamburger's ability to not only score but be able to find the open guy and play very unselfishly. Along with Jackson, we also have Ethan Hochstetler, and Nick Sylvia will play important roles in scoring as well," Hagans said. "Even though Connor Estep plays more of a defensive role, he has the leg strength to be a threat from a distance, and not many people are willing to stand in front of his shot. With that many threats, it opens up our offense and what we're capable of, which brings the fun back into the game."
However, the crew that he'll be joined by will add new names to the fold as the Pirates usher in a bit of a youth movement.
"With many underclassmen that are going to have to step up and play an important role on this team, we need to gain that chemistry and get used to playing with each other," Hagans said. "We need to continue working to find the best fit for the team, including positions, and how we can collectively play the best and bring out our full potential. We need to improve our decision-making and be able to see the right pass that needs to be made."
Each of the team's last two seasons have been ended by the eventful Division III state champion — Cincinnati Mariemont in 2020 and Grandview Heights last fall in a 1-0 regional semifinal loss.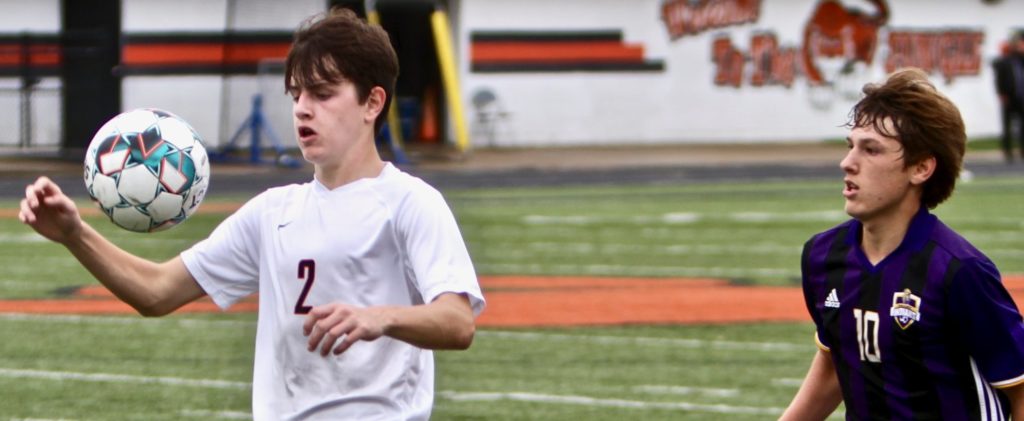 But whether it's a team full of veterans, or a squad full of fresh faces who are ready to make an impact, rest assured the Pirates are heading into the season with a chip on their shoulders and ready to reclaim more hardware for an already jam-packed trophy case.
"I think that [Grandview Heights] loss lit a spark under all of us heading into the season. For two years in a row, we've lost to the eventual state champion deep in the tournament. Last year, especially, we felt as if we could've come away with a victory," Hagans said. "Knowing that has motivated us to get better and make sure that it won't happen again, and we know we'll be able to pull through in those close games moving forward. That game also taught us how to keep composure and maintain sportsmanship and discipline during a very intense game that most wouldn't be able to handle."
Wheelersburg opens its season on Aug. 23 at West, before opening up at home on Aug. 25 against South Webster.
"We are going to take this season one game at a time and not overlook any opponent. But our first goal is always winning the SOC," Hagans said. "From there, we shift our focus to the tournament and have that mentality to go and win every game. We want to defend our district title. Tha's what we expect here at Wheelersburg. We want to win, and I feel that each and every guy on our team is willing to work so we can reach the district, regional, and hopefully state title game."