Derrick Webb, Staff Writer
Southern Ohio Sports Authority is presented by OhioHealth.
One state champion, four district champions and a plethora of sectional title winners made this past softball season well worth covering.
But those were just the highlights. To really understand how special the season was, you'd have to look back on every career-defining moment, every big-moment pitch, and every at-bat that ended with jubilation.
Southern Ohio Sports Authority was right there every step of the way, covering individual milestones, improbable feats and wins that changed history.
After a fun-filled season, take a look at our All-Area Team, which consists of 30 area players who were at their best throughout the winter season.
Leah Alford | Jackson | Pitcher | Senior
The FAC Player of the Year led the Ironladies to 10 wins this spring while putting in an abundance of work at the plate and in the circle. Alford ended her senior season with a 3.80 ERA and 135 strikeouts to go alongside a .533 batting average, eight doubles, three home runs and 25 RBIs — all team-highs. She was at the center of Jackson's success.
Olivia Banks | Athens | Second Baseman | Junior
Behind Banks' leadership, the Bulldogs reached their second consecutive district championship game and easily could've been playing in the Sweet 16 — they dropped a 7-6 heartbreaker to Sheridan to end their season. But Banks was money in the bank all year long. The junior earned all-league and all-district honors while enjoying yet another success-rich season.
Abbie Bickenheuser | Westfall | Outfielder | Senior
Hitting is in Bickenheuser's DNA. The Mustangs' senior leader was the SVC home run leader, thanks to a season-long power surge. But we've become accustomed to seeing that from her. Bickenheuser led Westfall to 15 wins, even while injuries plagued the group. She was tucked into the heart of the team's order all season long and consistently displayed her dominance.
Catie Boggs | Wheelersburg | Shortstop | Freshman
Freshmen sometimes have a tough time adjusting to the varsity level. Boggs had no such experience. The Pirates' shortstop looked like a veteran all year long, finding a comfort zone in the leadoff spot and handling defensive duties with ease. She hit for contact and power, showed elegance with her glove and helped 'Burg win its second state championship in six seasons.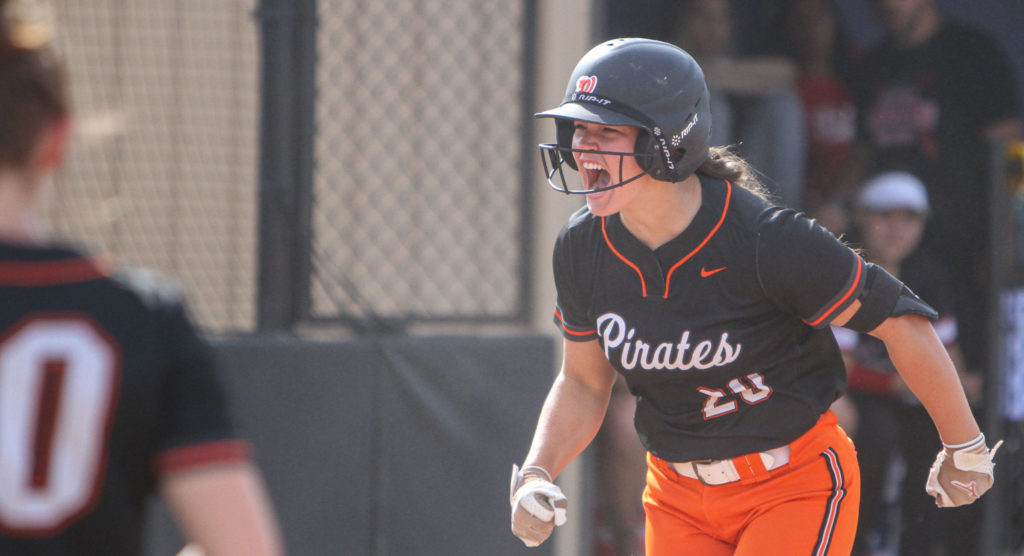 Alexis Book | Unioto | Outfielder | Sophomore
There's elite and then there's Alexis Book. The sophomore took her game to the next level this spring, batting .578 with 47 runs scored, nine triples and 41 RBIs — all team-highs. She added 14 stolen bases, four homers and 10 doubles to that mix. She was the SVC Player of the Year, a first-team all-district honoree and will continue to terrorize area pithers for two more years.
Bri Claxon | South Webster | Shortstop | Senior
Speed, power, versatility, tenacity — all wrapped up in one package. That describes Claxon perfectly. After playing vital roles for the school's volleyball and basketball teams, Claxon completed the trifecta with a historic softball season. After leading the Jeeps to their first district title since 2002, she was an all-league, all-district and second-team all-state selection.
Cara Cooper | Circleville | Shortstop | Junior
Cooper is as smooth as silk. The Division II Co-District Player of the Year led Circleville to a sectional championship and seemed to always have an answer when times were tough. After a season in which the Tigers won four games, Cooper helped them go 15-7 this spring and will be back in 2023, looking for more of the same progress. The Tigers could easily be district title contenders.
Olivia Dumm | Westfall | Pitcher | Junior
Westfall won 15 games this spring and Dumm's name was attached to every one of them in the box score. And make no mistake, had it not been for a mid-season injury, that number would've been higher. The junior led the SVC in ERA with a magnificent mark of 1.29 while striking out a league-leading 181 batters. As her senior season begins, expect nothing but the same.
Macee Eaton | Wheelersburg | First Baseman | Junior
There wasn't a better player in the area than Eaton. We'd even go as far as saying there wasn't a better player in the state of Ohio. The power-hitting infielder batted .610 with 20 home runs and 56 RBIs alongside 26 walks — many of which were intentional — and exactly zero strikeouts. She led the Pirates to their second state title and will be looking for the same in 2023.
Kyndall Ford | Notre Dame | First Baseman | Sophomore
Wedged right into the middle of a powerful Notre Dame lineup was Ford, who always seemed to be at bat when the Titans needed a hit the most. She hit .550 with three home runs and 21 RBIs and didn't go down on strikes once. She also tossed 30 innings in the circle, going 4-0, and recorded 61 strikeouts alongside a 1.40 ERA. She's one of the area's brightest young stars.
Jacy Gearhart | Clay | Second Baseman | Senior
Ask any area pitcher and they'll tell you the same; Gearhart is as pesky as they come at the plate. She was constantly finding ways to get on base, leading her Panthers to a 14-8 mark alongside a 9-2 record in league play and a sectional title. For her efforts, she earned her first career All-Ohio honor, a first-team nod, after capturing all-league and all-district selections.
Andi Jo Howard | Wheelersburg | Pitcher | Sophomore
There aren't many compliments about Howard's game that she hasn't heard. But every high mark she's received has been earned in every sense of the word. In the circle and at the plate, Howard was a force to be reckoned with this past spring, leading 'Burg to a state championship and an undefeated mark in SOC II action. She'll try for a repeat performance as a junior.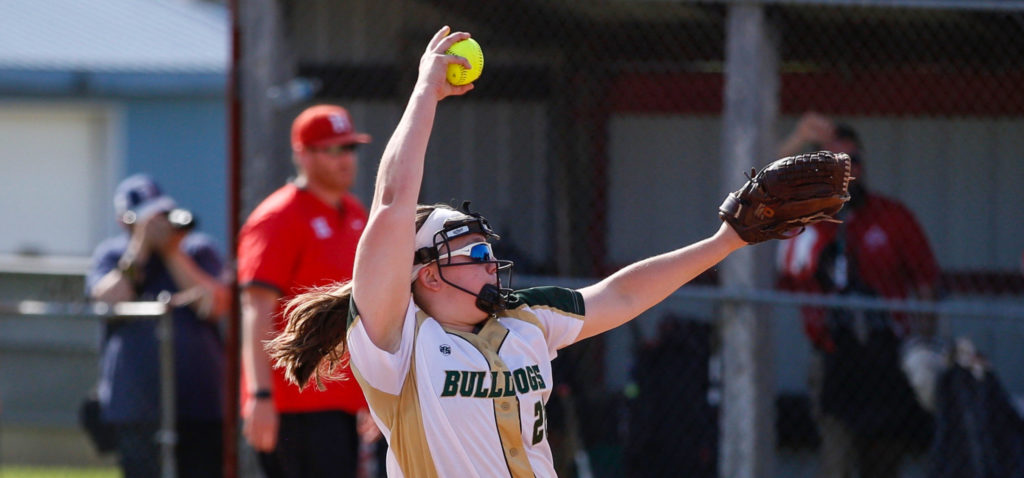 Ashleigh James | Athens | Pitcher | Junior
James has the ability to overpower opponents and she took full advantage of that gift throughout the season. While the Bulldogs had setbacks early in the season, James stayed the course and, eventually, led her team to 18 wins and a district final appearance. She's not done yet, though. She'll be back and better than ever next spring as Athens looks to win the district.
Jenna Johnston | Wellston | Shortstop | Senior
As advertised. That's what Johnston was this spring. The senior first-team All-Ohioan led the Rockets to a TVC and sectional title while slugging .506 alongside 39 base hits, 10 home runs, giving her 20 for her career, which is a new school record, alongside four triples, 34 RBIs and 36 runs scored — all team-highs. In the field, she was just as good, pacing a defense that rarely made mistakes. Wellston has big shoes to fill. That's a serious understatement.
Lexie Lockwood | Southeastern | Shortstop | Senior
Getting Lockwood to hit into an out was nearly impossible this past spring. Preventing her from scoring once she reached base proved to be even more difficult. Southeastern's all-time leader in stolen bases blazed a trail once again, swiping 33 bags. Those went alongside a .584 batting average, three homers, 38 runs scored and 22 RBIs. She left everything she had every night.
Sydney McDermott | West | Pitcher | Junior
Flamethrower. That should be etched onto the back of McDermott's jersey. The Senators' leader went 26-3 in the circle this past season, posting a 0.93 ERA and striking out a school record 354 hitters. She allowed just 80 hits in 180 innings of work and added a .388 batting average, seven doubles and 16 RBIs to a district championship team — the program's first since 2015.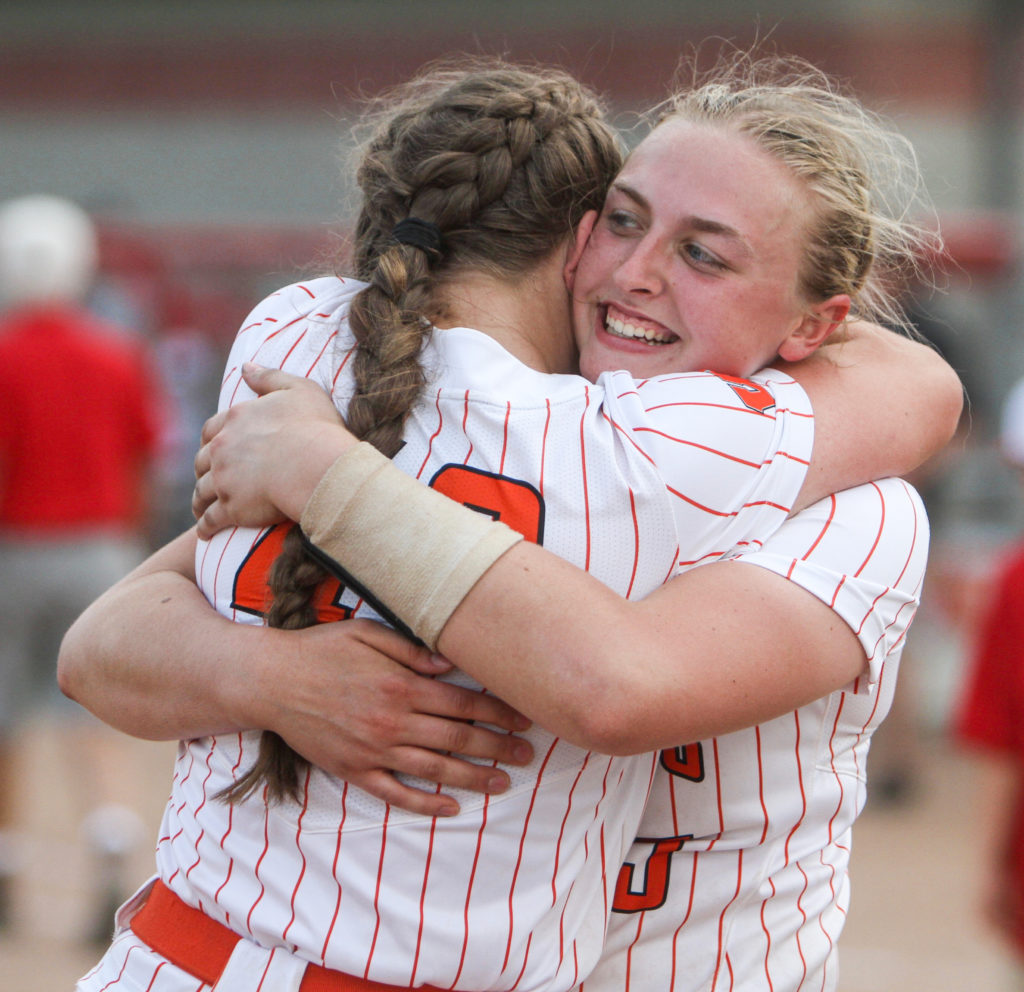 Avery Miller | Unioto | Third Baseman | Senior
Once again, Miller acted as a model of consistency for the SVC champion Shermans. The senior third baseman hit .526, scored 38 runs, belted seven home runs and racked up a league-leading 41 RBIs. Those numbers, of course, followed freshman and junior seasons where she was outstanding as well. She ends her career as a second-team All-Ohioan.
Caelan Miner | Adena | Shortstop | Junior
Adena contended for an SVC title once again and Miner was a huge reason why. She led the team with 26 RBIs and crossed the plate 31 times. In the field, she was a defensive wizard, flashing her leather repeatedly. With one season left to play, you can bet your bottom dollar that Miner and her teammates will be aiming towards a league title, and then some, next spring.
Emiy Moore | West | Shortstop | Sophomore
With a team-leading .451 batting average, Moore was dynamic at the plate all year long — her game-winning home run in the district final put an exclamation point on that statement. She blasted 11 homers and racked up 36 RBIs for the 26-win Senators while collecting 46 base hits, 42 runs and 23 extra-base hits. She'll continue to be one of the area's elite hitters next spring.
Keegan Moore | Ironton | Pitcher | Senior
With a methodical approach and a deadly arsenal of pitch options, Moore once again showed why she's been one of the area's best pitchers this spring. While battling injury, she still led her Tigers to a district final appearance and a share of the OVC title. The Ohio University commit will now take her talents to Athens, but not before leaving a lasting legacy on the river.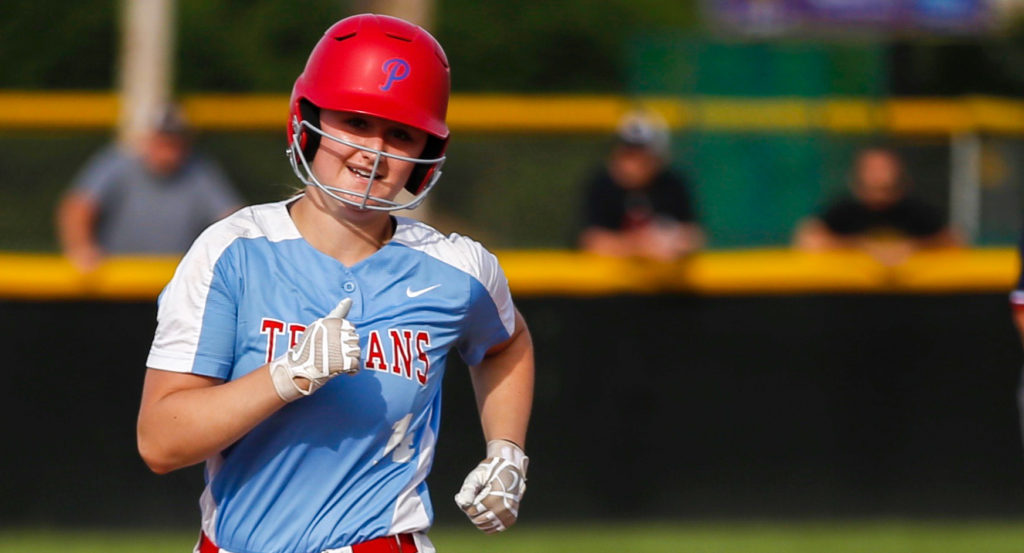 Madison Perry | Portsmouth | Shortstop | Senior
While helping Portsmouth win a share of the OVC title and finish 21-7, Perry was outstanding. The Trojans shortstop picked up her first career first-team All-Ohio honor after a white-hot tear at the plate that lasted all season long. As her illustrious high school career comes to an end, she can officially say she's helped transform Portsmouth's program into a district title contender.
Hannah Potts | Wellston | Pitcher | Freshman
You'll certainly be reading this name quite a few times over the next three softball seasons. Just a freshman, Potts promptly turned in one of the area's best seasons in the circle. She was 9-3 with a 0.86 ERA and struck out 109 hitters. Those numbers coupled with a .429 average at the dish alongside four doubles, two homers, 13 RBIs and 11 runs scored. Star in the making.
Caitlyn Quickle | Fairfield | Pitcher | Sophomore
After an injury put Quickle's freshman season off course, she made sure to make the most out of her sophomore campaign, leading Fairfield to a 20-5 mark. The southpaw was 13-4 in the circle, allowed just 12 earned runs, struck out 141 hitters and had an ERA of 0.85. Offensively, she hit .575 with 17 doubles, 41 runs and posted an on-base percentage of .609.
Erin Richendollar | Southeastern | Pitcher | Junior
While Southeastern enjoyed a 16-win season, Richendollar shined in nearly every area of her game. The junior hit .479 and won 12 games in the circle. Her pitching numbers also included a 3.47 ERA and 96 strikeouts. Over the past three seasons, Richendollar has only gotten better. You can expect her to post her best season yet as a senior, and as SE's leader, next spring.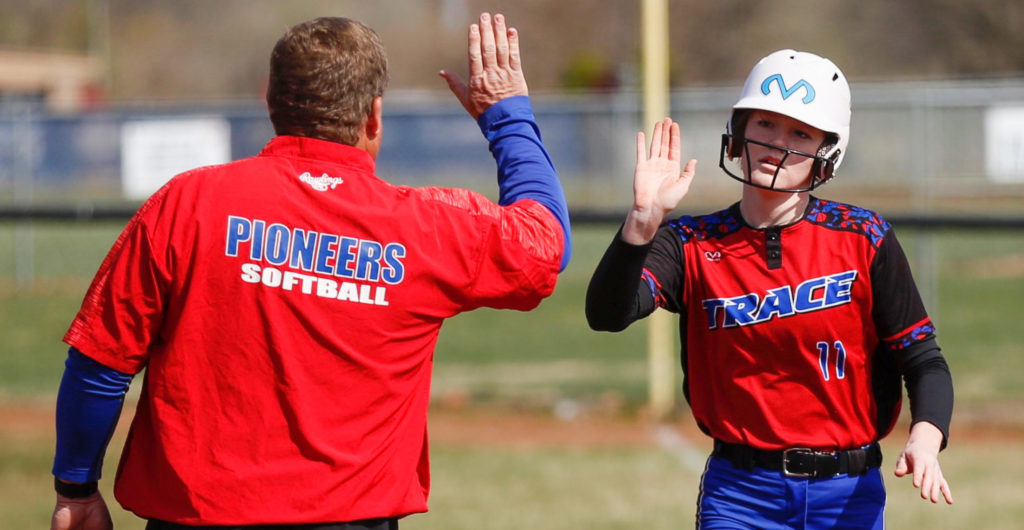 Lexi Scott | Zane Trace | Outfielder | Junior
If you watched Zane Trace this spring, there was at least one constant — Scott was always on the base paths. The Pioneers outfielder hit .467, scored 30 runs, hit seven home runs and piled up 31 RBIs while anchoring the heart of her team's batting order. She was a central reason why ZT won 13 games and ended her season with all-league and all-district honors.
Olivia Smith | Paint Valley | Shortstop | Senior
We expected nothing less than what Smith has always done and got exactly what we were looking for this spring. The Bearcats' shortstop enjoyed a senior season that included a .571 batting average, 31 runs scored, 14 doubles, 27 stolen bases and 29 RBIs — all team-highs. To say that Paint Valley will miss her presence in the dugout is an understatement.
Gwen Sparks | Notre Dame | Pitcher | Sophomore
After a stellar freshman year, Sparks showed absolutely zero signs of a sophomore slump. The Titans ace threw 100 innings, struck out 212 hitters, allowed just 42 hits, posted a 0.83 ERA and compiled a 14-2 record. She also added a .283 batting average and 14 RBIs to the mix. She was a catalyst in Notre Dame's Elite 8 run and will try to help take her team to Akron in 2023.
Cam Spruell | Hillsboro | Shortstop | Freshman
Coming into the year, Spruell was an unknown name. Going out of it, she made sure to force her name onto every opponent's radar. She was a first-team all-league and first-team all-district selection while helping her Indians win the FAC title. As her career progresses, she'll be even better than she was in 2022. That's a scary thought for anyone who has to play her.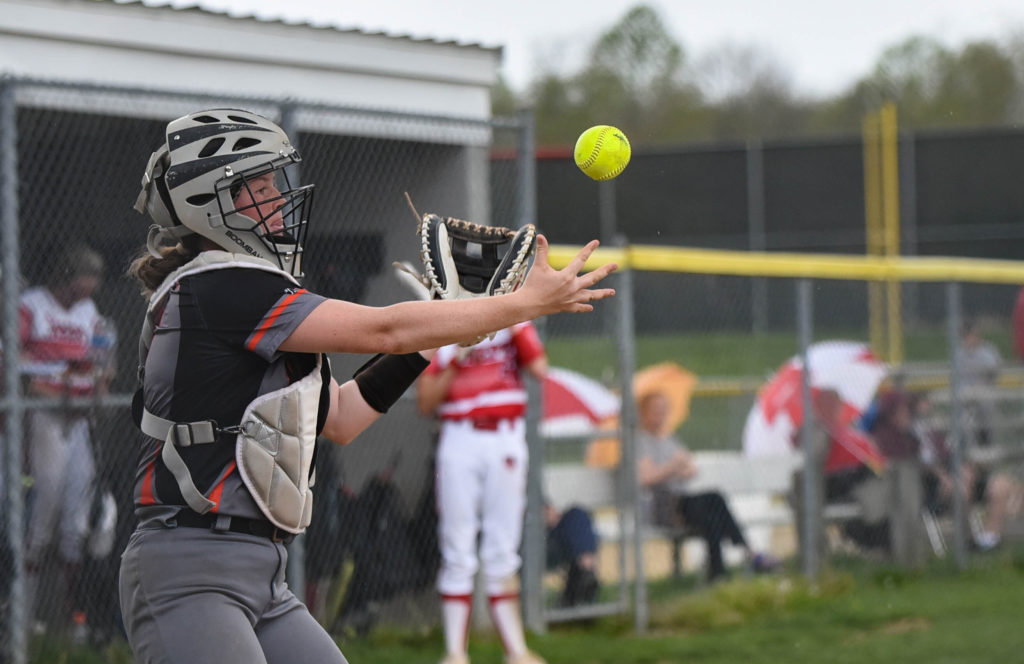 Suzzy Wall | Waverly | Catcher | Senior
Wall was — well — a wall behind the dish. And she was just as sturdy with a bat in her hands. The senior ended her career with a second-team All-Ohio nod and hit .594 to grab that honor. She leaves as one of Waverly's most decorated players in history, owning school records for single-season doubles, batting average and RBIs, as well as career doubles and RBIs.
Kerrigan Ward | Vinton County | Pitcher | Senior
There wasn't much that Ward didn't accomplish this spring. The senior hit .600 — alongside two homers, 12 doubles, 20 runs scored and 22 RBIs — while setting a new single-season school record with 51 hits. And, in the circle, she tossed 124 ⅓ innings, compiling a 14-7 record, striking out 106 hitters and posting a 2.93 ERA. The Vikings will undoubtedly miss her.
Honorable Mention Selections
Bella Claxon, South Webster; Kayla Roberts, Hillsboro; Carly King, Logan Elm; Addi Conaway, Valley; Julie Lemaster, Chillicothe; Emmi Vance, Fairfield; Chandler Hayes, Circleville; Kate Rollins, West; Emma Garrison, Adena; Hannah Hull, Unioto; Megan Miller, Unioto; Abbie Marshall, Unioto; Grace Prewitt, Eastern Brown; Rylee McGraw, South Webster; Faith Thornsberry, Waverly; Allie Baker, Huntington; Rileigh Lang, Wheelersburg; Haley Myers, Wheelersburg; Marissa Moore, Peebles; Annie Dettwiller, Notre Dame; Bree Hicks, Notre Dame; Makayla Cook, Westfall; Megan Nickell, Eastern; Katie Born, Portsmouth; Preslee Lutz, Clay