Derrick Webb, Staff Writer
Southern Ohio Sports Authority is presented by OhioHealth.
AKRON — For the fourth time in school history, the Wheelersburg Pirates will play with a state softball championship on the line.
Wheelersburg (26-1) earned that right with a 5-2 win over Cardington-Lincoln — the state's No. 2 ranked team — on Friday in a Division III state semifinal at Firestone Stadium.
"I'm just thrilled. I felt like we prepared a lot for this game and the kids executed exactly the way we wanted them to," Wheelersburg coach Teresa Ruby said. "It was a great game between two excellent teams."
Make no mistake about it; last year's state semifinal loss was still on the back of the Pirates' collective mindset.
But there would be no repeat performance. That two-run loss to eventual state champion Fairview is now dead, gone and buried.
Ruby's crew has officially chased that monkey off its back.
"I'm extremely happy. I didn't want to feel what I felt last year," sophomore pitcher Andi Jo Howard said. "I don't want to feel it [after Saturday's state championship game] either. I'm just extremely happy and so proud of my teammates. They made every play I could ask for."
Tale of the tape
Wheelersburg took a 1-0 lead in the top of the first inning, getting a quick start.
Freshman Catie Boggs started that process, reaching base on error. She then stole second, moved to third and scored when sophomore Rileigh Lang drew a walk with the bases loaded.
Cardington-Lincoln (24-5) struck back in the bottom half of the inning with a two-run homer off shortstop Riley Burchett's bat, taking a 2-1 lead.
In the third, C-L decided to intentionally walk Macee Eaton to begin the inning, which eventually backfired.
Eaton moved to third on a base hit through the left side of the infield via Sydney Skiver. The junior then scored when Skiver tried to steal second. Skiver was thrown out but Eaton raced home as 'Burg traded an out for a run, forcing a 2-2 tie.
The game's next score came in the fifth when Haley Myers gave Wheelersburg a base runner with a leadoff single. That forced Cardington's hand to pitch to Eaton, who doubled into right field, scoring Myers and giving her Pirates a 3-2 lead.
"The key to that was the leadoff hit from Haley Myers," Ruby said. "I knew they'd probably walk [Eaton] early on but the later we got in the game, I knew if we could get on base, at some time, they'd have to pitch to [Eaton]. So kudos to Haley Myers for getting on base in front of Macee."
Later in the inning, Eaton moved to second and scored her second run of the ballgame — thanks to a fielding error — giving Wheelersburg insurance and a 4-2 edge.
Wheelersburg's final run of the evening came on a scorched RBI double from Sydney Skiver, who drove in Myers with two outs in the seventh, producing the 5-2 final.
Stat book
Skiver led her Pirates statistically, going 2-for-3 with a double and an RBI, Eaton finished 1-for-2 with a double, two walks, two runs and an RBI, and Myers was 2-for-4 with two runs scored. Howard fired a complete game, allowing a pair of earned runs on four hits and striking out five.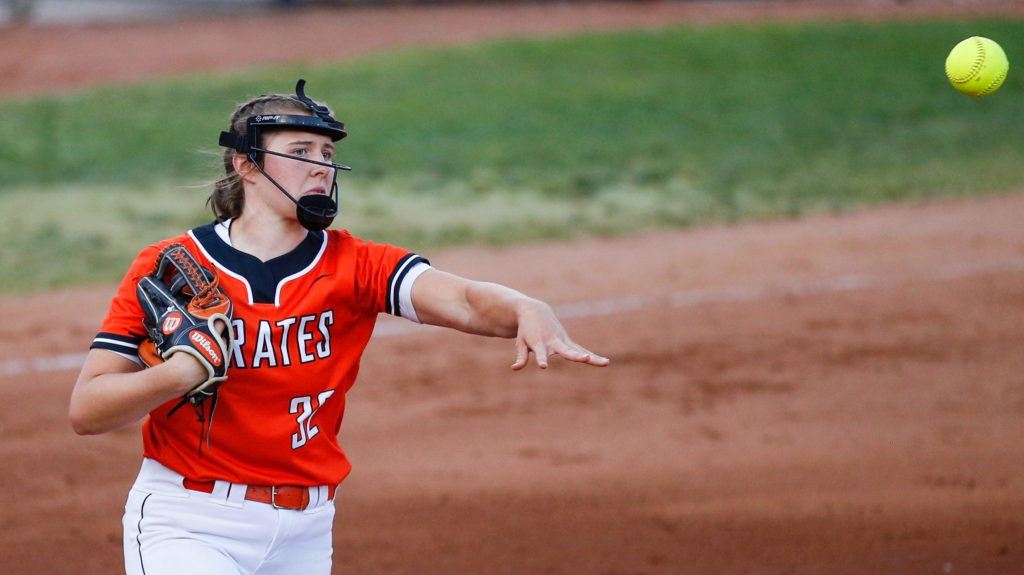 What's on tap
The Pirates will now meet with Massillon Tuslaw in the Division III state championship game. That matchup will take place at 7 p.m on Saturday, back at Firestone Stadium.
Tuslaw was a 6-1 winner over Miami East on Friday, clinching its first-ever trip to a state final.
"I think we've been playing well for awhile," Ruby said. "On this stage, to have this type of execution, I'm thrilled. Our mindset [on Saturday] isn't going to be any different. We'll get back to the hotel, enjoy this for a little bit and start working through the scouting report. We'll start breaking it down from there. We just talk about us being us. We'll roll the dice and see what happens."
SOSA will have full coverage of Saturday's Division III state championship game between Wheelersburg and Tuslaw in Akron. You can follow @dw1509 and @SOSAOhio on Twitter for live updates.