Brock Netter, Staff Writer
Southern Ohio Sports Authority is presented by OhioHealth.
CHILLICOTHE — Five at-bats.
That's all it took for Wheelersburg to establish its dominance on Wednesday.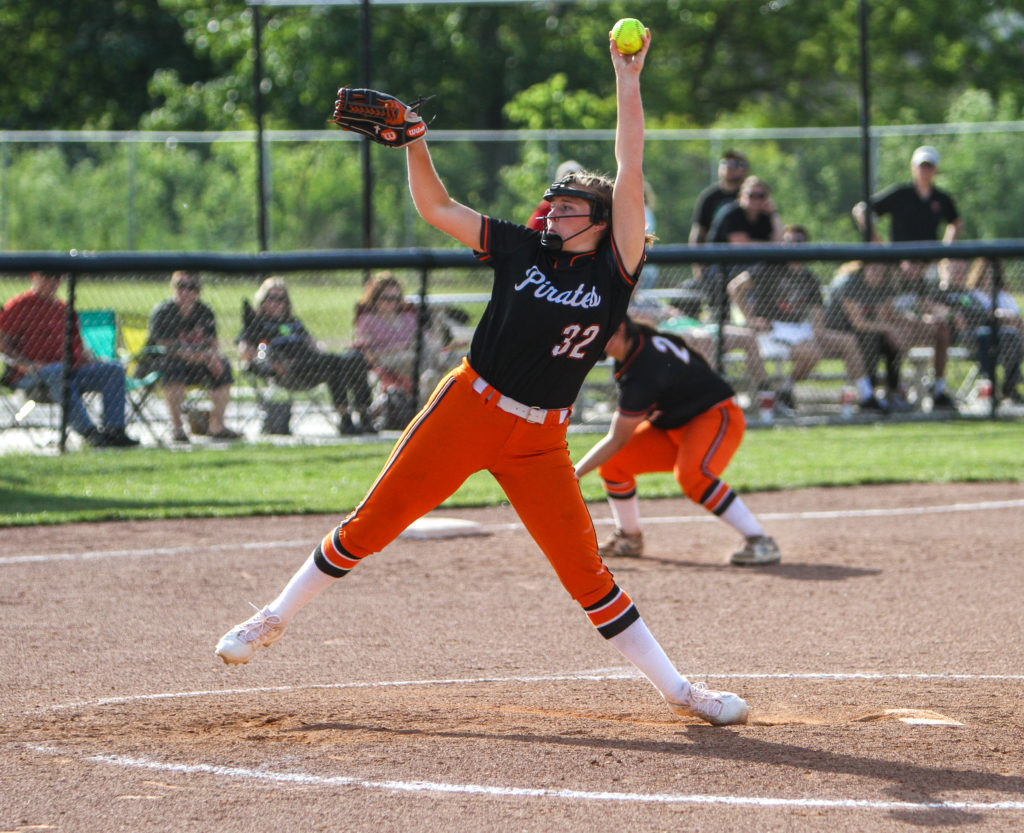 The state-ranked Pirates (24-1) sent a total of four moonshots over the fence and completely overmatched Tuscarawas Valley in a Division III regional semifinal, advancing into the Elite 8 with a 19-0 victory.
"I was completely thrilled with how we came out in the beginning," Wheelersburg coach Teresa Ruby said. "We squared the ball up very nicely and hit some nice shots, which is exactly what we wanted to do coming out of gates."
The Pirates were familiar with the Trojans from last season's regional semifinal — a 13-6 victory.
But evidently, that margin was a little too close for comfort.
After back-to-back singles opened the contest, Catie Boggs scored on a wild pitch to give 'Burg a 1-0 lead.
Three batters later, Sydney Skiver stepped to the dish with the bases loaded and promptly unloaded on a pitch, sending a grand slam over the center field fence and blowing the game open at 5-0.
The cushion was already fairly sizable, but the Pirates were even close to being satisfied.
Lyndsay Heimbach smoked a deep RBI double into right field, followed by an RBI single from Brynley Preston and the rout was officially on at 7-0.
"It seemed like we took the air out of them," Ruby said. "Hitting is very contagious, and we went through the lineup with everyone having a solid at-bat the first time up. We talk about focus a lot and controlling your emotions. It's easy to get all geared up for these tournament games, but we have a good, experienced team who has a better understanding of how to do so now."
Boggs stepped back up to the plate with no outs, and crushed a three-run bomb over the left field fence to open up a 10-0 lead.
Later in the inning, Skiver laced an RBI single up the middle for her fifth RBI of the frame and an 11-0 lead.
In total, Wheelersburg sent 12 batters to the dish and scored 10 runs before the first out of the game was even recorded.
"We put in a lot of work in pregame and our preparation leading up to a game as well," Ruby said. "Your hope is always that the work you do beforehand translated to the field, and it did for us today."
Though the Pirates already had plenty of run support and a comfortable lead, they wanted a little more insurance just case in something went awry.
Haley Myers smoked an RBI single into center field in the second before Macee Eaton deposited a two-run home run just over the left field fence for a 14-0 advantage.
The Pirates would add five more runs, including another long ball from Eaton, to advance.
Skiver finished 3-for-4 with a home run and six RBIs, followed by Boggs going 2-for-4 with a home run and four RBIs. Heimbach went 2-for-3 with a double and two RBIs, Myers was 3-for-3 with an RBI, and Eaton went 2-for-2 with two home runs and three RBIs.
Wheelersburg advances to a Division III regional final where SOC II rival West awaits the Pirates for a third time this season. That matchup will take place at noon on Saturday at Unioto High School.
"No game in a tournament run is ever easy, and this is no different," Ruby said. "We're obviously very familiar with West, and they're such a formidable opponent. Yes, it's tough to play and win against the same team three times, but I don't think we'll be short on any motivation. We'll be ready to play another great game against a great team."