Derrick Webb, Staff Writer
Southern Ohio Sports Authority is presented by OhioHealth.
ATHENS — While R.J. Foose sprinted down the third base line towards home plate, Washington head coach Mark Schwartz was right behind him.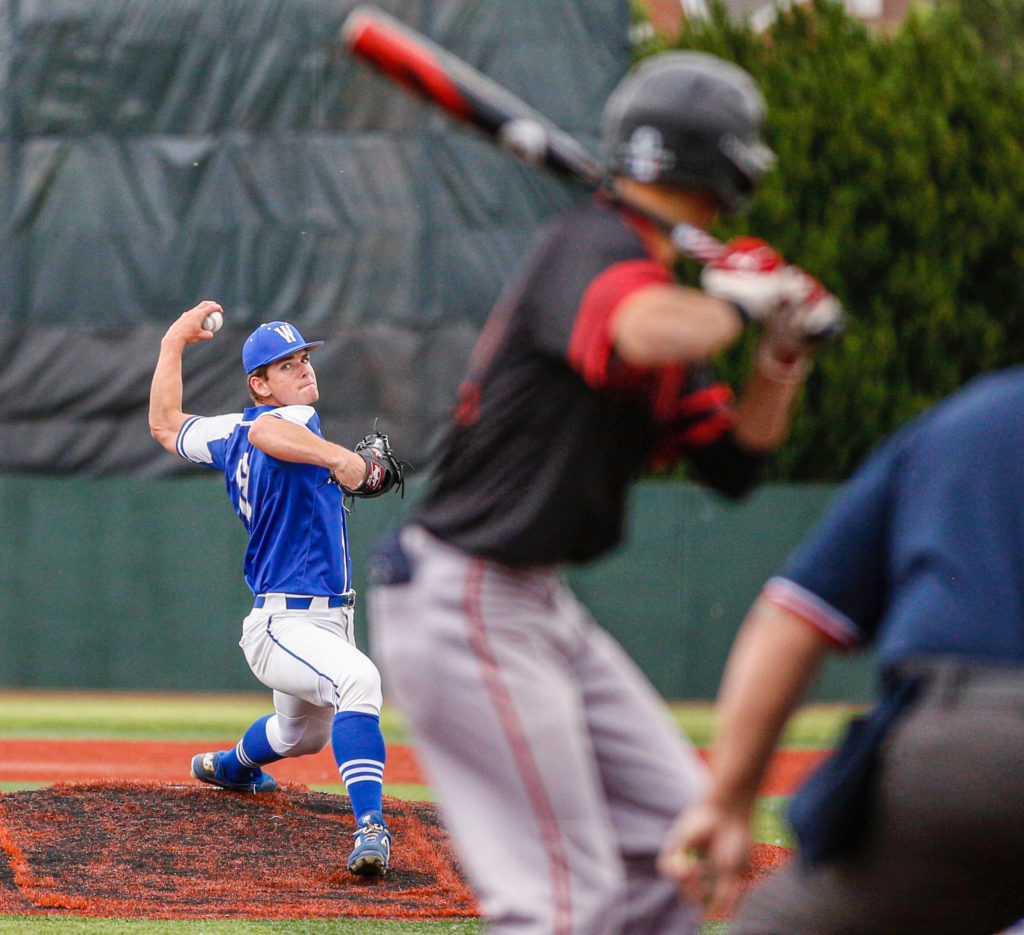 "There was one-hundred things going through my mind at that point," Schwartz said. "But I'll tell you this, that's the fastest I've ran in twenty years."
Foose, and Schwartz for that matter, met a mob of teammates and coaches at home plate. Foose's run was the game-winner of a 2-1 final over Circleville in a Division II district semifinal at Ohio University.
"I'm just happy for these guys," Schwartz said. "We told them today that was going to take every single one of them to win this game. That's the way it's been all year. We've dealt with a lot of injuries, illnesses and other stuff. It's been a different guy every night. That's what we're going to need if we keep advancing."
Junior southpaw Titus Lotz was "that guy" on Monday.
The Blue Lions' ace tossed six innings of four-hit baseball without allowing an earned run. He struck out nine and, while he didn't factor into the decision, he kept his team in the fight all game long.
"He battled early. Circleville put runners on base in each of the first three innings and he got out of it," Schwartz said. "The only run they scored probably shouldn't have happened. We were fortunate. We had three errors and in tournament play, you can't expect to win like that. But we did. And [Lotz] kept us in it."
Neither team scored until the bottom of the fifth inning.
That's when Washington (16-5) took a 1-0 lead on an RBI groundout via Tyler Tackage, which plated Lotz.
The tally stayed that way until the top of the sixth inning when Circleville's Austin Gray scored on a fielding error — after being moved to second by Tate DeBord and to third on a passed ball.
But that was the only run the Tigers (16-12) could sniff out.
After Washington reliever AJ Dallmayer struck out the side in the top of the seventh, catcher Jonah Waters began the bottom half with a base hit. John Wall then moved Foose — who entered the game as a pinch runner for Waters — to second with a sacrifice bunt before he went to third on a groundout.
That's when disaster took place for Circleville's battery, allowing Foose to score and send the Blue Lions further along.
"We've been preaching pitch-by-pitch every at-bat and play-by-play," Schwartz said. "We've seemed to be able to do that well. If we get down, we've battled back and haven't let our heads hang. These guys have really matured. And when you have the pitching that we do, which has been the key, it helps a ton."
Washington punches its ticket to a Division II district final on Wednesday. It'll play at 5 p.m. back at Ohio University against the winner between Sheridan and Unioto.
Tackage led the Blue Lions' offense, going 1-for-3 with an RBI while Lotz, Dallmayer, Lemaster and Waters all picked up a base hit each.
Wyatt Thatcher paced Circleville's offense, going 2-for-4, while Gray and Matt Bradley also tallied base knocks. Tigers starter Nick Burns went 6 ⅔ innings on the hill, surrendering an earned run on five hits and whiffing four.
Washington now advances to meet with Sheridan — a 6-1 winner over Unioto — in a Division II district final. That matchup will take place at 5 p.m. on Wednesday at Ohio University.
"We'll take some batting practice tomorrow, get the boys out quick and come back here on Wednesday," Schwartz said.