Derrick Webb, Staff Writer
Southern Ohio Sports Authority is presented by OhioHealth.
ATHENS — There were multiple occurrences where Unioto had the chance to score on Monday night.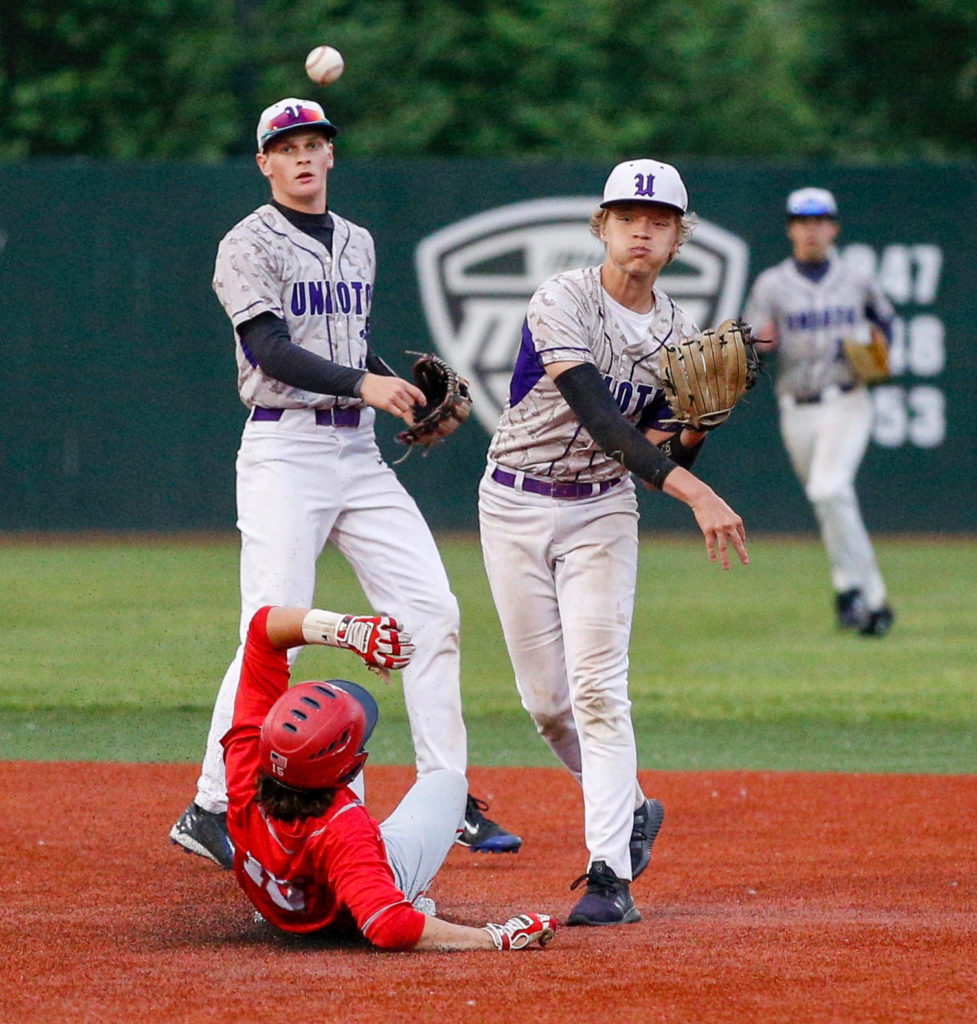 But when those opportunities took place, try as they might, the Shermans simply couldn't take advantage.
That, alongside four fielding errors, helped Sheridan top Unioto (22-4) by a 6-1 final in a Division II district final at Ohio University. Put simply, the Generals did the little things right while Unioto failed to do so.
"Anytime you're playing a game, mistakes are going to happen," Unioto coach Tony Taylor said. "Major-leaguers make errors. We told the boys after the game to keep their heads up. They played their hearts out. We've just got to be mentally tougher so the next time this happens, we don't give up four or five runs. Instead, maybe it's one run and one swing of the bat keeps you in it."
Sheridan got on the board in the bottom of the first inning when Coyle Withrow — who was just getting started — knocked in Corey Amspaugh with an RBI single.
The Shermans battled to tie the game at 1-1 in the top of the fourth when Andrew Lemaster logged an RBI sacrifice fly into right field, scoring Andrew Griffin, who had tripled earlier in the inning.
But from that point on, it was all Sheridan.
The Generals scored twice in the fifth, thanks to a fielding error and another RBI single from Coyle, making it a 3-1 ballgame. Then, in the sixth, following two fielding errors, an RBI infield single and an RBI double allowed three runs to cross home plate and produce the night's final.
"I'm proud of these guys. They've all worked so hard to get here. They've gotten better and better and that's all you can ask for as a coach," Taylor said. "We just didn't play well tonight and got beat."
Statistically, Unioto was led by Griffin, who was 1-for-3 with a triple and a run. Landyn Patterson finished the night 2-for-3, Lemaster was responsible for the team's lone RBI, and both Isaiah Leeth and Micah Geise logged base hits.
Griffin took the tough-luck loss on the hill, surrendering and earned run on five hits in 4 1/3 innings of work.
"[Sheridan] defends the plate so well. Hats off to them. That's a good team," Taylor said. "Andrew pitched great. He threw a lot of pitches and there was a lot of stress pitches. People don't understand the difference between pitching and pitching when it means something. The adrenaline gets going. It's a little more strain. But he did a great job and he put us where we needed to be. We just couldn't get it done."
Withrow led Sheridan at the plate, going 4-for-4 with two RBIs while Caden Sheridan finished 1-for-3 with an RBI and a run. Sam Taylor earned the win on the hill, going 5 1/3 innings and allowing an earned run on five hits.
Sheridan now advances to a Division II district final, where it'll meet with Washington — a 2-1 winner over Circleville on Monday. That game will take place at 5 p.m. on Wednesday at Ohio University.
Meanwhile, Unioto looks towards next season where it brings all but two roster members back — seniors Andrew Spetnagel and Nick Cash.
"Those two seniors have been with the program all four years and in junior high. We appreciate the hard work they put in. They're great kids and great students. They'll be missed. The future is bright. When you start a couple of freshmen and two or three sophomores, and you've got eighth graders coming up, you just tell them not to get outworked," Taylor said. "Someone is going to be taking your spot if you're not working for it."